for ISKCON News on Oct. 17, 2016
As a part of celebrations going throughout the whole world to glorify the Golden Jubilee of the foundation of International Society for Krishna Consciousness (ISKCON), ISKCON Bangladesh has recently organized "Bhaktivedanta National Students' Competition - 2016".
More than 10,000 students from different parts of the country took part in the program. The competition took nearly five months to complete, and was held on four levels – zonal level, district level, divisional level and finally on national level. All the participants were divided into two classes – students from standard two to standard five were in the junior class and students from standard six to standard ten were in the senior class. The subjects of competition were verse recitation from the Bhagavad-gita, coloring; drawing transcendental picture, Vedic story telling, bhajan, speech in selected topics; acting in Vedic costumes.
All participating students received different devotional gifts. In the final round, the winners (1st, 2nd; 3rd position holders) of all subjects were rewarded with special crests and Bhaktivadanta Scholarships. One student from each class was announced as "All-rounder" for their extraordinary performances and was rewarded a champion crest and a Bhaktivadanta Scholarship.
The final round was organized on 23 rd September, in which more than 500 students participated from different districts of the country. The prize giving ceremony was held on 24th of September in Dhaka, capital of Bangladesh. ISKCON GBC and director of the competition Bhakti Purusottama Swami along with many members of the national management committee of ISKCON Bangladesh were present at the ceremony. Honorable minister Mr. Narayan Chandra Chanda and several other important office-holders of the Bangladesh cultural sphere were also present and gave speeches of appreciation.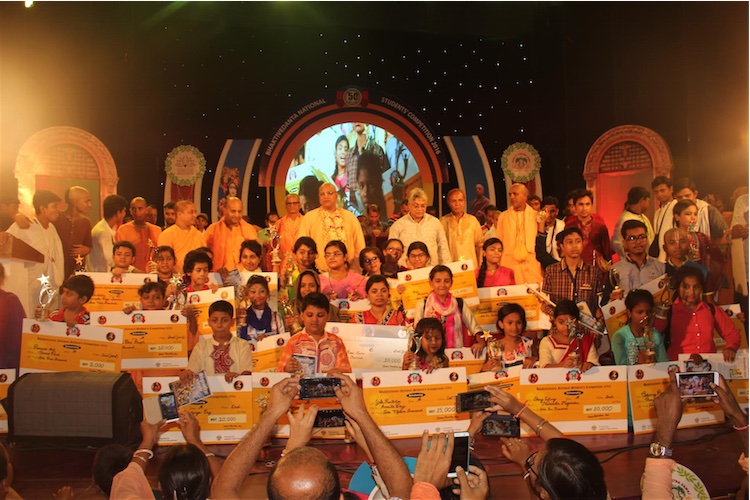 The awardees and the chief organizers and guests.
The program was a great success, which could not have been achieved by without the dedicated efforts and selfless cooperation of hundreds of students, guardians, volunteers and devotees.
[
bangladesh
] [
dhaka
]