for ISKCON News on Jan. 10, 2016
Supporters and well-wishers of ISKCON who attended a 50th Anniversary gala event in Ahmedabad on 19th December sponsored over 12,500 Bhagavad-gitas as part of the December marathon in India.
Devotees at the Ahmedabad temple had organized an event to celebrate Gita Jayanti at Regenta Hotel, which was attended by over 200 business leaders. The event was hosted by Rajesh Karia, owner of Regenta Hotel, who is a member of the local congregation.
While releasing a special souvenir on the occasion, titled 'A legacy of 50 years: a tribute to Srila Prabhupada', Jasomatinandan Das, a senior disciple of Prabhupada, and President of the Ahmedabad temple described why the Gita was the foremost of scriptures and said, "At the age of 69, when most people retire from active life, Srila Prabhupada left the comforts of India and traveled across half the globe to create a spiritual revolution that changed the face of the world."
"Today, ISKCON is the largest distributor of Vedic books in the world with over 500 million books placed worldwide," said Romapada Das, International Coordinator for the 50th anniversary, who presented two short videos and spoke about the achievements of ISKCON in the last 50 years. "And the Bhagavad-gita As It Is by Srila Prabhupada is the one book that has transformed the hearts and minds of millions of people around the world by taking them closer to real spiritual life and engaging them in devotional service to Lord Krishna."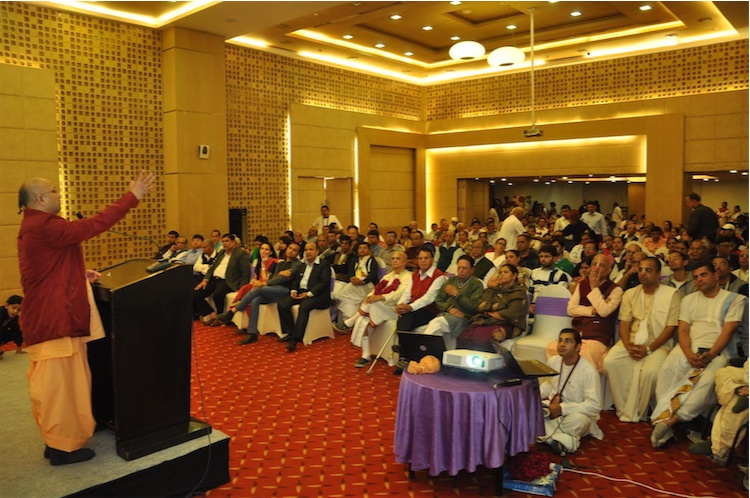 Keshava Murari Das, President of the Rohini temple in New Delhi made an elaborate presentation about the worldwide activities of ISKCON. After his presentation, he urged the audience to support the December marathon and fill in sponsorship forms for distributing the Bhagavad-gita.
"This was the first time we had organised an event of this nature in Ahmedabad to mark Gita Jayanti," explained Vishnu Nam Das, Vice President of ISKCON Ahmedabad. "It was inspiring to see the enthusiasm and willingness of our supporters in sponsoring Bhagavad-gitas after they heard the presentations of our speakers. Distributing 12500 Gitas in two hours from one single event is a record of sorts for Ahmedabad."
[
ahmedabad
] [
bhagavad-gita
] [
book-distribution
]