for ISKCON News on March 9, 2018
Over 200 VIPs attended the "Avant-Premiere" of the documentary film Hare Krishna! – which tells the story of how Srila Prabhupada founded ISKCON – in Mauritius on Saturday March 3rd.
The premiere was held at the prestigious Star Cinema at the island's well-known Bagatelle mall near the capital city of Port Louis.
Among the audience members were the former President of the country, His Excellency Kailash Purryag; MP the Honorable Santaram Baboo; former Minister of Social Integration Suren Dayal; and former Ambassador to the United Nations Milan Meetarban.
Other guests included five executive members from the Council of Religions, many CEOs and professors, and a supreme court judge.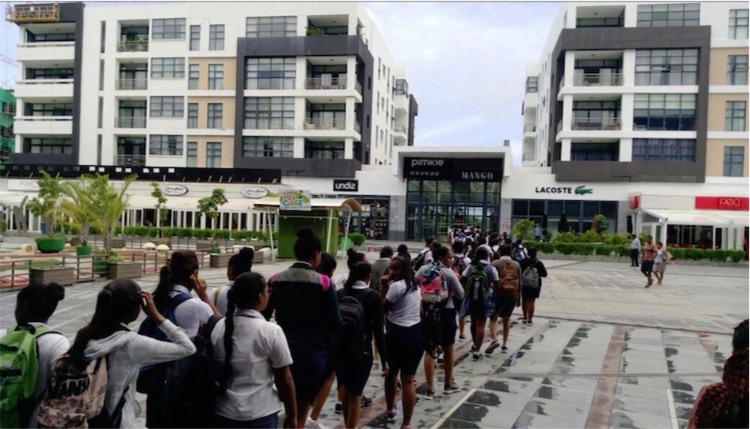 Students of Friendship College for Girls line up to see Hare Krishna
Also in attendance were filmmakers Yadubara Das and Visakha Dasi, along with two of Mauritius' resident Prabhupada disciples, Arjuna Das and Sriniketan Das.
Guests entered on a red carpet, took photos in front of a large banner of the film featuring Srila Prabhupada, and received prasadam refreshments. They were then given free prasadam popcorn and bottled water to enjoy during the screening.
Yadubara Das introduced the film beforehand. Afterwards, praise was effusive, with MP Santaram Baboo commenting, "After seeing this film, I wouldn't mind joining the Hare Krishna myself!"
Former Minister of Education Dr. Vasant Bunwaree, meanwhile, said the film had a universal message that could be appreciated by all, and encouraged everyone to watch it, particularly youth. "This film's message could really help the youth of the country," he commented.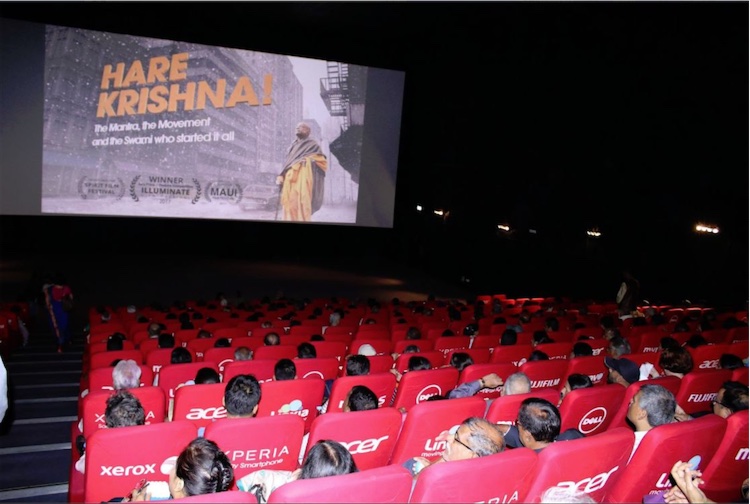 The Mauritius premiere at Star Cinemas. The cinema is showing trailers for Hare Krishna before every screening of every film
Following the premiere, Hare Krishna! will be screening five times a day for ten days at two Star Cinemas – one in Bagatelle and one in La Croisette.
1,500 tickets were sold initially by devotees, but many more are expected to be sold by the cinemas themselves.
Among recent filmgoers have been 78 students from the Friendship College for Girls, who received a special screening. More schools are expected to attend.
An impressive advertising drive is behind the film's popularity. It has been promoted on the Mauritius Broadcasting Corporation's national television station, which interviewed Yadubara and Visakha, and on its radio channels, which are doing quizzes and giving away free tickets to the film as prizes. It has also been written about in newspapers.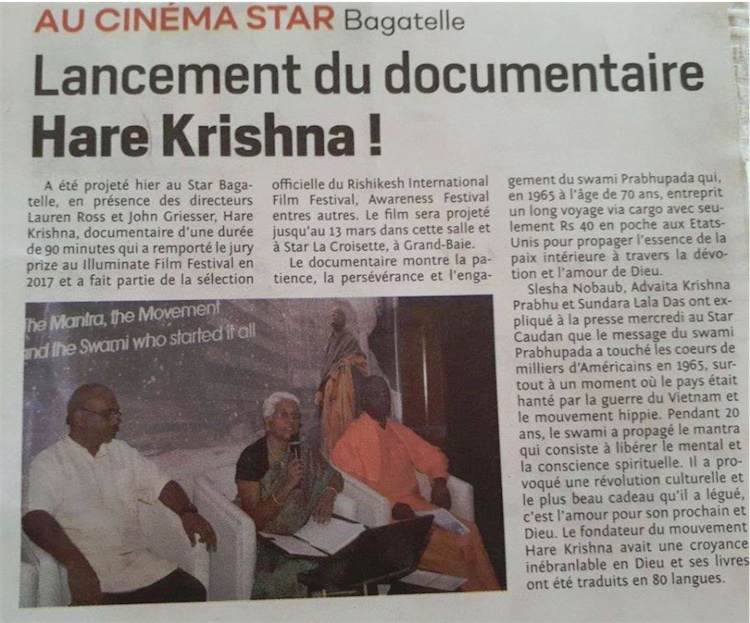 The film was advertised on TV, radio and in newspapers
"The Hare Krishna! film trailer is also playing before every screening of every film at the Star Cinema," says Karunika Dasi, who is coordinating the effort with leading devotees from both of Mauritius' ISKCON temples.
[
hare
] [
hare krishna! film
] [
mauritius
] [
prabhupada
] [
yadubara
]