for ISKCON News on Sept. 13, 2017
800 devotees from Lithuania, Latvia, Estonia, Finland, Ukraine, Belarus and Russia got to immerse themselves in Krishna consciousness in one of the most gorgeous natural settings in the world this August.
They were attending the 17th annual Vaishnava Summer Festival in Lithuania, which ran from August 4th to 11th.
The Festival was held in a holiday resort in the beautiful Dubingiai national park, on the banks of the Asveja, the longest lake in Lithuania, amidst vivid green pine forests.
"The holiday resort houses about 500 people," says Bhakti Chaitanya Swami, GBC for Lithuania and festival co-organizer with Niranjana Swami. "Nearby there is a tent city for another 200 or so. It is well away from any towns or cities, and is a perfect quiet place for a Krishna conscious program, and for families to relax and spend time together with other devotees."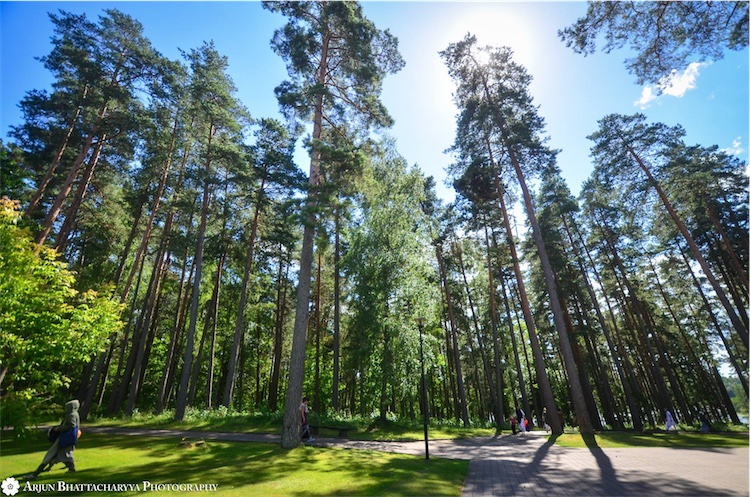 A devotee chants japa amid vivid green pine trees
At the resort itself participants were accommodated in comfortably furnished rooms with attached bathrooms, while even the nearby tent city included toilets, wash basins, and hot showers.
The facilities also included conference halls, basketball and volley ball courts, boat rentals and a beach.
The festival opened on the evening of August 4th with a fire yajna, followed by a huge, ecstatic kirtan.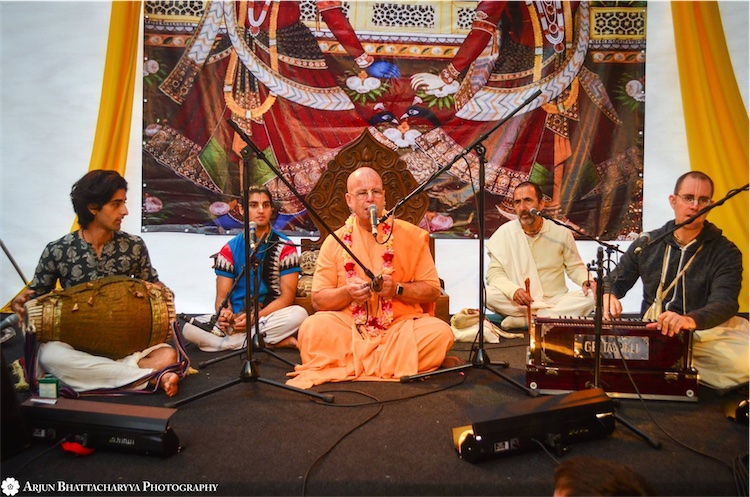 B.B. Govinda Swami at the Kirtan Mela
Throughout the week, devotees attended a complete morning program including mangala arati, japa, guru-puja and Bhagavatam class. The biggest conference hall was converted into a beautiful temple room with colorful draped cloth, giant hanging paintings of Krishna and a full-size altar with four main sets of Deities.
"With us were Nitai Gaurasundara from the temple in Lithuania's capital Vilnius; Radha Golokananda from our New Gokula farm; and Gaura Nitai from our brahmacari monastery," says Bhakti Chaitanya Swami. "We also had Nitai Gauracandra from Kaunas temple, one of the first sets of Deities installed in the former Soviet Union, back in about 1989."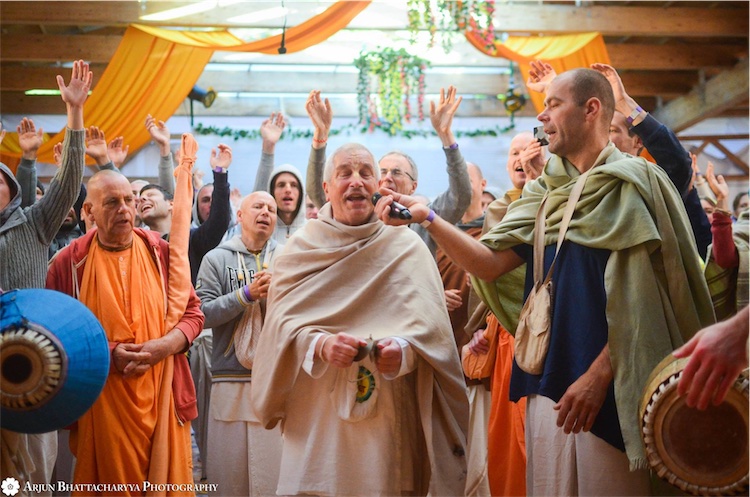 Deena Bandhu Das leads gurupuja
"After the morning program, each day was filled with invigorating seminars by senior devotees. Prabhupada's early disciple Gurudas told the story of how Srila Prabhupada introduced Krishna consciousness in the Western World, then followed with stories from the early days illustrating how "Krishna consciousness is a great spiritual adventure."
Deena Bandhu Das, a veteran of Vraja Mandala Parikrama, recounted nectarean pastimes of Radha, Krishna and their associates in Vrindavan in his famously joyous style.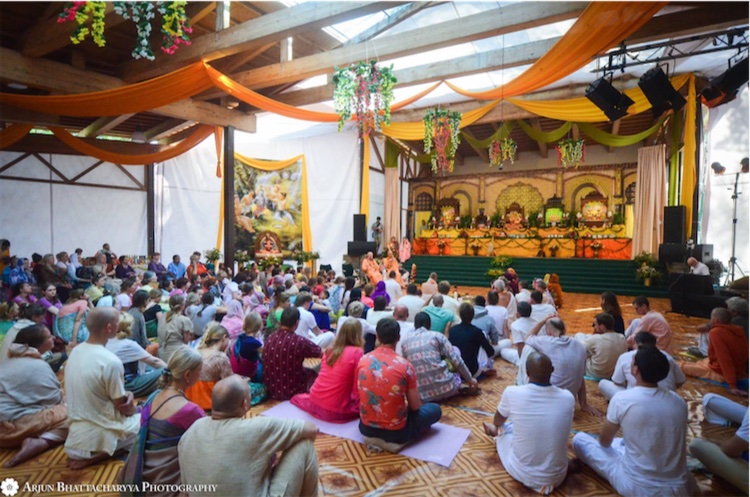 Devotees gather in the main hall with its own full size altar
In "Relishing the Bhagavatam," Sacinandana Swami spoke on contacting the Lord through reflective reading.
And in "Prayers," Bhakti Chaitanya Swami led devotees in singing songs by the Vaishnava Acharyas and then discussing their meanings.
Other speakers including Niranjana Swami, Dirashanta Das Goswami, Subhag Swami, who shared stories of Gaura Lila, and Vasusrestha Das, who spoke about "Shaping a pathway so the next generation of ISKCON devotees can break through."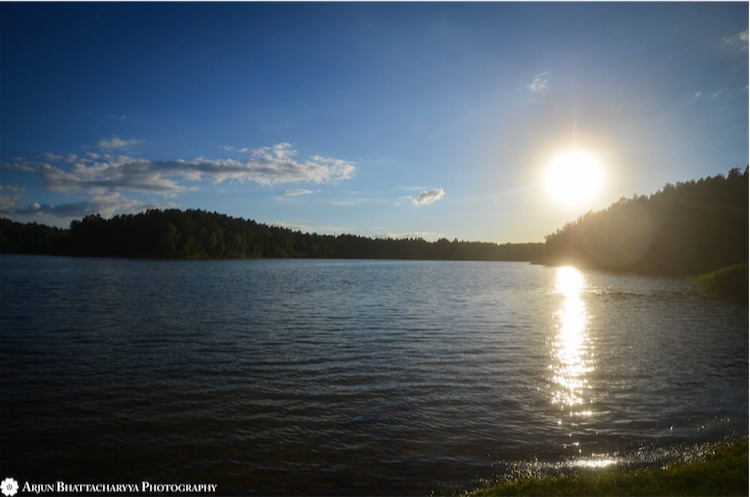 The festival was held on the banks of the beautiful lake Asveja
Kirtan was held simultaneously throughout the day, while at 4pm everyone attended an ecstatic Kirtan Mela led by B.B. Govinda Swami, Sarvatma Das, Ojasvi Das, Akinchana Krishna Das and other kirtaniyas expert in connecting devotees with the Holy Name. The Mela including evening arati at 6pm and then continued on until late.
There were also special children's programs, weddings, and an initiation ceremony. To relax devotees spent quality time with each other, honored delicious prasadam, and swam in the lake.
"Everyone really loved the festival," says Bhakti Chaitanya Swami. "They got to enter a place where the atmosphere was just like the spiritual world. There were only devotees around, and only Krishna conscious activities going on. It was total saturation in Krishna consciousness from 4.30am till 10pm, with some of the best kirtaniyas in the world, and some of the best preachers in the world. It's no surprise that every year the attendance increases!"
* * *
Videos of nearly every kirtan and seminar from the festival can be viewed here: https://www.youtube.com/user/NitaiGauraSundara/videos (scroll down and watch starting from 'Dina Bandhu Pr. Vraja Lila)
[
baltic
] [
estonia
] [
finland
] [
lithuania
] [
ukraine
]