for ISKCON News on Dec. 3, 2017
It is, incredibly, almost half a century since the installation of Deities Sri Sri Radha-Londonisvara. On Sunday 26th November, ISKCON-London celebrated Their Lordships' 48th anniversary at Camden Centre, in Central London. Over 500 guests arrived to be served delicious prasadam before the extended devotional program began. Srila Prabhupada was deferentially carried into the ornate venue to a rapturous reception. He was duly positioned on stage to oversee what promised to be a full and varied festive itinerary.
Energetic MCs Rupa Manohar dasa and Radha Vinode were first to take the stage, deftly capturing the audience's attention and setting the scene with their assertion that, while there were many historic cultural happenings in the late-1960s in the UK (such as the Beatles last ever live public performance!), there was no event more momentous than the arrival of Srila Prabhupada in 1969.
London Temple President, Jai Nitai dasa, warmly welcomed everyone. "You can reach the whole world from Oxford Street" he said, in reference not only to the Temple's prime Westminster location but to stress as well London's importance on the world stage as cultural crossroads between East and West, highlighting the UK capital's significance as a landmark of flourishing Vaishnavism. Jai Nitai dasa also led mangalacharan prayers to create an auspicious atmosphere for the hours ahead.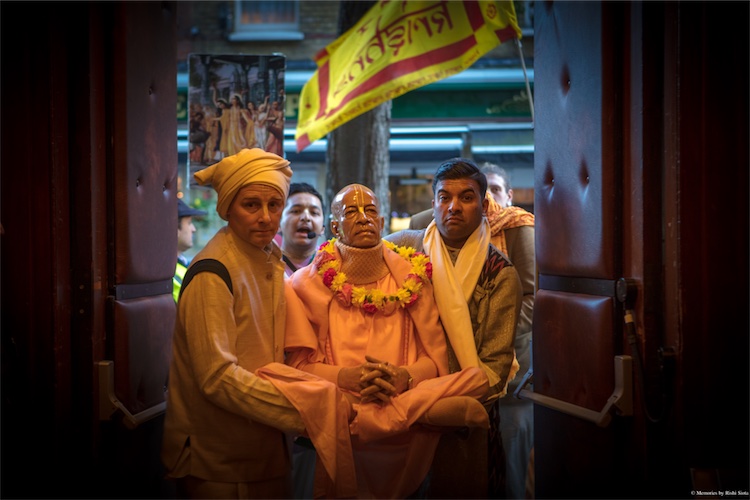 And so the stage was ripe for renowned 'Kirtan London' artists to deliver their first ever live performance of select tracks from their new Mantra Lounge Volume 2 album. Jahnavi Harrison introduced the first song, 'Om Namo Bhagavate Vasudevaya' (Dawn of Freedom), performed by Ananda Monet, "These lyrics are sung to invoke the Lord's presence". Jahnavi Harrison then delivered a heartfelt rendition of Vande Krishna (Sweetheart of the Gopis). Govinda Priya sang Tulasi Prayers (Bestowing Mercy), explaining: "This prayer sows blessings that flourish like a plant of devotion growing in all our hearts". Jagat Pita dasa accompanied the trio on piano, drum and acoustic guitar, with Kishore Murti dasa on bass guitar, Luke on guitar, Prahlad on mridanga, and Shammi on piano and flute. Spell-bound listeners were invited to offer their prayers and sing along to a rousing chorus of 'Hari Om' (May all be blessed).
Next to appear was the guest of honour Mr. Goyal, well-known to all present as the gentleman who donated the Deities to the London Temple at its inception. "I am grateful to be here tonight" he said. He recollected that, back in the early 1960s, there was, (to his knowledge), no Hindu Temple in the UK, recalling how, as a child, his family had a wooden temple in the reception room at home. However, by 1966, a Hindu centre had been established in London's Forest Gate. All that was now missing from Mr. Goyal's life were authentic Deities. He describes the day when Radha and Krishna arrived at Forest Gate all the way from Jaipur as "the happiest day of my life". However, this devout gentleman knew in his heart of hearts that Their Lordships' destiny ultimately lay with Srila Prabhupada. Having witnessed first-hand the warm welcome 'Swamiji' had received upon arrival at Heathrow airport, Mr. Goyal had asked him: "Swamiji, what magic have you got?" Srila Prabhupada replied that the only true magic lay in the chanting of the holy names.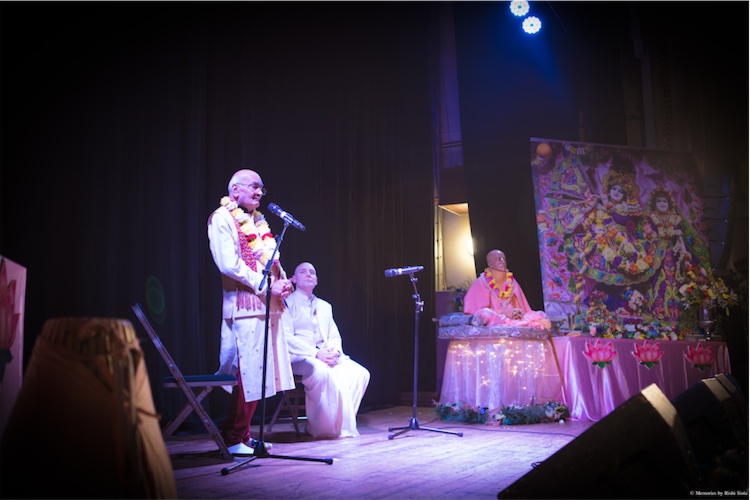 Mr. Goyal described how, back then, he had a night of unusually broken sleep, with vivid dreams about his beloved new 'murtis' being happily ensconced with none other than Srila Prabhupada. This left him in no doubt whatsoever where London's newly arrived Radha and Krishna really belonged. So, in December 1969, Mr. Goyal made that now-fabled phone-call to inform Swamiji that his organisation had just received a set of large marble Radha-Krishna deities, would he care to come along and inspect them….and, the rest, as they say, is history.
Mr. Goyal left the podium to appreciative applause, followed by another musical interlude as 'Kirtan London' artists reprised a rousing Hare Krishna Maha Mantra for everyone to join in with.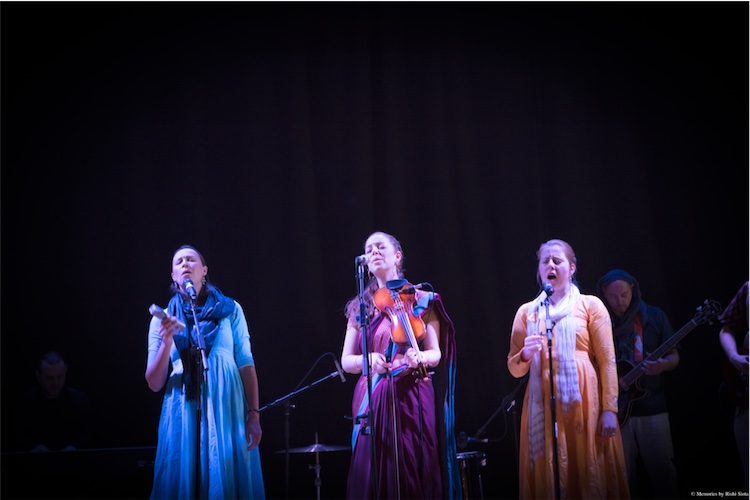 Next on the agenda was Mandakini devi dasi, senior disciple of Srila Prabhupada, whose youthful energy, (like that of Mr Goyal), belied her years as she rose to deliver a fascinating talk about her own close association with Srila Prabhupada. She told how, in her formative years, she and her peers were disillusioned with the older generation's values, using the informal French expression 'métro, boulot, dodo' to describe her parents' lifestyle (underground travel, work, sleep). Aspiring to a higher truth, she found what she was looking for at the "beautiful lotus feet" of Srila Prabhupada. Her first impression of him was that he looked like "the Emperor of the world, but with all the humility of a Saint". Mandakini devi dasi immediately sensed that he knew her better than she knew herself, but felt she had little in the way of spiritual background and credentials. She initially found it counter-intuitive to subscribe to the belief that gods inhabited actual forms, but, by performing regular services with Yamuna devi, (such as dimming the lights and putting the Deities to rest), she began to register changes in their expressions, and so Mandakini soon managed to rid herself of any residual 'impersonalism'. "By going on harinam three times daily, I became intoxicated with the holy name" she added.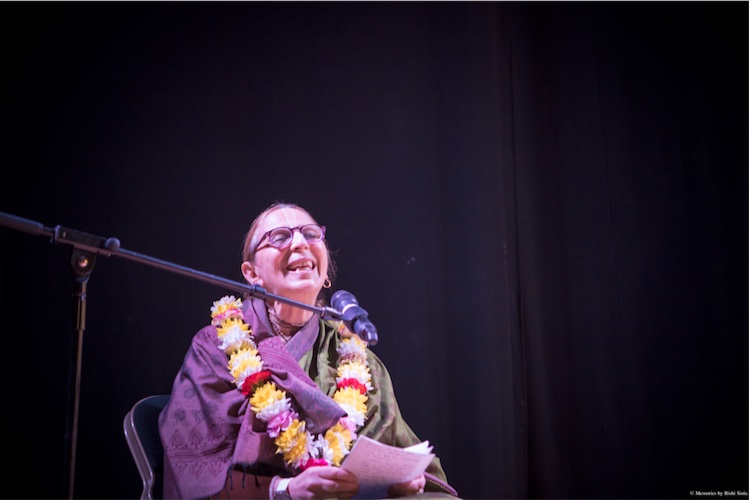 She knew that if a spiritual master asks you to perform a very difficult task, it's ideal for spiritual development, and prayed to the Deities that Srila Prabhupada would grant her a more challenging assignment. One thing she knew that she never, ever wanted to do was to go to Russia (this was, after all, the Cold War era). When Prabhupada called her in to see him one day, she was fully expecting to be sent out to buy potatoes, - instead of which he asked her whether she would like to go to (where else?) Russia. Without hesitation, Mandakini devi dasi responded "yes", heralding the beginning of a great adventure. Mandakini devi dasi took the opportunity today to say a public and personal thank you to Mr. Goyal for being such a prime instrument in Krishna's coming to London.
Drama group 'The Bhaktivedanta Players' were the next focus of attention, as they gave a dynamic and amusing presentation of the play 'Four Blessings', depicting the encounters of a travelling sage (played by Jay Krishna dasa) and his disciple (played by Krishna Caitanya Patel) with four very different kinds of people, in order to illustrate principles of karma and reincarnation. Guruji bestowed the first blessing on a drunken, revelling party-animal of a prince (played by Radha Vinode), who was about to inherit his father's kingdom, paradoxically decreeing that the prince should live on indefinitely, as he was not developing at all spiritually by living entirely at the base level of sense gratification. When the travellers went on to meet a dedicated brahmacari (played by Dwarka Puri dasa) the guru gave him a blessing to die immediately - as he would surely ascend to the higher realm of the planets. A blood-thirsty butcher (played by Radha Vinode) was cast into a permanent state of neither fully living or properly dying, while a family man (played by Yoga) was declared to be absolutely fine as he was - regardless of life or death - with Krishna consciousness firmly at the core of his being.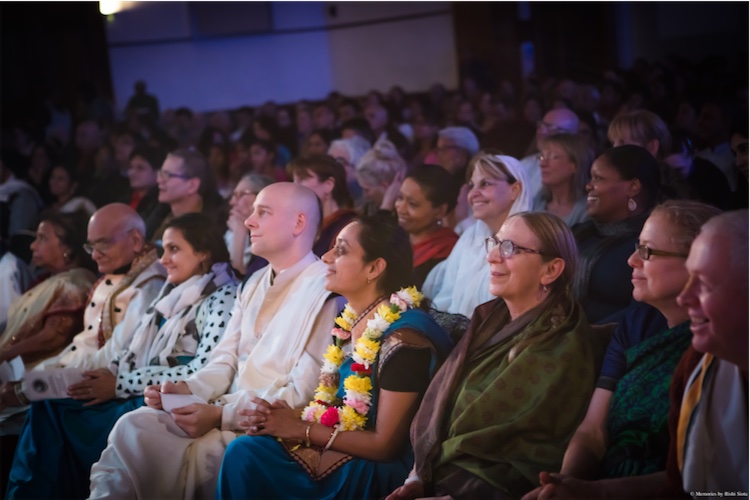 With the program now nearing its conclusion, London Temple President Jai Nitai dasa thanked everyone who had worked so hard to make it such a resounding success, including technicians, musicians, actors, and cooks, saying how much he was looking forward to a great 50th Anniversary celebration, (for which preparations are already underway!).
Finally, community children, led by Lila Manjari, Madhav, Palika, Tarini Radhika, Tulsi, Vanya and Vrinda and accompanied by Anaya Radhika, Yamuna, Visakha and Giriraj enthusiastically performed Guru Puja, with sundry youngsters from the audience invited to participate.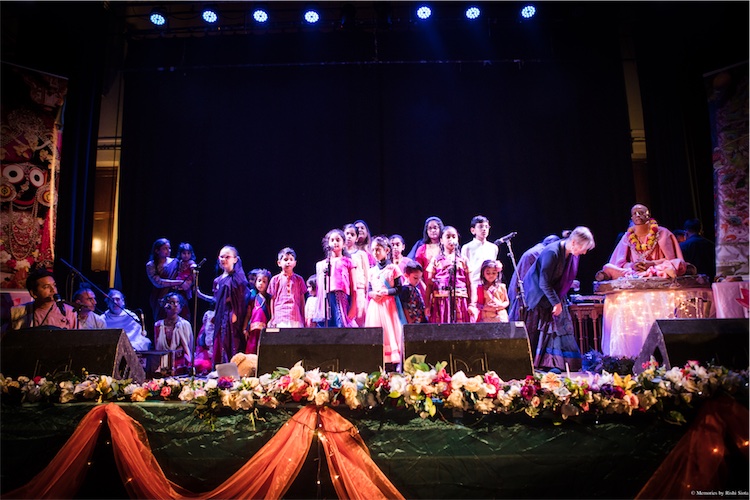 Janice, of East London, enthused: "The actors, singers and musicians all performed to such a high standard. The highlight of the program for me was the actor (Guruji) advising his disciple about life's lessons whilst on their travels. I really took that on board! And I just loved all the beautiful colours worn by the audience which really brightened up a wintry Sunday."
The closing Hare Krishna Mantra was led by Srila Prabhupada disciple, Tribhangananda dasa. All Srila Prabhupada disciples present were invited to offer flowers.
Ashika Patel, Event Manager, shares her experience: "The evening was truly magical. Capturing the theme of 'blessings', the audience was taken on a journey of giving, receiving and sharing a variety of blessings, from the moment they stepped through the door (being greeted by Sri Sri Radha-Londonisvara's padukas) to the very end where everyone was singing and dancing to the holy names (the highest of all blessings). A force of nearly 100 volunteers arrived early morning, many of whom have been working hard for the last few months to make this gala celebration magnificent! Thank you to everyone who gave their time and energy in the service of Their Lordships."
[
london
] [
radha-londonishvara
] [
uk
]