for ISKCON News on April 28, 2016
Over the weekend of April 22nd to 24th, more than thirty scholars met at Harvard University's Center for the Study of World Religions to talk about the growth, impact, and challenges of ISKCON since its inception in July 1966.
Participants included some of the earliest scholars ever to study the Hare Krishna Movement, such as retired professors Thomas J. Hopkins and Larry Shinn, as well as the retired head of the British Council of Churches' Committee on Interfaith, Kenneth Cracknell.
Also in attendance were scholars who are themselves practitioners of bhakti-yoga and members of ISKCON, including Ravi M. Gupta, William Deadwyler, and Edith Best.
The three-day event was entitled "The Worldwide Krishna Movement: Half a Century of Growth, Impact, and Challenge," and commemorated ISKCON's 50th anniversary. It began with a Friday evening welcome at Harvard Divinity School's Sperry Room, where ISKCON Founder-acharya Srila Prabhupada himself spoke back in 1968.
Although the conference itself was a closed event, this beginning session was open to the public and was attended by members of the Harvard faculty and student body.
The organizing committee for the event was composed of scholars Ravi M. Gupta, Ferdinando Sardella, and Graham M. Schweig. Schweig, who is a Professor of Religion at Christopher Newport University, served as host and welcomed everyone on Friday evening.
"We're here to honor the birth and global blossoming of Krishna-bhakti that technically began right here in Boston," he said. "To reflect on all that has come forth from the birth of Krishna-bhakti, first here in the US and then around the globe, with the arrival of Abhaya Charanaravinda Bhaktivedanta Swami Prabhupada at Commonwealth Pier in Boston Harbor in 1965.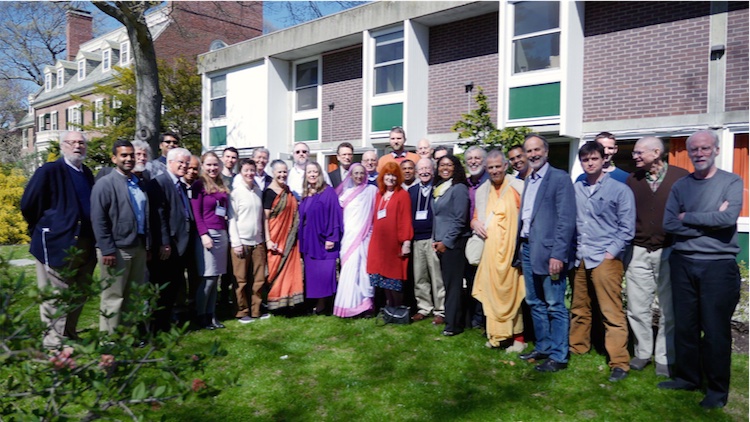 A group photo of the conference participants.
A series of keynote speeches followed. After Professor Francis X. Clooney, Director of Harvard's Center for the Study of World Religions, extended his welcome and shared some opening remarks, Schweig continued with his keynote, in which he spoke about the long history of interactions between Harvard University and ISKCON.
He described how in 1970, Srila Prabhupada's personal Sanskrit editor Pradyumna Das studied the ancient language with Professor Daniel Ingalls, one of Harvard's seniormost Sanskrit scholars. Later, Ingalls remarked how impressed he was with Pradyumna's abilities and how he remembered him fondly.
Schweig also recalled how senior Harvard scholars Diana Eck, John Carman, and Harvey Cox all attended ISKCON Boston's memorial service for Srila Prabhupada after his passing in 1977; and how Harvey Cox, a world-renowned Christian scholar, required his students to visit the Boston
Temple during the mangal arati ceremony at 4.30 AM as part of their studies.
Next, Muslim scholar Sanaullah Kirmani, who had attended Prabhupada's talk at the Sperry Room nearly fifty years ago while a young student at Harvard, recalled his experience. He described where Prabhupada had sat in the room, and how he led the kirtan. He also spoke very movingly about how Prabhupada's talk had affected him, both as a young scholar and as a spiritually-minded person, throughout the rest of his life.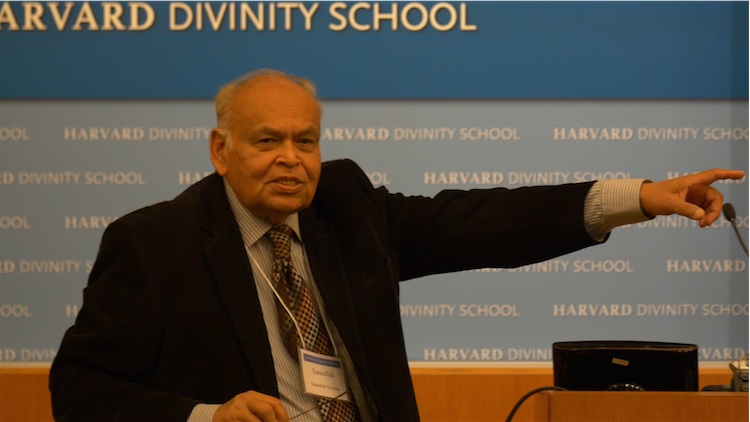 Islamic scholar Dr. Sana Kirmani points out where Srila Prabhupada sat in the Harvard Divinity School's Sperry Room when Prabhupada spoke there in the late 1960s. Dr. Kirmani, a close friend of ISKCON devotees and an admirer of Srila Prabhupada, was a student at Harvard at the time.
Finally, Franklin & Marshall Emeritus Professor Thomas J. Hopkins shared his memories of visiting ISKCON's first center, 26 2nd Avenue, in its earliest days. As a scholar of the Bhagavatam already back in those days, he recalled being surprised to see the first three volumes of Srila Prabhupada's edition for sale at the center. He had only ever heard of two other copies of the Bhagavatam being available in North America – and those were in university libraries.
Hopkins also remembered attending one of ISKCON's very first wedding ceremonies at 26 2nd Avenue with an Indian Hindu friend, just after visiting an "uptown Swami." Comparing the two, Hopkins' friend commented about the ISKCON experience, "This is authentic Hinduism."
The conference continued over the next two days, with five panels held on the history, sociology, theology, global movement, and challenges of ISKCON at The Center for the Study of World Religions, just across the street from the Sperry Room.
Following standard academic format, each panel consisted of three to five presenters reading their scholarly papers, followed by a respondent who commented on them, and then an open discussion. The papers' subjects ranged from an overview of Caitanya Theology, to women in ISKCON, to education in ISKCON and a variety of other sociological and theological issues.
Also of interest was a paper on ISKCON's history and current presence in Russia by Dr. Sergey Ivanenko, the only academic in that country so far to study and write a book about ISKCON.
Other scholars presenting papers hailed from the U.K. and other European countries, as well as of course the U.S.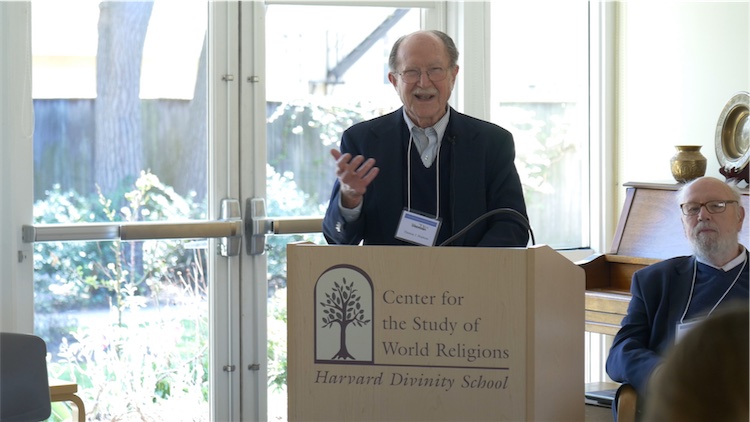 Dr. Thomas Hopkins, Emeritus Professor from Franklin and Marshal College in Pennsylvania was one of the earliest scholars in the United States to meet Srila Prabhupada and take interest in the fledging ISKCON movement. Here he addresses the closing session of the conference.
Throughout, several scholars commented on how despite the many challenges ISKCON has faced over the years, including various schisms, abuse at some of its schools, and the expected crisis of leadership with Srila Prabhupada's passing, the society has greatly matured.
In his closing remarks on Sunday, Thomas Hopkins expressed his amazement at how far and wide the Hare Krishna Movement has grown in the last fifty years. He also stressed, as he has already in multiple academic articles, the need for ISKCON to more closely study its own history, and develop a systematic theology based on the writings of "Swami Prabhupada."
At the conclusion of the conference, senior organizer Graham M. Schweig offered appreciation to the event's sponsors, which included the ISKCON Dallas and ISKCON Houston communities.
These had provided their sponsorship in honor of the late Tamal Krishna Goswami, who was a pioneer in ISKCON academic studies, and a beloved member of the American Academy of Religion.
Also thanked were ISKCON Boston's congregation, who were very helpful in providing additional facilities for the conference; and master caterers Apurva Das and Kamalini Dasi, who catered dinner on Friday night, lunch and dinner on Saturday, and lunch on Sunday. Honoring these delicious meals together provided opportunities for the scholars to bond.
"This conference saw academic and Vaishnava academic scholars come together as a singular group of voices, share so much and develop important connections," Graham Schweig says.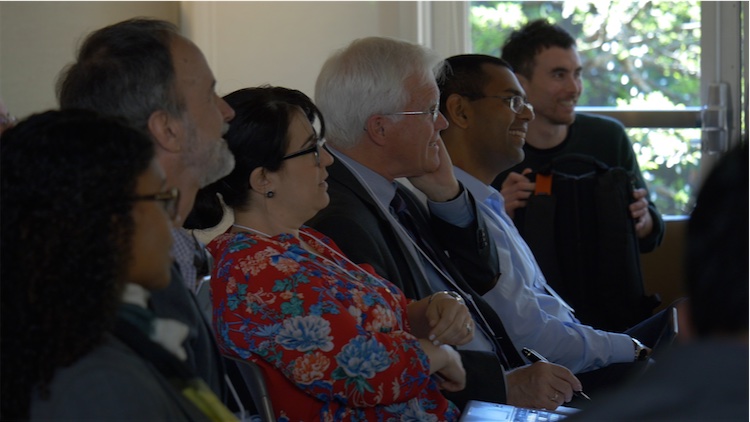 Some of the conference participants
"There was such a feeling of camaraderie, friendship, and true affection and appreciation of one another. It was just so sweet, honest and thoughtful."
Although the conference was a closed one, those interested will still be able to delve into its discoveries.
For a start, ISKCON News editor Krishna-lila Dasi, a professional filmmaker, filmed the opening and closing sessions, and interviewed a dozen or so scholars for the upcoming ISKCON 50 film "Joy of Devotion".
Meanwhile, Graham M. Schweig plans to edit a book, likely to feature the same title as the conference, and including full and extended versions of the various papers presented, as well as some by scholars who weren't able to attend. He is already in dialog with several major university publishing houses. The book is expected to come out within the next year or two.
Schweig and other conference organizers expect the book, as well as the conference itself to precipitate a new level of scholarship on Srila Prabhupada and his ISKCON.
"One thing that struck me was the collective appreciation of Prabhupada's unique contributions, and the strength over the last fifty years of the society that he built," says former GBC chairman and ISKCON Communications global minister Anuttama Das, who initiated the idea for the conference and helped plan it over a two-year period.
"Also striking was the genuine enthusiasm these scholars showed towards the study of ISKCON," Anuttama adds. "In the earliest years, ISKCON attracted the attention of scholars studying new religious movements. Now, I think this conference may usher in a new era of scholarship, looking at how this ancient and authentic Vaishnava tradition was replanted to New York, and from there, spread all over the world. And how today, it is a significant religious community that is having important impact in the broader societies where it has taken root."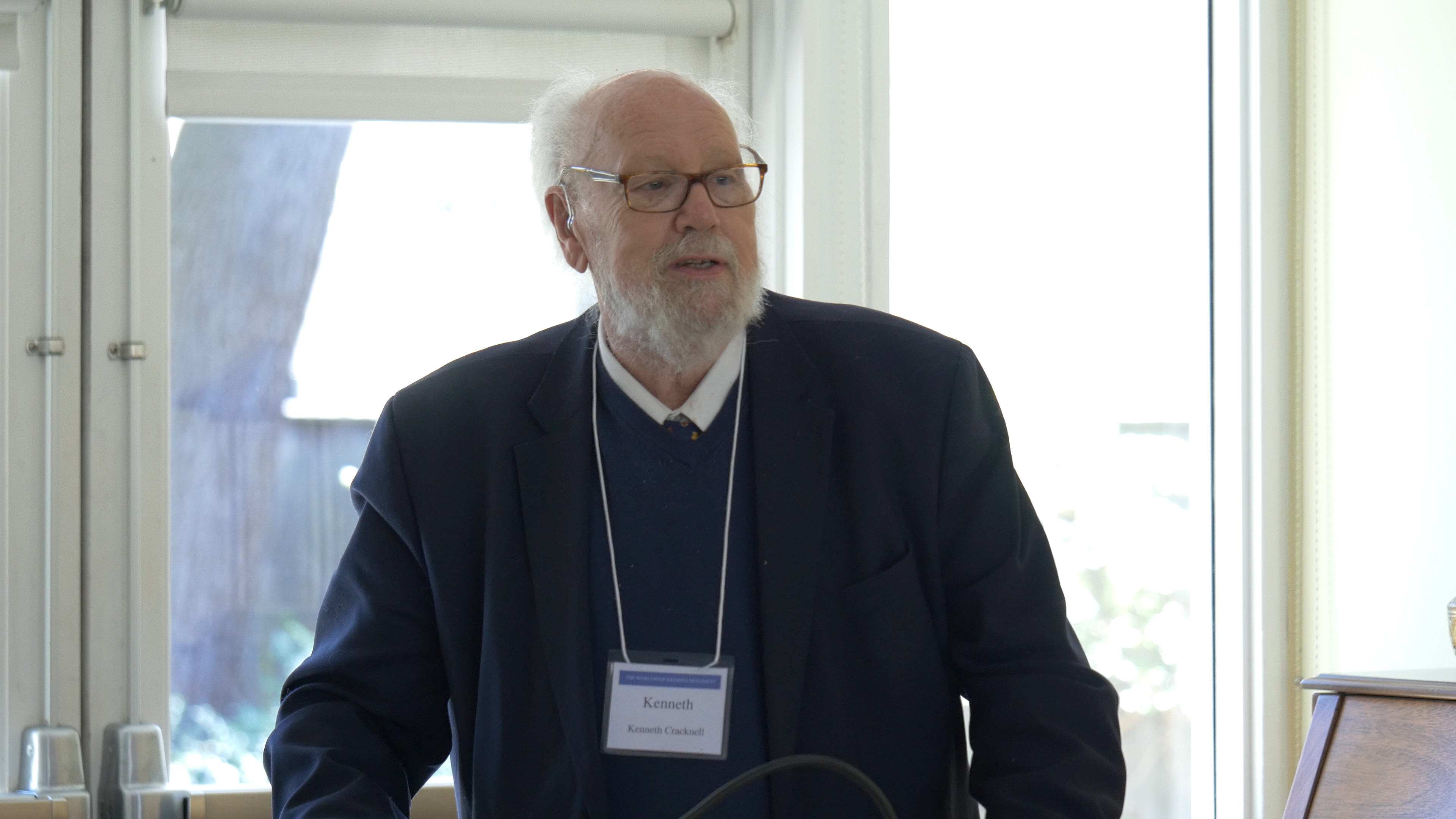 Dr. Kenneth Cracknell, a Christian Methodist Minister and scholar, has been a long time friend of ISKCON. He presided over one panel at the conference and offering the closing prayer.
[
academy
] [
boston
] [
conference
] [
devotee-scholars
] [
harvard
]