Last week's Sunday Feast kirtan was an emotional experience for ISKCON Baltimore devotees, who shed tears even as they danced and chanted ecstatically together.
The rip-roaring session was their last Sunday kirtan in their old temple, a 2,500 square-foot house where the main worship room can only hold around 35 people.
The 110-year-old building at 200 Bloomsbury Avene in Catonsville was becoming dilapidated, and the congregation – now nearly 300 devotees – couldn't even fit in for morning programs.
So it's time to say goodbye.
"I got emotional myself," says temple president Nila Madhava. "We've been in this building for over forty years – the temple opened in 1974. And Srila Prabhupada came to visit in 1976, turning the place into a holy pilgrimage spot by his presence."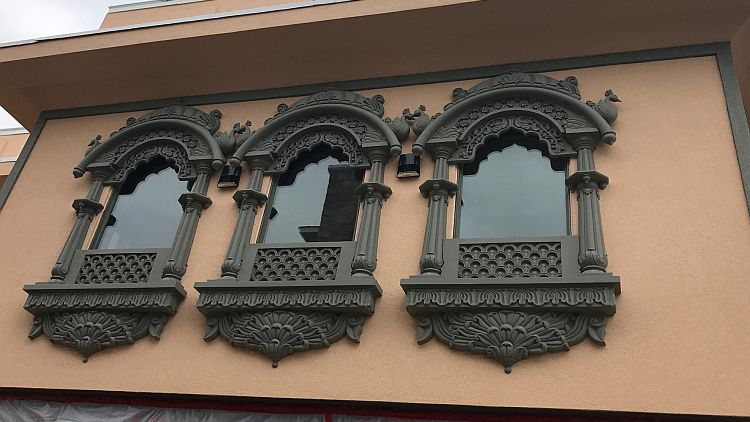 The temple is built in a Jaipur style, with ornate arched windows
Nevertheless devotees are excited to move into their new custom-built Vedic temple this weekend – which has been erected on the same sacred spot.
The temple cost $3.5 million and was built in less than two years' time. It covers 12,000 square feet across three storeys, incorporates green technologies, and is surrounded by windows so that electric lights are not needed during the daytime.
With Jaipur-style architecture and five domes in the umbrella-style of Rupa Goswami's Samadhi, it is a beautiful sight.
The entrance is flanked by bas-relief forms of Gaura Nitai, to emphasize the community's central focus of Harinama, book distribution and outreach. Inside, beyond the gift shop and reception, is a gorgeous temple room with three elaborate teakwood altars carved in India.
One altar will house the same Jagannath, Baladeva and Subhadra Deities who were in the very first New York Rathayatra in 1976 attended by Srila Prabhupada, and have been worshipped in Baltimore since the 1980s.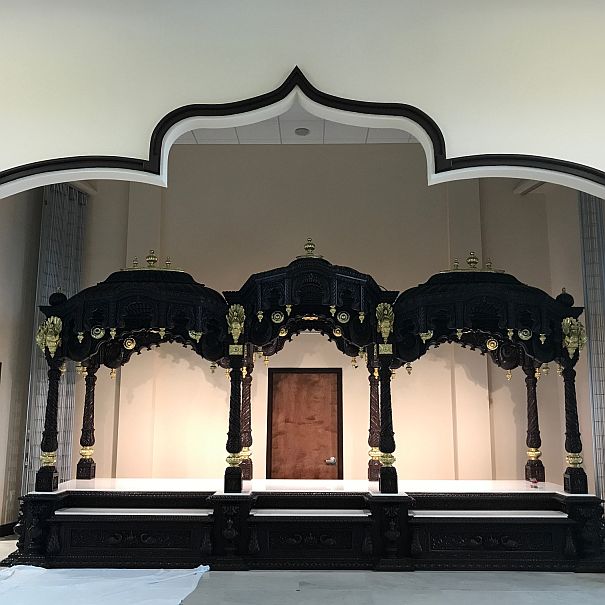 The temple room, awaiting Lord Jagannath, Gaura-Nitai and Radha Madhava
One will be home to the very special Nitai-Gaurasundara Deities who have also been worshipped in Baltimore since the beginning. During a visit to Washington D.C. in July 1976, Prabhupada was shown a photo of Them and immediately asked to be taken to Baltimore to see Them.
On the third altar, new Deities of Sri Sri Radha Madhava will be installed.
The temple's grand opening festival will run from Friday April 28th to Sunday April 30th. Friday will see a small yajna for the purification of the whole temple. On Saturday will be the eye-opening ceremony for Sri-Sri Madhava, and a rare chance to see Shayana Adhivasa, the Lord's bedtime ceremony, from 5pm to 7:30pm.
On Sunday, all the Deities will be installed in Their new temple, and there will be an abhisekha bathing ceremony and the first arati for the Lord.
Meanwhile there will be nonstop kirtan with Gaura Vani, Visvambhar and local kirtaniyas; a bhakti lounge where new guests will learn mantra meditation; and delicious international prasadam cuisine.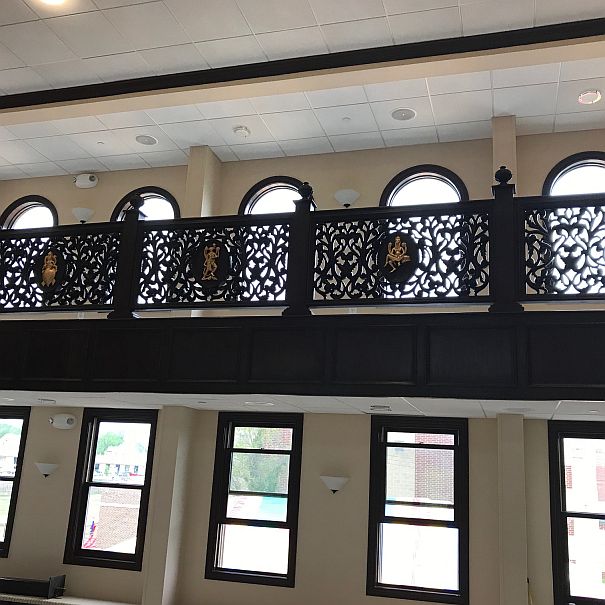 The temple room has windows all around to let in natural light
Between 1,500 and 2,000 devotees from the U.K., India, Australia and the East and West Coast of the U.S. are expected to attend, including many Srila Prabhupada disciples who served at ISKCON Baltimore in the past.
Baltimore devotees are excited about what lies beyond the opening, too. The new temple has Sunday school and meditation program rooms, as well as a $150,000 state-of-the-art kitchen for Food for Life.
"We'll be able to cook for 600 people at once, and we plan to bring hot meals to homeless shelters as well as to battered women and veterans," says Nila Madhava.
"For Srila Prabhupada, buildings weren't the priority – outreach was," he adds. "For the two years that we've been focused on construction, it feels like outreach has been a bit on the backburner. Now, we have to incorporate book distribution, prasadam distribution and Harinama Sankirtana – then Srila Prabhupada will be truly happy with our temple."
[
baltimore
] [
maryland
]