for ISKCON News on Nov. 25, 2016
Legendary kirtaniya Agnideva Dasa's first new album in many years, to be released in January 2017, will be entitled "Prayer to the Lotus Feet of Lord Krishna." It will sound like "an intimate kirtan with friends," producers say.
Named after one of its tracks – a bhajan Srila Prabhupada wrote aboard the Jaladuta on his way to America – it will be a heartfelt offering to the ISKCON Founder at the end of ISKCON's 50th anniversary year.
"It is my belief that this poem is important for all followers of Srila Prabhupada to meditate on, as he shares his heart and something of his inner life in it," says Agnideva.
Born in Trinidad and Tobago, Agnideva joined ISKCON in 1973 in New York City. Although he had performed in bands as a youth, public kirtan was in fact his last choice of service at first, as he was afraid he would be recognized on the street by people he knew.
Keen to impress upon him the value of truly surrendered service, his temple president announced, "Well that will be your service then!" and sent him out on Harinama Sankirtan.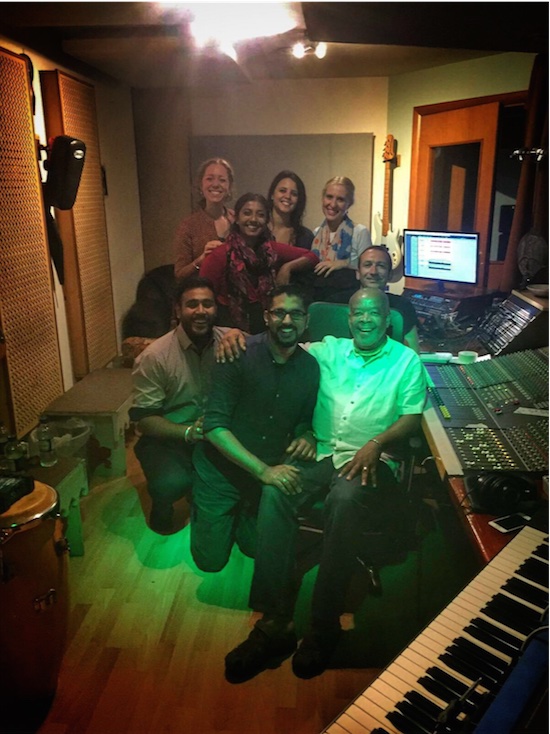 Agnideva in studio with his second-generation friends
Going out to chant for six hours a day, Agnideva, then Bhakta Alvin, began by just playing karatalas. But the leader, hearing his voice in the back of the group, asked him to sing for him when he took a break. Devotees instantly fell in love with his kirtans, and the rest was history.
In 1974, Agnideva moved to Los Angeles, and continued chanting on the streets there. One day, Stevie Wonder drove by, heard the devotees singing, and invited them to chant Hare Krishna and play karatalas on his classic track Pastime Paradise. According to Agnideva, Wonder was extremely gracious, and showed interest in Krishna consciousness.
Agnideva continued to inspire devotees with his chanting, as cassette tapes of his kirtans circulated around ISKCON throughout the 80s and early 90s, and became much-loved. After them came his Mandala-published series Smaranam in 2001, Kirtan in 2002, and Yoga of Sound in 2007. He remained dedicated to public Harinama Sankirtan, going out to chant every day. And since 2008, he has begun to travel intensively, becoming a familiar face at ISKCON kirtan festivals around the world, and a beloved voice on kirtan festival recordings.
So devotees everywhere are looking forward to his new album with great anticipation. And there's plenty for them to get excited about.
Although it only contains six tracks, the album runs seventy minutes long, leaving plenty of time to delve deeply into its six bhajans.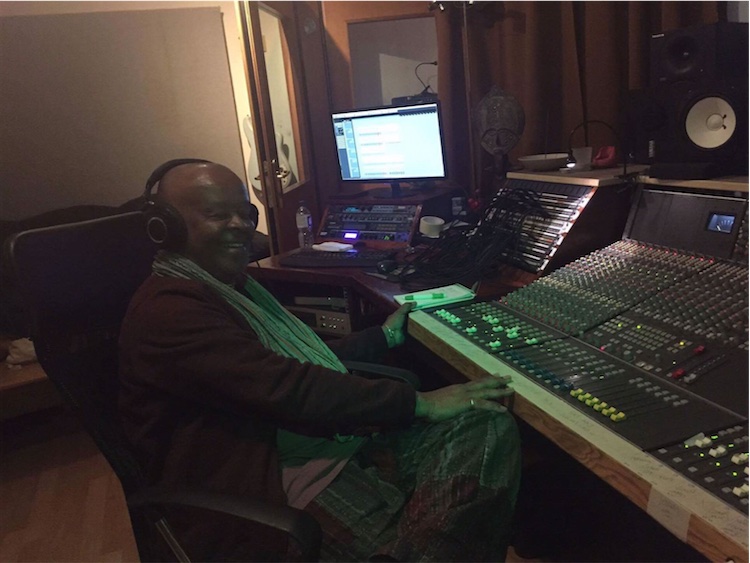 Agnideva having fun in the studio
While bhajans have become less and less popular in ISKCON, with kirtan festivals usually focusing only on the Hare Krishna maha-mantra, Agnideva is on a mission to bring them back, enlivening devotees with them at every gathering.
"Bhajans are important to me because when the original Vaishnava Song Book came out, Srila Prabhupada wrote in the foreword: 'Songs composed by the acharyas are not ordinary songs,'" quotes Agnideva. " 'When chanted by pure Vaishnavas who follow the rules and regulations of Vaishnava character they are actually effective in awakening the Krishna consciousness dormant in every living entity."
Four of the new album's bhajans are by Bhaktivinode Thakur. Emona Durmati is about the good fortune of meeting the spiritual master, and the humility that rises from the experience. Saranagati eloquently summarizes the process of surrender. Atma Samarpane is sung in the mood of the cowherd boys, who are confident in the Lord's protection no matter what happens. And Kali Kukkura praises the glorious names of Sri Caitanya.
Meanwhile Radha Krishna Prana Mora, one of Narottama Das Thakura's most famous songs, is a sweet meditation on serving Their Lordships. And the title track Krishna Tava Punya Habe Bhai – or "Prayer to the Lotus Feet of Lord Krishna" – is an epic 18-minute rendition of the poem Srila Prabhupada wrote shortly after he suffered heart attacks on the Jaladuta steamship.
"This song is more dear to me because it was written by Srila Prabhupada on September 13th, 1965 while crossing the Atlantic ocean, bound for America," says Agnideva. "There in that day's diary entry he mentions the poem: 'Today I have disclosed my mind to my companion Lord Sri Krishna'. This poem contains the essence of Krishna consciousness and the last two verses give an unexpected confidential glimpse into Srila Prabhupada's direct relationship with Lord Krishna."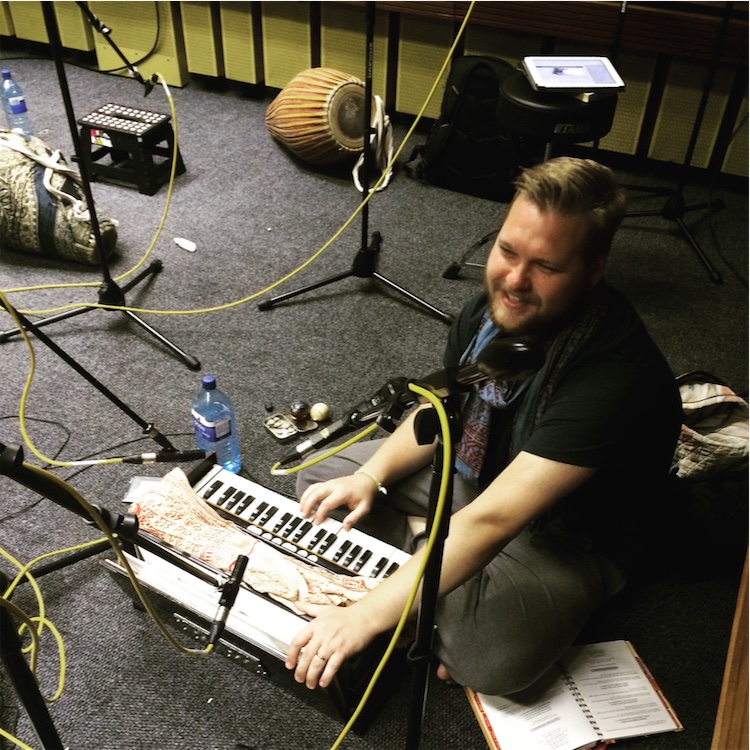 Amala Harinama records on the maha-mantra sections on the album
Recorded between home studios in Alachua, Florida and Iguana Studio in London – where Kripamoya's Chakram and Ananda Monet's Inevitable Time were also recorded – "Prayers to the Lotus Feet of Lord Krishna" aims for a simple and sweet sound.
"That's what Agnideva Prabhu is attracted to," says producer Jahnavi Harrison. "So we tried to keep it sounding as natural and organic as possible, with minimal production. It's like an intimate kirtan with friends."
Those friends are second-generation devotees from Europe, the U.K., South Africa and the U.S., whom Agnideva collaborated with on the album. As well as producing, Jahnavi Harrison sings and plays violin. Amala Harinama plays mridanga, harmonium, and sings all the maha-mantra sections after Agnideva's bhajans. Krishna Kishora from the Mayapuris plays flute. And others provide backing vocals.
"I wanted to work with the second generation devotees because they represent the future of ISKCON," Agnideva says. "And they also grew up listening to me. There was a natural affection that exists between them and myself. I very much appreciate their enthusiasm for kirtan and I wanted to encourage them further."
Jahnavi, who enjoyed working with Agnideva, says that he brings a unique attitude in a world where kirtan is sometimes in danger of becoming commercial.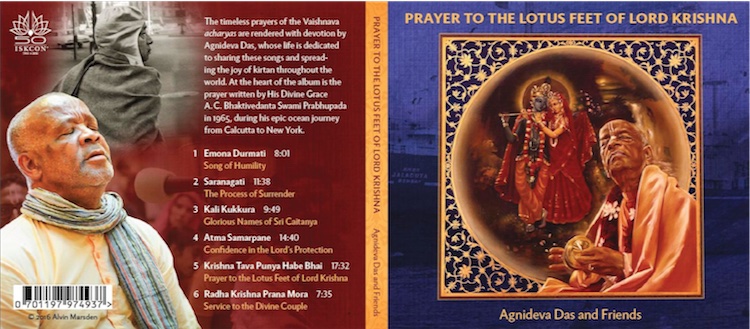 The cover of Agnideva's new album 'Prayer to the Lotus Feet of Lord Krishna'
"When he sings, I think you can really feel the power of someone that has devoted themselves to the practice of kirtan for a lifetime," she explains. "But his mood is to keep things very simple. He's down-to-earth and humble, not a showy person at all. I think that's unique in a time where much of kirtan has taken on a little bit of an entertainment element. That does serve a purpose and is not necessarily all a bad thing. But the more that you can become famous for doing kirtan, the more it can escalate in an unhelpful direction. So I think he brings a lot of purity – and people can appreciate that."
Prayers to the Lotus Feet of Lord Krishna will be released on CD and digitally via iTunes, and will be widely distributed through Amazon and other sources. While the hope is that it will be appreciated by people in the greater kirtan world, it is specifically aimed at a devotee audience, as an offering for ISKCON's 50th anniversary.
"I hope it will enhance the devotees' appreciation of the depth of Srila Prabhupada's surrender, his utter dependence on Krishna for carrying out his guru's instruction, and his innermost aspiration," says Agnideva.
* * *
To follow Agnideva and keep up to date on when the new album is coming out, please visit https://www.facebook.com/agnidevakirtan
[
agnideva
] [
kirtana
] [
mantra
] [
music
]