for ISKCON News on May 5, 2016
Alachua, Florida is already home to the largest group of ISKCON members in North America, with some 500 congregational families. Now devotees are planning an intentional devotional community there for couples or singles aged 55 and over.
Prabhupada disciple Kirtiraja Das, who served as a GBC and regional secretary in the former Soviet Union before moving to Alachua with his family in 1991, is developing the project as its managing director. He has worked as a realtor for the past twenty years, and like many of the senior devotees who have relocated to Alachua, he wants to downsize and simplify.
"As we grow older, we love to spend more time chanting, reading, going to the temple, and getting as much devotee association as possible," he says. "So our thought is that by creating this community, we can minimize the maintainence that's required to live, and maximize time and opportunities for our spiritual practices."
The intentional community, dubbed "Bhaktivedanta Village," will be set on a green, 25-acre wooded property on the southside of downtown Alachua that has already been procured by Ambarisa Das (Alfred Ford). Now Kirtiraja is looking for investors and residents to develop the property.
He plans for it to be divided up into quarter-acre lots, with private yards and concrete block homes of between 900 and 1,400 sq ft, heated and cooled. The homes will be energy efficient and incorporate green building techniques, and will be very affordably priced for devotees to purchase.
"We want devotees to be able to live comfortably and practically, and not have to break the bank to do it," says Kirtiraja. "So we're shooting for a price range under $100,000."
As well as these outright sold units, there will be rental homes, and some subsidized units for those who cannot afford to buy or rent.
The neighborhood will be peaceful, with no through traffic, and will have devotees living in close proximity to each other to facilitate lots of Krishna conscious association.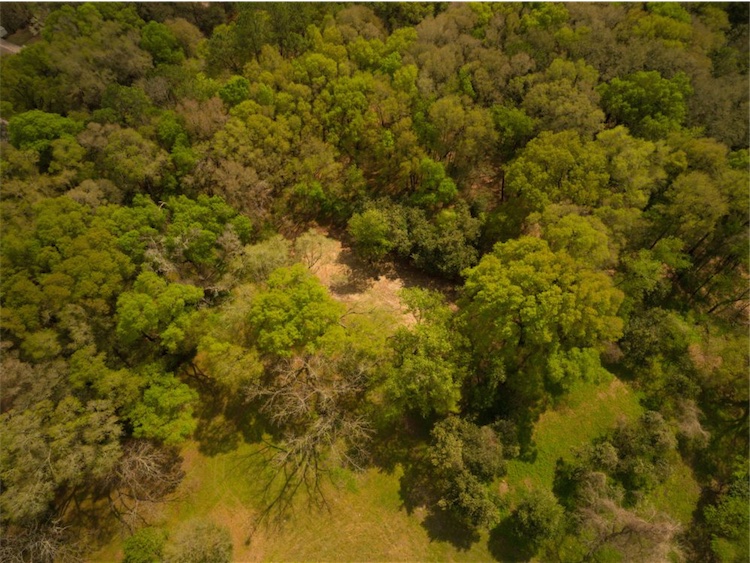 The property from above
"In our current situations, if you want to go to a friend's home for kirtan or prasadam after work, and you're tired, you've still got to jump into your car and drive over," Kirtiraja says. "In Bhaktivedanta Village, they'll live right next door or two streets over."
Bhaktivedanta Village will also make life simpler by providing shared facilities including walking paths for chanting japa or just getting fresh air; mini parks; and a community center with a small temple room, a space for kirtan and programs, an exercise room, and a swimming pool.
There will also be a staffed kitchen and cafeteria where devotees will be able to purchase a reasonably priced prasadam buffet and have a common meal with friends. Alternatively, they'll be able to get takeaway to eat at home, or purchase a mealplan for anywhere from a month to a year.
Kirtiraja feels that especially for the 55+ set, there's a lot to be said for not having to cook.
"My wife Haripuja and I have been married for forty-three years, and with rare exceptions she has cooked at least once every single day," he says. "She's just tired of it! And she's certainly not alone."
Meanwhile, Bhaktivedanta Village staff will take care of other general maintenance issues of day-to-day life, to give its residents more time. Homeowner's Association fees will cover regular lawnmowing and groundskeeping, and either volunteers or staff paid by the individual will be available as caregivers, drivers, and home cleaners or cooks.
"We want to minimize those things, so that for example, when you come home in the evening you don't have mow your lawn for ages – your grass is already cut and looks beautiful," says Kirtiraja. "And you can in effect go to a kirtan at a different person's house every night!"
In addition, units will be set aside for hospice care. "Right now, devotees under care are in hospices out in Gainesville or Lake City, places that are hard to get to," Kirtiraja says. "But in Bhaktivedanta Village, devotee association will always be right there with them."
With all these facilities, Bhaktivedanta Village will not only be a great opportunity for seniors, but also for devotees looking for employment or volunteer service.
The project, which Kirtiraja calls "long overdue," has already drawn a huge amount of interest. Within just three days of posting about it on his personal Facebook page, he received 105 serious inquiries from devotees all over the world; and more keep coming in.
An office has already been opened onsite to field these queries, show prospective residents what's available, and plan out the development. Meanwhile, Kirtiraja and a team of local devotees he's gathering plan to break ground on the project in eighteen months. And with everyone onboard feeling a sense of urgency, construction is expected to move at a good clip.
"We're excited about getting the chance to serve the Vaishnavas in this way," Kirtiraja says. "As devotees, we consider association such an important thing throughout our lives, and as we get older we need it more than ever. So we feel that to provide a community where such association is readily available is so important."
* * *
To help Bhaktivedanta Village become a reality or just learn more about the project, please contact Kirtiraja Das.
Visit him on Facebook at Kirtiraja Jakupko.
Email him at kirtiraja1952@yahoo.com
Mail him at Kirtiraja Das, Bhaktivedanta Village, P.O. Box 1445, Alachua 32616.
[
alachua
] [
florida
] [
retirement
]