for ISKCON News on Jan. 23, 2017
Damian Collins, Conservative Party MP for Folkestone, tweeted: "It is always fantastic to see new businesses opening in #Folkestone it was a pleasure to open the Atma Lounge today".
In the sleepy seaside town of Folkestone, known for its tourism and harbour trade, is a little oasis for spiritual awakening right on the old High Street called: Atma Lounge.
The official opening was on the 20th of January with the attendance Damian Collins and the landlord and Former Mayor of Folkestone Philip Carter, Leader of Shepway Council David Monk as well as other dignitaries and guests. The event included: a tour of the property, a presentation and introduction to the philosophy and organization the centre is run by, a vegetarian lunch buffet, and mantra music presentation.
Atma Lounge is a unique feature of Folkestone, offering a cultural and spiritual experience from sacred India -- a place to relax and dive in spiritually. The converted shop-front has become a yoga and meditation center and gift shop. The center offers regular courses and events including yoga, meditation and counselling as well as a weekly Open Day event on Sunday that includes: mantra chanting, a short philosophical discussion on the Bhagavad-Gita and a hearty vegetarian meal.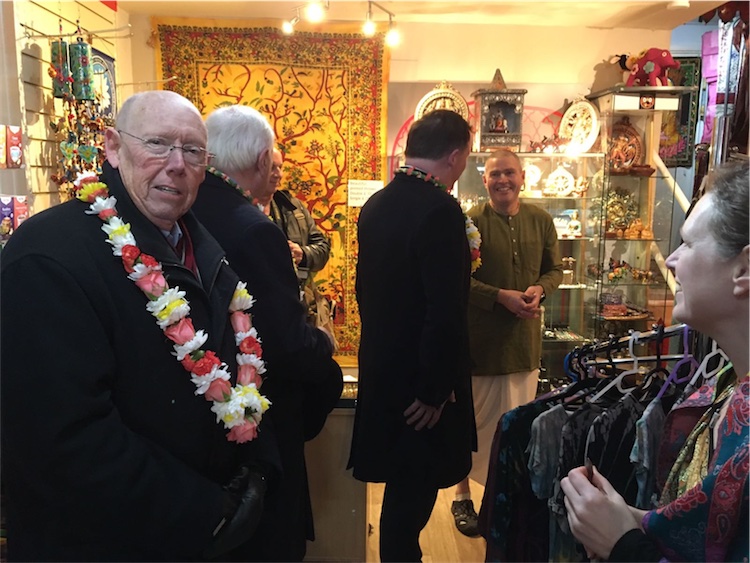 VIP Guests with Atma Lounge owners Philip Jefferies and Emese Soros
"Folkestone is at long last turning the corner towards prosperity with the regeneration focused on the Creative Quarter," said manager Philip Jefferies, "spiritually minded people, artists, musicians, entrepreneurs have gathered here to create a positive future together," he continued.
The gift shop 'Secrets of India' is a little piece of the East having an array of exotic items for home decoration, colourful clothes, jewellery, handicrafts and mantra music and spiritual literature ethically sourced from India and Nepal. There is also an online shop where customers can buy items on the go or from home.
A meditation garden is due to open in the spring of this year, and will allow guests and passer-byers a chance to enjoy a beautiful space combining the five elements: earth, air, fire, water and ether to create a holy space for rejuvenation and renewal.
Atma Lounge is a registered charity under ISKCON-London Ltd. and managed by spiritualist couple Philip Jefferies and Emese Soros.
[
atma-lounge
] [
london
] [
uk
]