for ISKCON News on June 23, 2018
On June 16, 2018, ISKCON Melbourne had the privilege to receive very distinguished guests Hon Matthew Guy, Leader of the Opposition from Victorian State Parliament, Andrew Bond local candidate from Albert Park, and Katie Allan a candidate from Prahran and other prominent members from Indian community. They were received by Temple President Aniruddha Das.
The guests were briefed on the Temple's future building upgrades such as conversion of current theatre into dining hall, upgrading paraphernalia room and converting current dining hall into multipurpose educational/cultural hall.
Then all the guests were given a guided tour of the newly built kitchen. A few years ago, as a Multicultural Minister Mathew Guy had visited the ISKCON Temple and announced to provide government assistance as result devotees received a grant of $500,000 to build a new kitchen. After seeing the newly built kitchen he said "This is really fabulous, fantastic and magnificent development".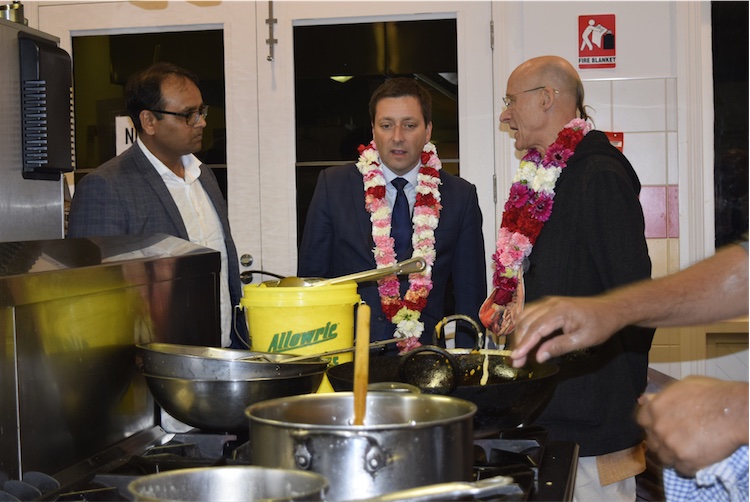 Following the kitchen tour all guests were taken to Temple room. Hon Mathew Guy offered respect to Srila Prabhupada – the Founder Acarya of ISKCON by offering him a garland. He addressed the congregation in the temple room. He started by saying "The Hindu culture and Australia go longer back then we can imagine…", he also acknowledged to make crown prince of Udaipur (Rajasthan-India) Lakshyaraj Singh Mewar who is close supporter and well-wisher of ISKCON to make business ambassador between India and Victoria state if he wins next election in November. He further said "the Melbourne Hare Krishna-ISKCON community is such a powerhouse of support to; not only your community but also to whole community and those less fortunate around you…".
He promised to provide further similar assistance for ISKCON Melbourne's future building upgrades. At the end, he was gifted a copy of Bhagavad Gita As It Is by Aniruddha Das.
[
australia
] [
melbourne
]