for ISKCON News on June 29, 2018
Back to Godhead magazine designer, layout artist and photographer Yamaraja Das passed away on the morning of Friday June 22ndafter a ten-year battle with multiple myeloma cancer. He was 69 years old, and was BTG's longest-running servant, having worked with Srila Prabhupada's beloved magazine for 42 years.
Yamaraja spent his final days meeting with devotees, hearing how they came to Krishna consciousness and speaking about service to the Lord. He also shared his own heartfelt realizations about how Srila Prabhupada "gave us the real deal."
Yamaraja left this world during the sacred brahma muhurta time while listening to Prabhupada chanting japa. It was the highly auspicious day of Baladeva Vidyubhusana's disappearance, Srimati Ganga-mata Goswamini's appearance, and Ganga Puja.
"May we all be blessed with such an auspicious departure from this world," said his friend Chaturatma Das.
Born Robert Wintermute in 1948, Yamaraja grew up outside Portland, Oregon. He attended Portland State College, then the University of Oregon in Eugene -- majoring in art -- before dropping out to dive into the '60s counterculture. His interest in Eastern philosophy inspired him to buy a copy of Srila Prabhupada's Bhagavad-gita As It Is in a bookstore.
After regularly visiting the ISKCON temple in Portland for a few years, he moved to New Vrindaban in 1971, drawn by the idea of living a natural life in the country. He became an initiated disciple of Srila Prabhupada in 1972.
In 1973, the East Coast branch of the Bhaktivedanta Book Trust (BBT) recruited Yamaraja. Moving into the New York temple, he received training in design and layout for Back to Godhead magazine as well as Prabhupada's books.
In 1975, he moved with the BBT to Los Angeles, where he worked on BTG and BBT books. That same year, he was part of the famous successful effort to produce seventeen volumes of Caitanya Caritamrita in just two months for Prabhupada.
After that, Yamaraja continued to design and lay out Back to Godhead magazine. For forty-two years, day in and day out, he performed this service through all kinds of austerities and personal sacrifices. He never married, and remained a brahmachari until the end, selflessly giving his entire life to Srila Prabhupada's mission.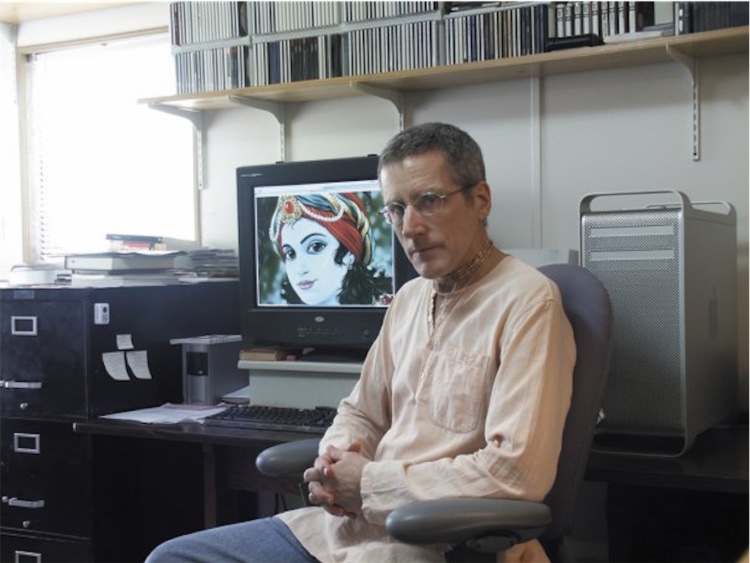 Yamaraja Das at his desk at BTG
"He was quiet, steady and dedicated to his service, which he took most seriously," says Visakha Dasi, who first met Yamaraja with her husband Yadubara in the early 1970s. "Over the years, the Back to Godhead magazine office changed locations -- Philadelphia, Los Angeles, San Diego, Alachua -- and Yamaraja moved with it each time, continuing to be responsible for the 'look' of the magazine, which Srila Prabhupada referred to as 'the backbone of the Hare Krishna movement.' Along with this full time service, Yamaraja also photographed for the magazine, and over the years probably hundreds of his photographs have appeared on its pages, especially of joyous devotees on harinama sankirtana parties."
Besides his work with BTG, Yamaraja also spent his spare time on evenings and weekends laying out books for devotees. He assisted the Bhaktivedanta Institute in spreading Krishna consciousness through science, by working on the books of the late ISKCON scientist Sadaputa Das (Richard L. Thompson). Until recently, he was also part of a team that kept Sadaputa's contributions in the public eye.
"He would often work on a book project in the evening while working on BTG during the day," says BTG editor Nagaraja Das, who served closely with Yamaraja since 1986. "He was very concerned about good design. He felt strongly that the vital message of Krishna consciousness should be presented in well-designed publications. It irked him to see badly produced books. Even after many years of working with him, I continued to be impressed by how he always produced attractively designed articles with extremely limited resources, often reusing familiar BBT art in novel ways."
Mukhya Dasi, temple president at New Raman Reti, Alachua, worked with Yamaraja as he created the community's annual Deity calendar. She also praises his high standards: "Yamaraja was a consummate perfectionist," she says. "He was detail oriented in all his services. He just cared that much about everything he did! Oh Krishna, we will miss him so much."
Sesa Das, who was BTG's managing editor in the early 1980s, says: "Although we tend to think of Yamaraja as a quiet individual, he was not shy to express and push his opinion in staff meetings. He was clear in his artistic conception of the magazine design and for decades he championed it. He was so successful in his service that when each and every one of the devotees and BTG subscribers around the world think of BTG, what they envision is the creation of Yamaraja Prabhu. Yamaraja and the design of BTG are one and the same. I can see him now approaching the Vyasasana and offering the newest magazine to Srila Prabhupada hot off the press."
Many other devotees comment on Yamaraja's wry sense of humor, his incredible lunch chapatis and Sunday Feast Halava, and especially his regulation in his service and daily life.
"Quiet, humble, and dedicated, he never led a kirtan or gave class, but he was always at mangal arotik and chanting his japa in the temple," recalls Adikarta Das. "His main concern after he became too indisposed to carry on at BTG, was to get back to his service, and serve Srila Prabhupada's mission."
By all accounts, Yamaraja Das was a quintessential unsung hero of ISKCON, giving us all an ideal example of determination, humility and service attitude to follow.
"I'm not going to speculate about his destination," says Kesihanta Das, who visited Yamaraja in his final days. "But, in more ways than one, Yamaraja Prabhu was already Back to Godhead."
* * *
There will be a homa ceremony for Yamaraja Dasa at the New Raman Reti temple in Alachua on Tuesday July 3rd, before Gaura Aratik at 6pm. After the aratik, there will be a memorial service and prasadam will be served.
[
btg
] [
yamaraja
]