for ISKCON News on Oct. 5, 2018
Balarama Tirtha Das of kirtan group The Mayapuris, better known as "Bali," is set to release his first solo hip-hop single "Three Eyes Wide" on the well-chosen date of 10-08 (October 8th).
The first cut from his forthcoming album, tentatively titled "Thunder Drum," Three Eyes Wide is an old-school slice of Brooklyn-style hip-hop. Laid-back, lo-fi and reminiscent of artists like Fugees, Black Star and Nas, it's a reflective piece about having spiritual vision.
"There's divinity within the inner entity / the enemies of light they hide the truth / so you've been lied to," Bali raps in the opening lines, describing the soul's quest for enlightenment.
Later he invokes Lord Krishna: "I've got the secret plan, I've caught the sneaking dancer by the hand / Been seeking all these answers that I ought to understand / Now I got the chance but I'm so hypnotized that I'm locked up in a trance."
Three Eyes Wide was recently performed for the first time at Bhakti Fest on September 15thwith fellow conscious hip-hop artist SriKala, who features on the track. The deep lyrics, intricate rhyme schemes and Bali's energetic performance were well-received by the crowd.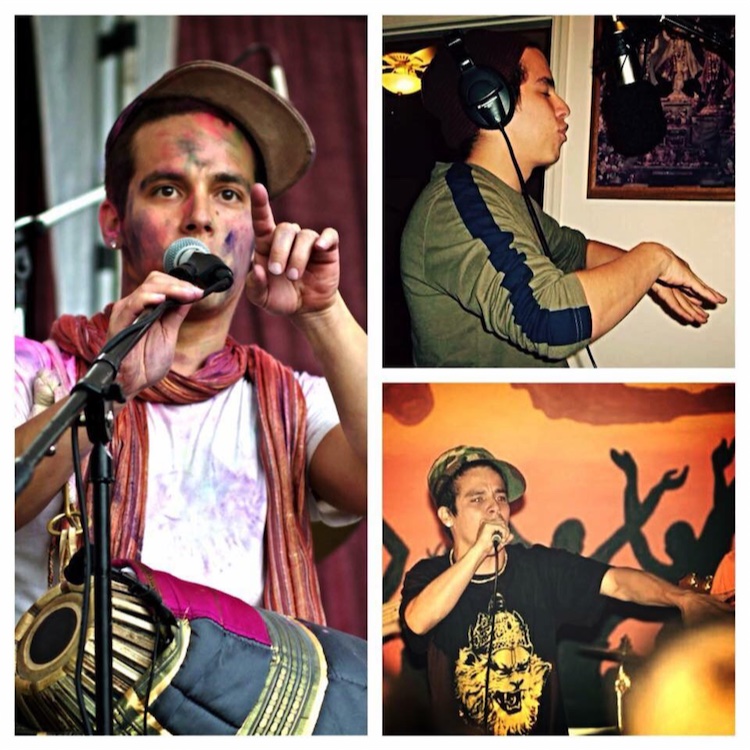 Bali combines hip-hop beats with deep soul-searching lyrics
Three Eyes Wide is set to be followed by two to three more singles, emerging about once a month until the album "Thunder Drum" arrives, tentatively scheduled for another 108 – January 8th, 2019. The next single is likely to be Soul is My Superpower, produced by Bali's wife Dhanya, also a popular conscious music artist.
Bali wrote his first hip-hop song in 2003, and continued writing on and off through his time with The Mayapuris. His album draws from his personal experiences and realizations growing up in Krishna consciousness, and also includes themes relatable to anyone interested in conscious living, such as the immortal nature of the soul, living with integrity and intention, seeking answers, and learning from a guru.
"Hip-hop is a powerful art form," Bali says. "It leads the music industry and fashion trends, affects language, social movements and politics, and has always been a voice of the people with the capacity to inspire so much change in the world. Unfortunately, most hip-hop music is dominated by negative messages, or at least messages that aren't particularly conscious. So I hope to offer something different."
As hip-hop is a collective, collaborative medium, Bali's album will be co-produced by multiple kirtan scene musicians such as SriKala, Dhanya, DJ Drez, Logan McCoy, hip-hop-producer-turned-book-distributor Jaya Chaitanya, and on the title track "Thunderdrum," Bali's own bandmates The Mayapuris, giving it an eclectic and varied sound.
"I want to make something that sounds genuine to both spiritual seekers and listeners of real hip-hop music," Bali says. "Something that a hip-hop lover in New York City or on the West Coast could jam to in their car; but also that a devotee family could comfortably share together; and that a seeker looking for more in life could resonate with."
"Three Eyes Wide" is out on Monday 10/08. It will be released by Cdbaby.com on multiple digital platforms such as iTunes and Spotify.
[
bali
] [
hip-hop
] [
mayapuris
]