for ISKCON News on April 12, 2017
The Bhaktivedanta Book Trust was present at the American College and Research Library Conference in Baltimore, Maryland from March 22nd to 25th this year, with its own booth.
Representing the BBT was Jaya Chaitanya Das, 30, a former hip-hop artist who has been ISKCON's number one book distributor in the U.S. for the past two years, and is always working hard on inventive new strategies.
"The Conference was attended by over three thousand college librarians and faculty administration from the U.S. and Canada, looking to add new books into their universities and research libraries," he says. "So we were excited about the possibility of Prabhupada's books being among them!"
At first, Jaya Chaitanya struggled to distribute books at the conference, meeting with little interest. Tired, he went outside to chant, and was approached by a gentleman who worked for Berkely College in New York. The man had heard about Krishna consciousness and wanted to know more.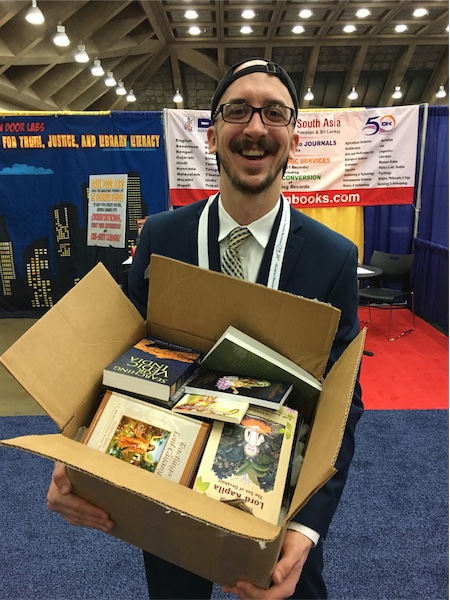 A happy customer with his box full of Prabhupada's books
"He greeted me with a 'Haribol!' and couldn't believe we were at the show," says Jaya Chaitanya. "A few hours later, he came to pick out several books. The next day, he returned, saying that he couldn't get us out of his mind, and that his heart kept telling him to get the Srimad-Bhagavatam set. He got the full set, and was overjoyed and thankful."
From then on, Jaya Chaitanya felt as if Krishna had opened the gates for miracles to occur.
"A middle-aged female librarian approached our table, and as I was talking to her I noticed that she had a necklace pendant of Lord Krishna playing His flute!" he recalls. "I asked her about it, and she said, 'Oh, this is Lord Krishna! Have you heard of Him?' I smiled and said I knew a little. She hadn't heard of ISKCON before, but said falling love with Krishna was the best thing ever."
Jaya Chaitanya showed the woman a Srimad-Bhagavatam set too, and she also took the whole set. This piqued the interest of the librarian next to her, who took yet another full Bhagavatam set. People began flooding to the BBT table, and by the end of the conference over 250 books had been distributed.
"It was amazing to see Krishna turn on the 'switch,'" says Jaya Chaitanya.
He adds, "I'm hopeful that now some of Srila Prabhupada's books will begin to appear in college libraries."
[
bbt
]