On August 4th, 2020, Prema Dhan was sitting alone in his office on a phone call, catching up with some work. Suddenly his desk started shaking and he almost fell off his chair. It felt like an earthquake. "I'll call you back," he said.
As he went outside to investigate, he saw many other people in a similar state of confusion. Within minutes, news of what had happened started to spread.
A warehouse containing ammonium nitrate had exploded in the port of Beirut, sending an epic blast ripping through the downtown area. One of the largest non-nuclear detonations in history left a wave of destruction, shattering buildings, and countless windows. There were over 7,000 people injured and more than 200 who lost their lives.
Even from his location in the mountains, over 15 km away, Prema Dhan had felt it too. Though physically unaffected he was left shaken. Within minutes of the blast, he began receiving messages of concern from friends and well-wishers around the world.
Among them, he received a voice note from a concerned devotee from Dubai. There was a large community of Lebanese people living there and they wanted to help, "Are you doing any prasadam distribution, like a 'Food for Life' program? We wish to help and are ready to send a donation"
Prema Dhan was stunned, not only by the blast but by that message as well. Since 2010, he and a few other devotees had established the 'Bhakti Beirut' community and started sharing bhakti yoga with the Lebanese people. Throughout this time, a 'Food for Life' project had always been in his mind (and heart).
The Bhakti Beirut community had been organizing kirtan programs and Bhagavad Gita discussions at their center and other various locations. Slowly, they had been gaining recognition and appreciation in the Lebanese community
Yet due to lack of resources, funds, and volunteers, a prasadam distribution project had never manifested. With barely a handful of committed devotees, the priority was always directed towards sharing kirtan.
But now circumstances in Lebanon had completely changed. Things had really begun shifting in October 2019 when the Lebanese people - fed up with the corruption of the political elite, whom the people blamed for the crippling economy - started mass protests throughout the country. Why? Money was becoming scarce. As the local currency diminished in value, so did incomes. Many people were only paid half their salaries - if they had jobs at all. The banks started exercising capital control, so even those who had money couldn't access it. There were shortages of gas, medicine, and bread.
But then a new unexpected challenge put the revolution to a halt: COVID-19. Like everyone else around the world, people had to stay home, and businesses closed. Things went from bad to worse: the value of the local currency plunged, even more, decreasing salaries further, tripling prices of food and other goods, and sending more than half the Lebanese people below the poverty line.
And then came the blast. It was almost too much. People were left homeless and could no longer afford necessities and food. Their morale plunged to even greater depths and they were left wondering if there was any hope at all.
For the small community of Bhakti Beirut, it was clear that there was a great need, and a great opportunity to serve. And now from this phone message - the offer of a donation from a friend - there was helping to get things started.
As the first step, Prema Dhan consulted with BB Govinda Maharaj, the GBC of Lebanon. After receiving approval and blessings, he then reached out to the friends and well-wishers in the bhakti community in Lebanon and started gathering up the team. To his pleasant surprise, around ten people were ready to serve in the cooking and distribution.
Next, they needed to find a reliable place to send the meals. There was one lady who ran a charity organization that distributed food, and she happily gave them contacts of families in need. Another friend introduced them to a charity center that was lacking in food. Everything was now ready.
And so began 'Food for Life Beirut'. Volunteers worked on rotation, with the different cooks and distributors serving on their assigned days. Some meals were delivered door to door, and others at the center where families would come pick up the meals themselves.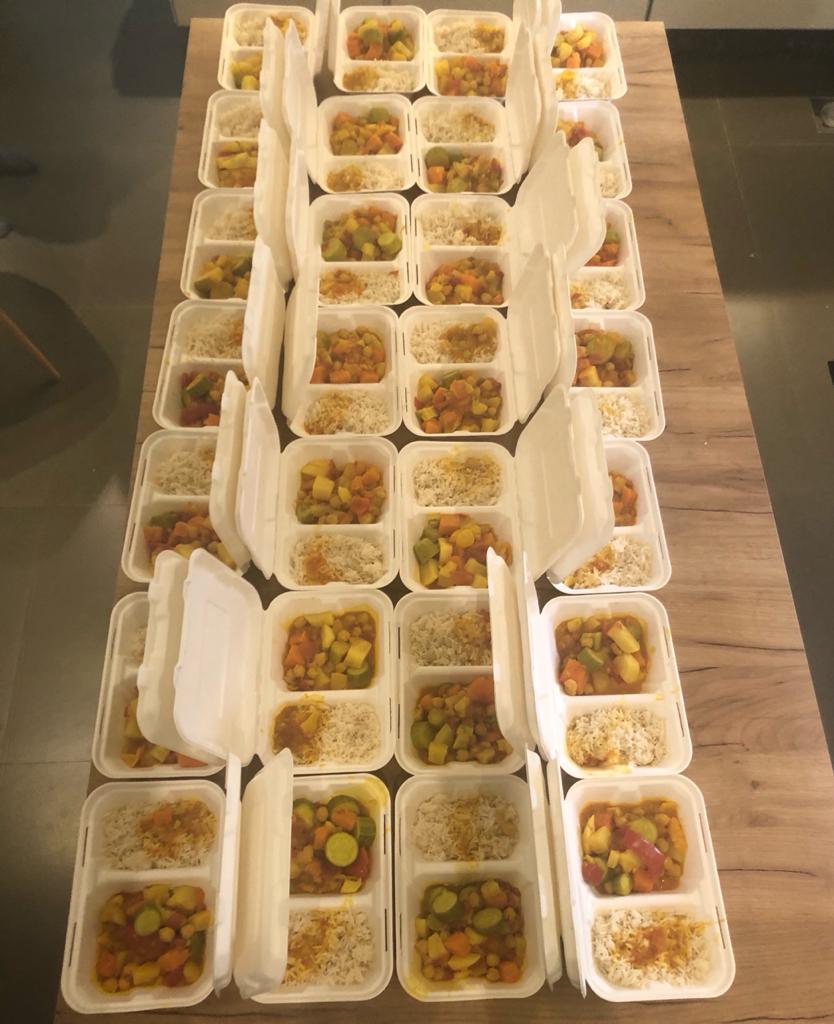 The recipients of the food were tremendously grateful. Beyond the blast, just living in Lebanon through the crumbling economy and covid restrictions made any help much appreciated. Not only were the meals nourishing them physically, but it gave them that extra spiritual gain.
Interestingly, another surprising benefit of the project was the engagement of the bhakti community. Covid restrictions brought the center activities - particularly the uplifting kirtans - essentially to a halt, leaving everyone without a central gathering place to recharge and reconnect.
Although the cook's meal preparations were done in their own personal kitchens, and each driver had their own cars, still, having that common project together gave everyone that sense of community and connection. Each individual endeavor made a collective difference.
Today, over half a year later, the project continues. Since then, their small team has distributed over 2000 meals. They have also teamed up with another charity in Beirut and even started sending meals to a hospital. Even throughout the various lockdown measures, they managed to continue distribution.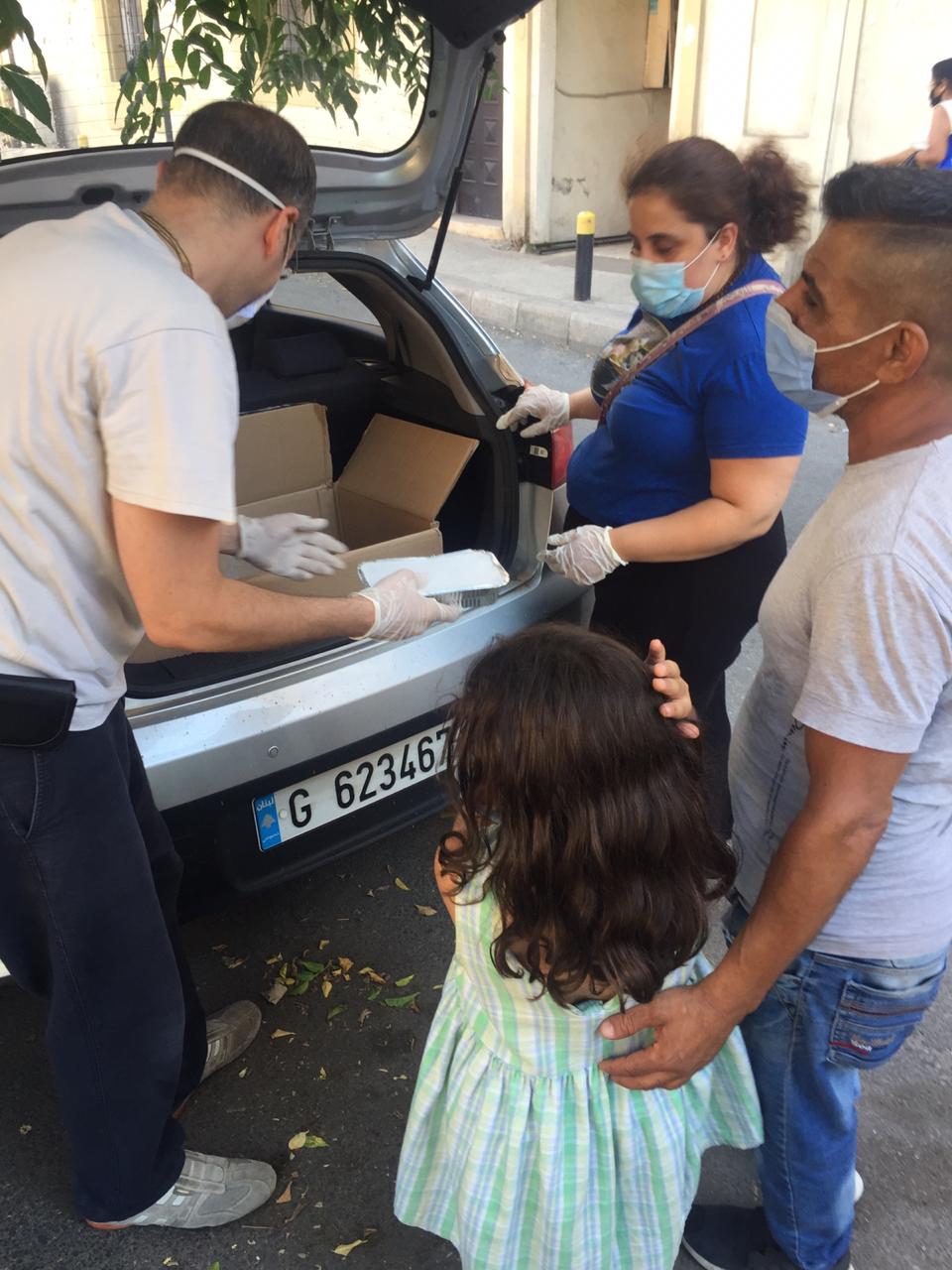 Unfortunately, however, the situation in the country has not improved. The local currency has devalued to record lows – rendering a $600 dollar a month salary to the equivalent of $60. An amount that could feed a family for perhaps one week, not including other daily expenses. Hopes of foreign aid are blocked by political instability. Costs of food and other commodities continue to soar and there are constant threats of shortages in electricity, fuel, medicines, and grains. Those who have the option are emigrating in record numbers.
Many in the bhakti community are going through their own struggles to support themselves. But still, they plan to stay as long as they can and help according to their capacity. For funds, they depend on the generosity of those living abroad, especially as foreign currencies have more value. And of course, they are leaving the rest up to Krishna.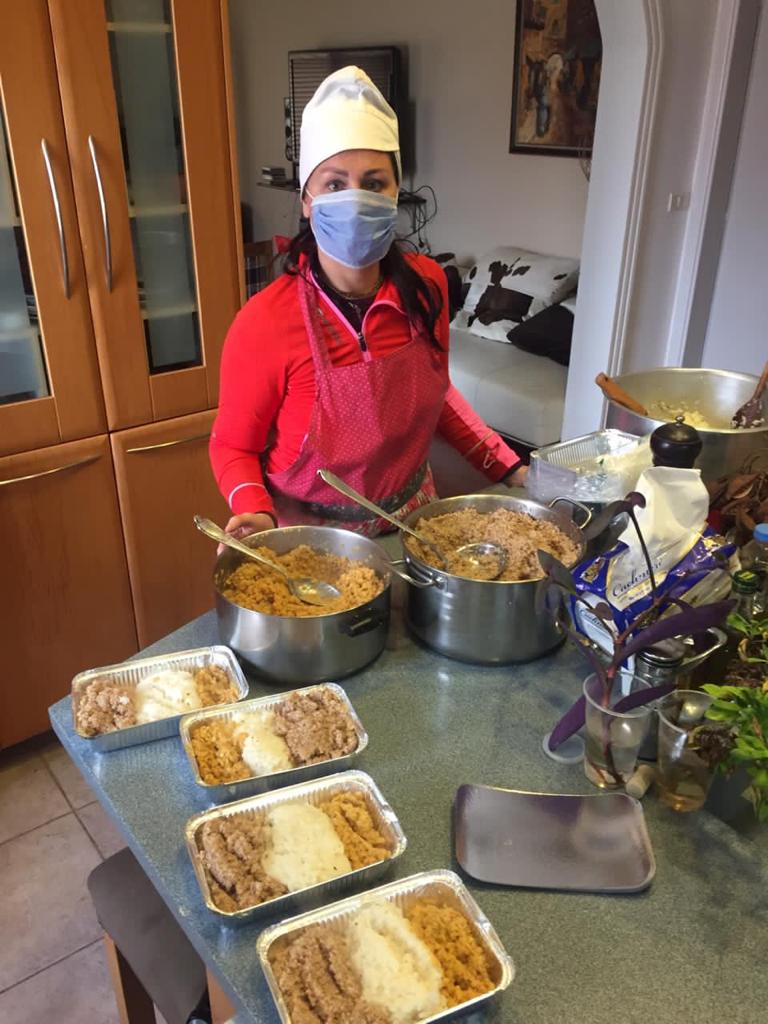 Vrndavan Viharini devi dasi preparing meals for distribution.
Learn more about Food For Life in Beirut: bhaktiyogabeirut@gmail.com
Instagram: https://www.instagram.com/foodforlife.beirut/
Help support their efforts: https://bhaktibeirut.com/donate/ or through their Patreon account: https://www.patreon.com/bhaktibeirut
[
beirut
] [
food-relief
]