for ISKCON News on Nov. 16, 2017
Braja Vallabhi Dasi, a beloved second-generation devotee who helped organize many youth and outreach programs, passed away in a tragic car accident while on her way to attend a seminar at Govardhana Hill in Vrindavan, India, on November 11th. She was just twenty-three years old.
Hailing from Brisbane, Australia, Braja Vallabhi was known for her incredible service attitude, deep spiritual realization and maturity for her age, as well as for her effervescent smile.
She was instrumental in helping organize and run all her guru Indradyumna Swami's major preaching programs for many years – including the Festival of India in Poland, Krishna's Village of Peace at Woodstock, and his festivals in Gujarat, Maharastra and Vrindavan.
She also organized the Sacred Sounds kirtan mela at New Govardhana in Australia, and the Australian ISKCON youth bus tours.
Just before her passing, she had been assisting Rasika Siromani Dasi and Govinda Caran Das in organizing a one-month long Kartik parikrama in Vrindavana.
Despite the hard work this took, according to Indradyumna Swami Braja Vallabhi still always found time to sit and listen to lectures, and relish the kirtans of the holy names. "I would be happy to leave my body in the midst of such beautiful singing of the holy names," she reportedly told a friend during one bhajan.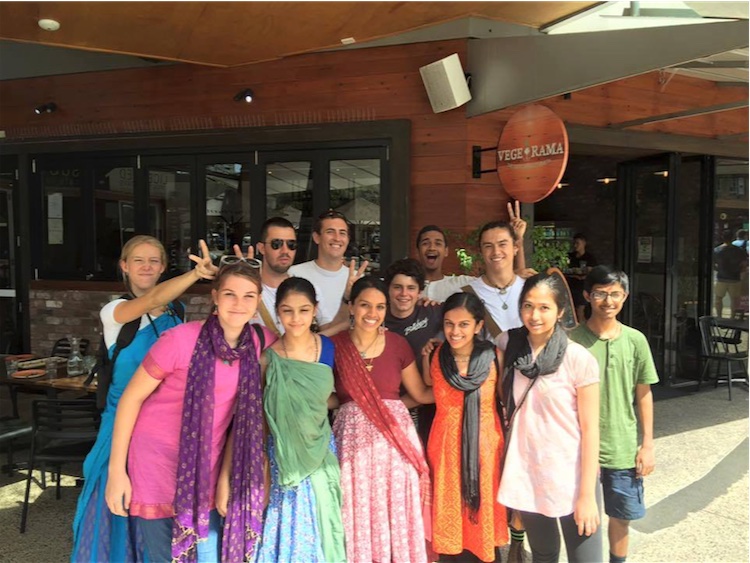 Braja Vallabhi (in orange with black scarf) with Australian bus tour participants on the first day of the tour
In essence, this desire came to pass. On the day she departed, Braja Vallabhi was on her way to the Holy Name Retreat at Govardhana Hill, and according to devotees traveling with her, she was enthusiastically chanting japa the entire way. When the accident happened and she left her body, she was just minutes away from the sacred Radha Kunda.
A cremation ceremony was held for Braja Vallabhi on the bank of the Yamuna river on November 13th, and was attended by three hundred devotees.
The next day, a memorial service was held at Krishna Balarama Mandir, with kirtan, and with devotees sharing their memories of her.
Meanwhile condolences and memories flooded in from across the globe. "The many heartfelt outpourings being written about Braja Vallabhi from people she's touched all over the world, including senior Prabhupada disciples, continue to reveal her saintly personality," wrote ISKCON youth leader Manorama Das, who had worked with Braja Vallabhi on several bus tours.
"Her departure is all of our loss, as our movement lost a dedicated youth leader who genuinely cared about inspiring our next generation, and gave 110% of her effort to do so, amidst the many other responsibilities she juggled in this fragile tottering condition we call life."
Meanwhile her friend Rukmini Priya Poddar wrote to Braja Vallabhi, "Over the last few days I've been seeing your photos, reading everyone's heartfelt offerings. And it hits me that although I knew you were a special soul, I never recognized just HOW special you were. Words really don't do justice to describe how beautiful (inside and out), how deep, realized, mature, wise, funny, adventurous and unstoppable you were. You were literally capable of doing anything."
In a lengthy "In Memoriam" praising her life, Braja Vallabhi's guru Indradyumna Swami wrote, "Though you have departed this world I pray that through the transcendental medium my words will be communicated to you wherever you are serving—be it in this world, or at the lotus feet of Radha Syamasundara in the spiritual world. I am convinced it is in the latter."
Sure enough, it seems that even at her young age, Braja Vallabhi was prepared for the final test we must all face in a way that few of us are. In a movingly prophetic blog post written on November 13th, 2016 – exactly one year before her passing – she wrote:
"My dear Lord Balaram, please bestow upon me the spiritual strength with which to practice Bhakti in the mood of desperation, begging for opportunities to serve, and never letting an opportunity be missed. I pray for the determination to continue to increase my enthusiasm and never become lax in my spiritual life, knowing well that the final lesson of death may at any point reach my doorstep."
And now let us leave the last words to Indradyumna Swami: "We will miss her dearly. Please everyone say a prayer for her, as well as for her parents, Sakhi Rai das, Vraja Laksmi dasi and her sister Kaishori Sindhu dasi who must now all bear her separation."
[
braja
] [
vallabhi
] [
vrindavan
]