for ISKCON News on Oct. 2, 2018
The Srimad-Bhagavatam 12.13.13 states, "If on the full moon day of the month of Bhadra one places Srimad-Bhagavatam on a golden throne and gives it as a gift, he will attain the supreme transcendental destination."
Srila Prabhupada encouraged devotees to act on this, writing in a 1977 letter, "I want that every respectable person has a full set of Bhagavatam and Caitanya Caritamrta in his home."
Last year, several temples in North America and India launched a Bhadra Purnima campaign to fulfill this order. They inspired their congregations to purchase and gift Srimad-Bhagavatam sets to their friends, family and co-workers, as well as to distribute them door-to-door.
But this year, from July until Bhadra Purnima on September 24th-25th, a wave of ecstatic energy to bless homes with the Srimad-Bhagavatam engulfed the entire world. India, the UK, Australia, New Zealand, South Africa, South America, and over 36 temples across the U.S. and Canada all participated.
Temples and countries set individual goals but smashed every one. In the UK, for example, devotees set a goal for 80 sets but distributed 183, more than double. North America's goal of 450 was nearly tripled, with over 1,286 sets distributed. One of the biggest players was India, with over 5,151 sets. Overall, an amazing 7,007 full sets of Srimad-Bhagavatam were distributed throughout the world.
The incredible success was achieved by teamwork, with Vaisesika Das, Bhima Das of ISKCON Juhu, and other international sankirtana leaders meeting regularly for months beforehand to plan a coordinated campaign. Vaisesika, who originated the Bhadra Campaign, also presented it at the GBC meetings in Mayapur and sent a video message introducing it to temple presidents across North America.
Influential leaders like Gopal Krishna Goswami, Lokanath Swami, Bhakti Rasamrita Swami, Gauranga Das from ISKCON Chowpatty and Radheshyam Das from ISKCON Pune all created inspirational videos and shared them on bhadracampaign.com, a website packed with marketing materials and resources.
Everywhere, leaders and book distributors used different creative ways to motivate their congregations to purchase Bhagavatam sets and gift them. In Washington D.C. and Baltimore, devotees dressed as author Vyasadeva and scribe Ganesh performed a skit about how Srimad-Bhagavatam originally made its appearance.
In India, Sri Rama Das and Sri Krishna Purushottama Das traveled across the country giving presentations on the Bhadra Campaign in cities like Bangalore, Tirupati and Mumbai. At ISKCON Juhu, Bhakti Rasamrita Swami gave a "Bhagavat Saptaha," a series of two-hour classes on the Srimad-Bhagavatam. At many of these events, devotees bought Bhagavatam sets on the spot to give as gifts for Bhadra Purnima.
Many different techniques were used around the world to saturate it with Srimad-Bhagavatams. In the UK, five temples throughout the country distributed full sets door-to-door; placed them in elderly care homes and libraries; and gifted them to their friends and families.
At ISKCON Juhu in Mumbai, two bus parties and ten teams of congregation leaders and youth preachers distributed all over the city and set up three Srimad-Bhagavatam tables in their temple hall.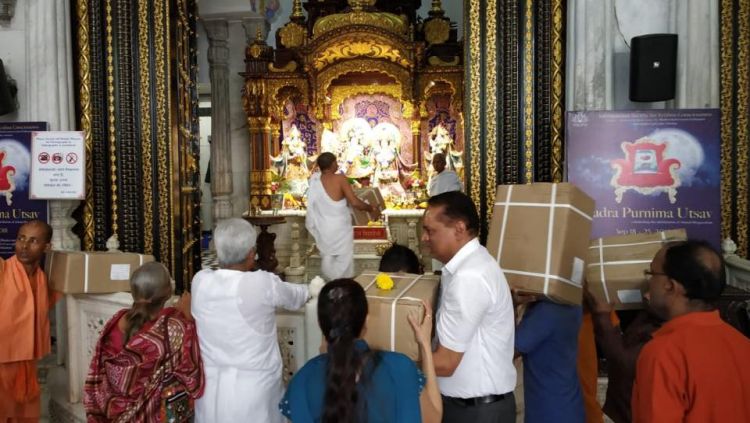 "At first we didn't think we could distribute full sets on such a mass scale," says Narottama Priya Das. "But Gopal Krishna Maharaja and our BBT Trustee Bhima Prabhu were constantly motivating us, and we kept finding new and innovative ways to distribute. It also became a moving reciprocation between devotees: I heard of one new brahmachari who was an enthusiastic book distributor but wanted a personal set for his own reading, so I gifted one to him. He was so happy that there were tears in his eyes."
Over at ISKCON Silicon Valley in the U.S., a program was launched allowing congregation members to gift Bhagavatam sets to their friends and family in India, as well as to underprivileged ISKCON devotees in villages near Chirala, Andhra Pradesh.
Meanwhile over seventy ISV devotees went door-to-door, and set up tables at schools and universities with uplifting results.
"One devotee met a man from South India whose grandfather had built a Krishna temple in their village – so he was thrilled to hear about the Srimad-Bhagavatam," says co-sankirtan leader Malini Dasi.
"We also met a lady who had received a Tamil language Bhagavad-gita As It Is twenty years ago from one of her colleagues in India, and still read it regularly," Malini adds. "She had been desperately looking for an English translation of Bhagavad-gita for her children, but couldn't find one – so when we showed up at her door, she burst into tears. And when we showed her the whole Srimad-Bhagavatam in English, she was overwhelmed with gratitude and took the entire set."
To get the full benefit of the Bhagavatam's prescription to observe Bhadra Purnima, many distributors around the world gifted one of the books from each set on "golden thrones" – ornate golden book stands – made specially available for the campaign.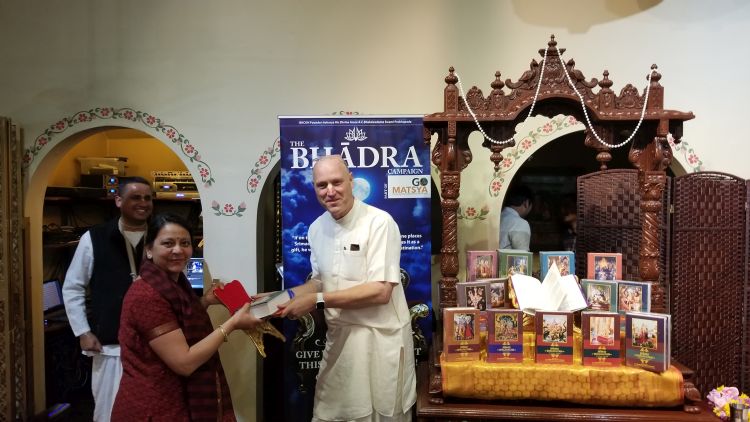 Vaisesika Das presents a lucky customer with a Srimad-Bhagavatam at ISKCON Silicon Valley
Overall the campaign was a heartening success in spreading the glories of the Bhagavatam.
"Everybody we met was eager to help preserve this transcendental knowledge," Malini says. "And I can only imagine the impact all around the world. Just the presence of the Srimad-Bhagavatam in everyone's home will gradually increase their consciousness to a higher level, and they will start appreciating spirituality more and more."
The campaign was also an enlivening experience for devotees.
"Bhadra Purnima day was one of the most blissful days in my life," says Narottama Priya from ISKCON Juhu. "The entire day, wherever I went in the temple, I was just seeing devotees carrying sets of Srimad Bhagavatam. It was as if we were getting a glimpse of what it must have been like during the '70s book distribution wave in Srila Prabhupada's time."
What's more, according to the Bhagavatam itself, every devotee who participated in Bhadra Purnima is now assured to attain "the supreme transcendental destination."
And there could be no greater gift than that.
To learn more about the Bhadra Campaign and to participate visit www.bhadracampaign.com
[
bhadra campaign
] [
bhaktivedanta-book-trust
] [
book-distribution
] [
srimad-bhagavatam
] [
vaisesika
]