Bhagavat Seva, an ISKCON Silicon Valley project with the motto "Distributing Ancient Wisdom Through Education" is offering online Sunday School, and using the course fees to distribute full Srimad-Bhagavatam sets. Coordinators also hope that the program can be replicated by devotees in their local areas first nationwide, and eventually internationally.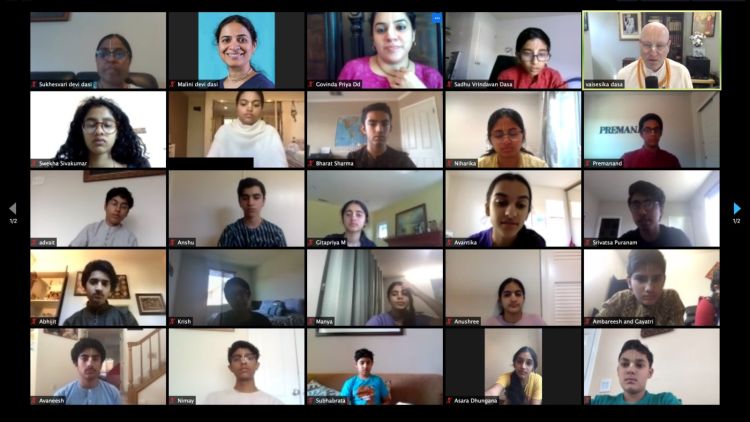 Sukhesvari Dasi, who runs the program, had been helping coordinate children's Sunday School classes in person at ISKCON Silicon Valley, California for about two decades, starting with eight children and four staff, and expanding to 132 children and twenty-five staff.
"Around three years ago, I began also offering sloka (verse) classes to people in my neighborhood who were interested, and we had thirteen students come regularly and pay the temple $40 a month," Sukhesvari says. "So I thought, why not give them books? And for Bhadra Purnima in 2018, I distributed 13 Srimad-Bhagavatam sets to everybody."
In 2019, after ISV president Vaisesika Das suggested making such a program global in order to expand Bhagavatam education and distribution, Sukhesvari and a team of around five devotees started another Bhagavat Seva class in the Californian city of Dublin, as well as one in New Jersey and one in Charlotte, North Carolina.
The next step was turning the Bhagavat Seva Sunday School into an online program so that it would be available to devotees who live too far away from an ISKCON temple to attend Sunday School in person.
Bhagavat Seva online was launched on Gaura Purnima Day in March 2020, just as COVID began and in-person Sunday Schools were shut down. Soon, seventy-two students had enrolled.
The Bhagavat Seva online Sunday School is a weekly program for children from 3 to 17 years of age to learn about Vedic culture, traditions, and values, with a curriculum based on Vedic scriptures and stories.
Each school year is comprised of two semesters – January to May, and August to December. Each semester, there's a selection of different 45-minute weekly classes for each of the three different age groups to choose from. Although the program is called Sunday School, some of the classes are offered on different days of the week.
During the current semester, 3 – 5 year olds in the Acyutha group can learn about Festivals of India, The Ramayana, and Navadvipa Parikrama. Six to eight year olds in Ananta can learn about Lord Jagannath and Vaishnava Saints. Nine to twelve year olds in the Madhava group can study Brahma Samhita prayers and a summary of the first canto of Srimad-Bhagavatam. And students in Gauranga, for thirteen years plus, can study the Bhagavad-gita and how to use it practically in their lives. In all classes, students also learn slokas and bhajans.
During the summer, two new groups will be launched, making the program complete – Keshava, for zero to two year olds, and Govinda, for children with special needs.
Sukhesvari, who works with the public school system as a speech-language pathologist, and helps children with disabilities to communicate, will teach the Govinda group stories of "Animals in the Vedas" such as Garuda and Hanuman, during the summer.
Sukhesvari will also use her professional training as a speech-language pathologist to offer a Parent and Me class for the zero to two-year-old Keshava group in the summer, teaching cognitive prerequisites, and talking about language development and how to develop a language using Srimad-Bhagavatam. Both Govinda and Keshava groups will then continue on in the regular semester.
During the summer, Bhagavat Seva offers a "summer camp," also conducted online. "Last year, we had Mayapur darshan, Parikrama where the kids learned stories of the holy places, and a Deity Worship seminar by Vaisesika Prabhu and Govinda Priya Mataji," Sukhesvari explains. "We also had a cooking class, garland-making or Tulasi worship, and games based on stories from the Srimad-Bhagavatam."
Alongside the regular Sunday School, there are also separate art classes for four to eight-year-olds, cooking classes for ages nine plus, and life skills classes for ages thirteen plus, teaching topics like effective habit transformation – all online via Zoom.
As a thank you for registering for the Sunday School, families each receive a full Srimad-Bhagavatam set. Those new to Krishna consciousness keep the set, while those who already own sets distribute them or have them distributed in their name. In 2020, Bhagavat Seva distributed 226 Srimad-Bhagavatam sets, and in 2019 they distributed 235. On Gaura Purnima 2021, the program distributed 20 sets of Sri Caitanya-Caritamrita.
The Bhagavat Seva program also serves as a follow-up for families who receive Bhagavatam sets, so that children can learn more about the sacred text, and understand it more when they read it at home with their parents, look at the pictures or hear the stories. To this end the next semester, starting in August, will exclusively teach stories from the Srimad-Bhagavatam Canto One onwards.
The response from parents and children has been enthusiastic. "We have seen a transformation in our home, devotionally and spiritually, and in the way our lives are evolving," says parent Poornima Budaraju. "Sunday School is a great support that we always look forward to."
Looking to the future, Bhagavat Seva coordinators in ISKCON Silicon Valley are happy to give devotees everywhere the framework to set up their own local Bhagavat Seva project, so that they can have a new avenue to increase the number of Srimad-Bhagavatam sets distributed from their ISKCON center.
For information about classes and the upcoming online summer camp, please visit https://www.bhagavataseva.com/
If you are interested in setting up your own local Bhagavat Seva project, please email Bhagavataseva.global@gmail.com
To participate in Bhagavat Seva's upcoming Ramayana Contest on Balakhanda for 8 -12 year-olds and 13 plus, which is set to take place online on May 9th, 2021 from 9:30 to 10:00am, please register at https://tinyurl.com/35v3fkme or email bhagavataseva.global@gmail.com
[
bhagavat-seva
] [
iskcon-silicon-valley
]