for ISKCON News on April 26, 2017
Shri Radhe, the opening track of charity kirtan album "Bhakti Without Borders," has been listed by Yoga Journal as one of the "10 Best Yoga Tunes of the Year."
The uplifting track, featuring Chaytanya and produced by Dave Stringer, appears in the major magazine's Spotify Playlist along with Tina Malia, Simrit, Deva Premal and others.
Bhakti Without Borders, of course, is a Gaudiya Vaishnava album of traditional bhajans sung by second generation devotee Madi Das and eleven Vaishnavis including Jahnavi Harrison, Achyuta Gopi, and Gaurangi. Its crisp production, pop structure and short song length makes it easily digestible for a wider audience.
The album was nominated for a Grammy in 2016 and was recently mentioned in Rolling Stone India alongside other mantra music Grammy winners. The Bhakti Without Borders band also performed at the Sydney Opera House and headlined Bhaktifest with Dave Stringer last year.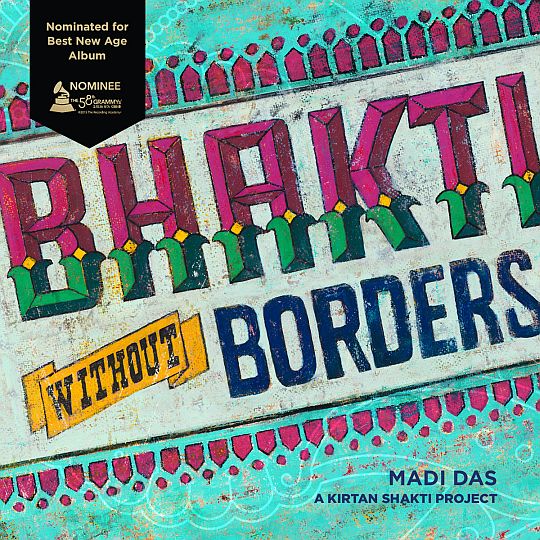 "The Grammy nomination has helped kirtan become part of the global conversation," says Madi. "And additional attention, like being in this top ten list, offers us more opportunities to share our music with a wider audience and to support underprivileged girls in Vrindavana, India."
100% of all the album's profits go towards helping educate, clothe and feed students at Vrindavana's Sandipani Muni School for girls. The funds are collected and sent by Kuli Mela Association, a second-generation devotee-run charity and record label.
Despite the massive shift away from album purchasing to streaming, which brings in less money, Bhakti Without Borders has sponsored 38 girls so far. Madi hopes that number will increase to 40 in time for the second anniversary of the album's release on May 12th.
"I had this realization the other day that, if chanting Hare Krishna is a request to be engaged in service, then all kirtan should be performed with a service attitude," he says. "So, even as mantra music becomes increasingly commercializd and perfomer-oriented, our focus is on sincerity and service kirtan."
Please support the service to Brijabasis by purchasing the CD album instead of streaming: https://www.cdbaby.com/cd/kirtanshakti
To listen to Yoga Journal's Spotify Playlist, click here:
[
bhakti-without-borders
] [
kirtan
] [
madi-das
] [
sandipani-muni-school
]