for ISKCON News on Nov. 2, 2019
On June 28th, 1974, ISKCON Founder-Acharya Srila Prabhupada was invited to speak at St. Pascal's Franciscan Seminary in Melbourne, Australia. When a guest mentioned that St. Francis of Assisi would address living beings and other aspects of the creation as 'brother dog,' 'sister cat,' 'sister water' and brother wind,' Srila Prabhupada nodded in appreciation.
"This is real God consciousness," he said. "To accept the trees, plants, lower animals, insignificant ants even, as brother... They are all parts and parcel of God. They are simply dressed differently…. That is also explained in the Bhagavad-gītā. Paṇḍitāḥ sama-darśinaḥ. 'One who is paṇḍita, learned, his vision is equal.' So if St. Francis was thinking like that, that is highest standard of spiritual understanding."
Following Srila Prabhupada's example, ISKCON guru and GBC Bhaktimarga Swami, known as "The Walking Monk," recently spoke at an interfaith event in honor of St Francis.
The event took place at the Our Lady of Perpetual Help Parish, a Catholic Church in Winnipeg, Manitoba, Canada. Held on October 4th– the Feast of St. Francis of Assisi – it honored the saint with the theme "Instruments of Peace," a phrase from his famous prayer.
"Lord, make me an instrument of Your peace," the prayer reads. "Where there is hatred, let me sow love.\ Where there is injury, pardon, \ Where there is doubt, faith,\ Where there is despair, hope, \ Where there is darkness, light, \ and where there is sadness, joy… It is in pardoning that we are pardoned; \ And it is in dying that we are born to eternal life."
Bhaktimarga Swami was invited as guest speaker for the event by Farida Lalbiharie, who organized it with the Mother of Perpetual Help Prayer Group. Farida is a Trinidadian Catholic who has had a long-term relationship with ISKCON devotees.
"She's a one-woman interfaith movement," says Vrnda Dasi, leader of the ISKCON Winnipeg preaching center, who has attended Farida's interfaith gatherings for the past fifteen years. "She is Catholic; her name is Muslim; and her son's name is Krishna!"
About twenty-five representatives of different faith traditions attended. The Reverend Msgr. Maurice Comeault began with a welcome, followed by sacred greetings from all the traditions present: Shalom (Judaism); As-salamu alaykum(Islam); Namaste (Hinduism); Metta (Buddhism); Aneen, Tansi, Boozhoo (Indigenous Spirituality); Allah u Abha (Bahai); Sat Sri Akal Gi (Sikhism); Sai Ram (Sai Baba); Ram (Rama Krishna); Hare Krishna (ISKCON); and The Lord be with you (Unitarian, Christianity).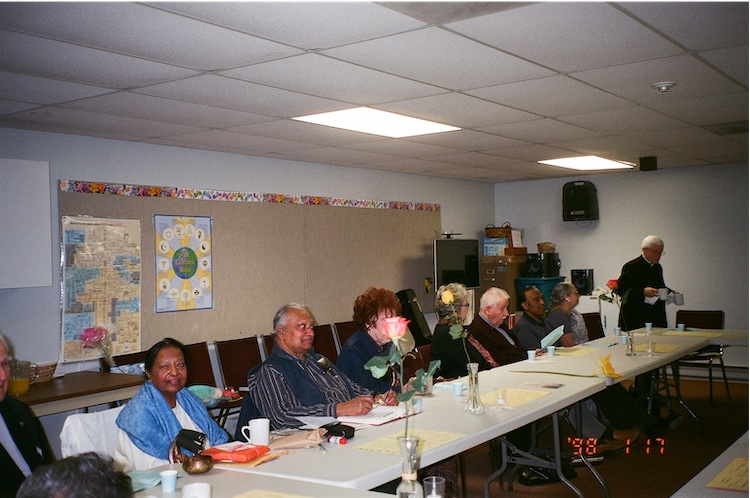 Religious representatives including organizer Farida Lalbiharrie (in blue shawl) gather for the interfaith meeting
Sacred items of worship from the different traditions were then honored, such as a menorah for Judaism, camphor for Islam, candle for Christianity, sage/sweetgrass for the First Nations, and diya (lamp) for Hinduism, ISKCON and the other faiths of Indian origin. Several faiths then shared their way of praise, including the First Nations representatives, who played a traditional flute song.
Leading a prayer, Reverend Msgr. Stan Jaworski, spiritual advisor at Our Lady of Perpetual Help, said, "Lord God, Creator of all, God of Power and Majesty, send now your Holy Spirit over the earth. Let Your Holy Spirit live in the hearts of all Nations, that they may be preserved from degeneration, disaster and war, and may the Mother of all Nations be our advocate. Amen."
"The Sacred Scriptures urge us: That supplications, prayer, intercessions and thanksgivings be made for everyone; for Kings and all who are in high positions, so that we may lead a quiet and peaceable life, in all Godliness and dignity, and so…. Let us pray."
The Most Reverend Richard Gagnon, Archbishop of Winnipeg then delivered a message of Peace in honor of the Feast of St. Francis.
Finally Bhaktimarga Swami spoke, finding parallels with St. Francis' phrase "Lord, make me an instrument of your peace," and the Bhagavad-gita, where Krishna tells Arjuna he is "but an instrument" of Krishna's arrangement.
Bhaktimarga Swami added, "I always admired St. Francis. He crossed all borders of denominational divisions." The way St Francis led his life, he opined, could be embraced by those on any spiritual path.
Maharaja also commented that while all the different faiths present may have varying ways of approaching salvation, they nevertheless held many of the same values, and should come together to challenge the social ills in society.
Lastly his assertion that he never left the Catholic faith he was raised in, but simply added Krishna consciousness, was met with much interest from the group.
To conclude, Bhaktimarga Swami and Vrinda Dasi were asked to lead everyone in a kirtan, chanting the Hare Krishna maha-mantra. They also distributed prasadam of no-bake carob candy.
As usual, Farida made sure that everyone left with a gift – which, this year, was a saffron-colored rose to match Bhaktimarga Swami's robes.
"Everyone thought Maharaja's speech was wonderful," says Vrinda. "This event is always like a family reunion. We're all people of faith, we all want to align ourselves with God's will. So it's good to reinforce that we're all ultimately on the same path, headed for the same goal."
Bhaktimarga Swami adds: "After the event, one participant said, 'I feel so happy, safe and comfortable in this circle of people, not only because of the topic we're discussing, but also the fact that we're all quite united in spirit.'"
He concludes, "I would urge ISKCON devotees and leaders to make a stronger effort to reach out to people like this, who are very much on the same page with us in terms of values and principles."
[
bhaktimarg-swami
] [
canada
] [
interfaith
] [
interfaith-dialogue
] [
manitoba
]