for ISKCON News on June 1, 2018
ISKCON Food Relief Foundation (IFRF) provides midday meals to 250,000 children of more than 2,000 government schools in the four districts of Haryana- Gurugram, Palwal, Kurukshetra and Faridabad. The main objective of IFRF is to provide healthy and nutritious food to the children which helps them in physical and mental development.
On 11th May, BJP Spokesperson (Haryana), Mr. Raman Malik visited the Gurugram Kitchen along with his wife, son and daughter. IFRF-Vice Chairman (North India Chapter), Mr. Dhananjay Krishna Das, Mr. Rahul Saxena (Manager of Gurugram Kitchen) and Mr. Ramatma Das (Promotion) welcomed and gave them a complete kitchen tour. On observing the mid-day meals being prepared using the modern techniques, Mr. Raman Malik said, "IFRF is doing a great selfless work in the social sector. On one hand, many children don't get enough food and on the other there are children who rely on the midday meal provided in school for their physical and mental growth. The Lord is pleased with such humane service and I hope IFRF continues to serve him with this beautiful feeling." He was amazed by seeing 20,000 chapatis being made in one hour. On observing the unmatched modern infrastructure of the kitchen, he described ISKCON Food Relief Foundation as the excellent example of the welfare of society.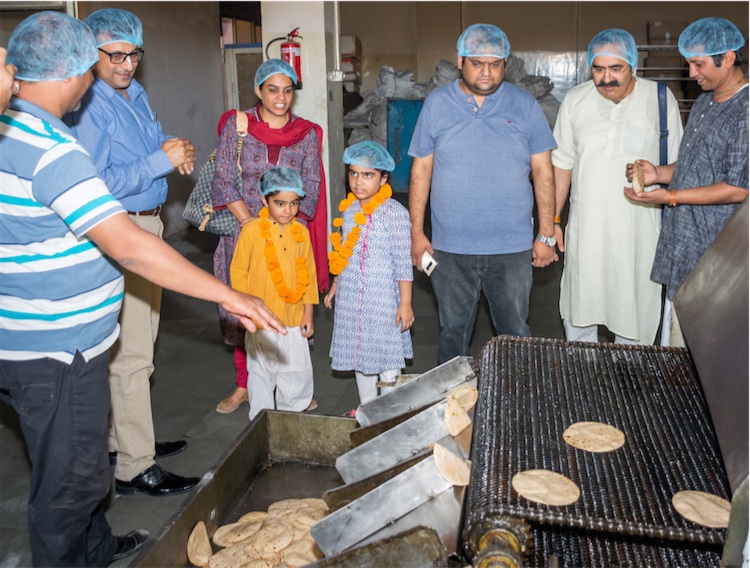 Mr. Raman Malik and his family observing the chapatis being made in the IFRF, Haryana's Gurugram Kitchen
After the kitchen visit, Mr. Raman Malik spent some time among the students of the Government Primary School, Sector 4/7 and distributed midday meal to the children with his own hands. He addressed the students in the presence of Principal Mrs. Suman Sharma and Chief Principal Mr. Ashok. During his addressal, he encouraged the students to work hard, make progress and aim to achieve high positions in the big companies of Gurgaon.
On a departing note, Mr. Malik said, "IFRF's work is unique and commendable. Our state government will provide help and support in every way and will try to propose the said midday meal in other districts as well. Other big companies should also go ahead with the IFRF."
Another BJP leader, the Deputy Mayor of Faridabad Mr. Manmohan Garg also visited the IFRF midday meal kitchen on 6th May. He made a thorough visit and made sure to know about all the ongoing processes in the kitchen. He appreciated IFRF's philanthropic work in feeding school children and bringing in more students in the school to study. He assured the full support of the city of Faridabad.
An upcoming BJP leader, Brahm Yadav Councillor, Municipal Corporation Gurugram, too, had a first-hand experience of the preparation of midday meal at the Gurugram kitchen of IFRF, Haryana. He was amazed with the maintenance of sanitation and hygiene in the premises and appreciated the selfless work of ISKCON Food Relief Foundation, Haryana.
[
bjp
] [
delhi
] [
ffl
] [
food-distribution
] [
food-for-life
] [
haryana
] [
meal
] [
midday
]