Historically in ISKCON, the only book distribution marathon was held in December, leaving the rest of the year rather quiet on the book distribution front in many parts of the world. Recently, however, Global Duty Officer for book distribution Vaisesika Dasa and the BBT Marketing, Communications and Innovations team have been introducing new campaigns throughout the year to give devotees special impetus to reach goals in disseminating transcendental literature.
These now include Be A Gardener from January to Gaura Purnima (March), in which devotees focus on distributing Sri Caitanya-caritamrita sets; the Bhadra or Go to Goloka campaign, which runs from the day after Gaura Purnima until Bhadra Purnima Day (September 20th in the US this year) and focuses on Srimad-Bhgavatam sets; and Live to Give, or the Prabhupada Marathon, from September 22nd to the end of the year, which includes Gita Jayanti. These campaigns are generally first launched in Vaisesika Dasa's home temple of ISKCON Silicon Valley in California, and gradually gather steam worldwide.
This year the Bhaktivinod Thakur campaign runs from May 26th to July 10th (Srila Bhaktivinod Thakur's Disappearance Day). It provides an interim point for devotees around the world to check their progress in the Bhadra campaign, and to celebrate the genius of the Vaishnava Acharya Srila Bhaktivinod Thakur.
Bhaktivinod Thakur is known for effecting the resurgence of Gaudiya Vaishnavism in India in the late 19th and early 20th century. He is also credited, along with his son Srila Bhaktisiddhanta Sarasvati – Srila Prabhupada's guru – with pioneering the propagation of Gaudiya Vaishnavism in the West and its eventual global spread.
"Srila Prabhupada mentions Bhaktivinod Thakur many, many times as being instrumental in bringing Lord Chaitanya's movement to the world," says Vaisesika Dasa. In one September 3rd, 1971 lecture, Prabhupada commented, "We should adore, we should worship Bhaktivinod Thakur, because in the modern age he reintroduced the disciplic succession."
The Bhaktivinod Thakur campaign first originated at ISKCON Silicon Valley in 2007, when devotees there held their first Monthly Sankirtana Festival. "It was around the theme of Bhaktivinod Thakur, and culminated on his Disappearance Day," Vaisesika says. "And we noticed that by praying to him, singing his bhajans, and taking shelter of him, as per the instructions of Srila Prabhupada, we were noticeably empowered. And the results were flowing by his mercy, as Prabhupada said they would."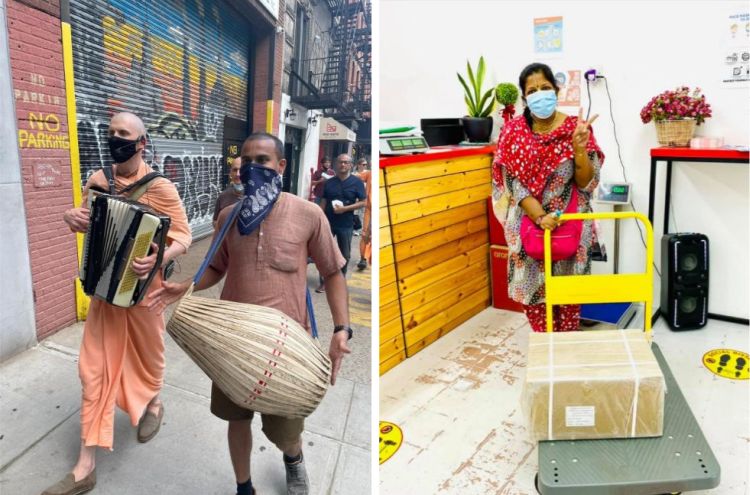 One of the special book distribution efforts during this year's campaign, inspired by Bhaktivinod Thakur, will be "Books to McGill." In 1896 – the year of Prabhupada's birth – the Thakur mailed copies of his book Sri Chaitanya: His Life and Precepts to McGill University in Montreal, Canada.
Following Bhaktivinod Thakur's example, the Books to McGill program will see devotees send an introductory letter, as well as some of Prabhupada's books, to the thinkers, political leaders and luminaries of today.
"It will be an attractive program for people to participate in," Vaisesika says. "Even if you can't distribute books personally, you can participate by sponsoring books for this program."
During the Bhaktivinod Thakur campaign, devotees will also be distributing books on social media, via self-service "Smartboxes" installed in public places, book stands at outdoor parks, corporate networking, Zoom calling parties, and other methods like street distribution depending on Covid restrictions in their area.
ISKCON temples and devotees are invited to set a goal for themselves for the Bhaktivinod Thakur campaign. Then on Bhaktivinod Thakur's Disappearance Day on July 10th and during a global virtual program on July 11th, participating ISKCON temples will offer the results of their book distribution efforts and pledges for Bhadra Purnima to Srila Bhaktivinod Thakur. The virtual program will take place on Zoom at 7:00am PDT and will feature Jayapataka Swami, Gopal Krishna Goswami, Bhima Dasa and Vaisesika Dasa.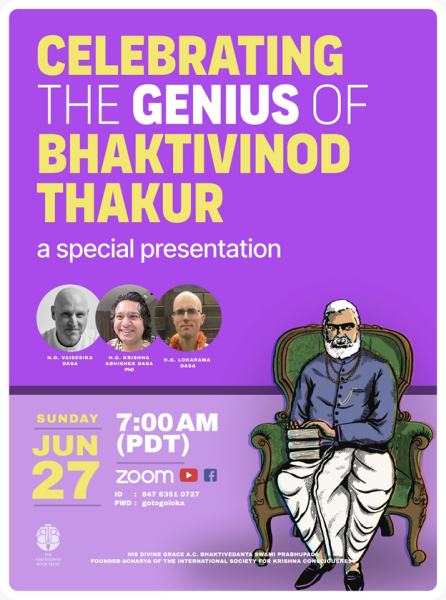 A special Zoom presentation celebrating the genius of Bhaktivinod Thakur will take place on June 27th
There will also be a special presentation on Zoom on June 27th entitled "Celebrating the Genius of Bhaktivinod Thakur," featuring Vaisesika Dasa, Krishna Abhishek Das, and Lokarama Das glorifying the Thakur and speaking about his novel model of outreach.
It's a contribution that Srila Prabhupada praised many times, encouraging ISKCON devotees to follow in Bhaktivinod Thakur's footsteps.
In his purport to Srimad-Bhagavatam 5.1.17, Prabhupada writes: "Srila Bhaktivinod Thakur was a responsible officer and a householder, yet his service to the cause of expanding the mission of Lord Chaitanya Mahaprabhu is unique."
In a 1968 letter to a disciple, Prabhupada wrote, "Thakur Bhaktivinod, in the year of my birth, attempted to introduce these missionary activities in McGill University and the same attempt is being renovated by your combined efforts."
And during a March 6th 1974 morning walk in Mayapur, India, Prabhupada recalled the Thakur's prediction that Europeans and Americans would come to Mayapur to chant the name 'Jaya Sacinandana.' "So when they chant and dance, I simply remember Bhaktivinod Thakur," Prabhupda said. "That's all. I pray to Bhaktivinod Thakur, 'Now they have come to your shelter. Give them protection.' That's all. What can I do more? I cannot do anything more."
Thus, what better way to gain the shelter and mercy of Bhaktivinod Thakur, than to follow in his footsteps leading up to his Disappearance Day by distributing literature on the teachings of Sri Chaitanya Mahaprabhu?
For more information and updates, please visit: https://www.facebook.com/TheBhaktivedantaBookTrust
For more info about the Books to McGill program, please write to info@bbtbooks.org
[
bhaktivinoda-thakura
] [
book-distribution
] [
vaisesika
]