on Nov. 6, 2021
As the year nears its conclusion, Team ISKCON Alachua, the book distribution effort of the biggest Hare Krishna community in the Western world, is already in the midst of its final marathon of 2021, the Live to Give Campaign.
Running from September until the end of the year, Live to Give is an international book distribution campaign run by the BBT Marketing, Communications and Innovations team, in which over 250 ISKCON communities in more than 55 countries participated last year.
For their part, Team ISKCON Alachua in Florida distributed 2,000 Bhagavad-gitas during Live to Give last year. They also distributed 160 sets of the seven-book Srila Prabhupada-lilamrita in the biggest Prabhupada-lilamrita marathon in ISKCON Alachua history, concluding on Prabhupada's Disappearance Day on November 18th 2020.
This year, during Live to Give, Team ISKCON Alachua aims to distribute 2,500 Bhagavad-gitas in nine languages. "You can either take a case of books to distribute yourself, or sponsor a case," says Nandini Kishori Dasi, co-sankirtana leader with Sri Vrindavana Dasi. "And Alachua devotees are so much into it, that some of them save all year long so that they can sponsor books for the marathon."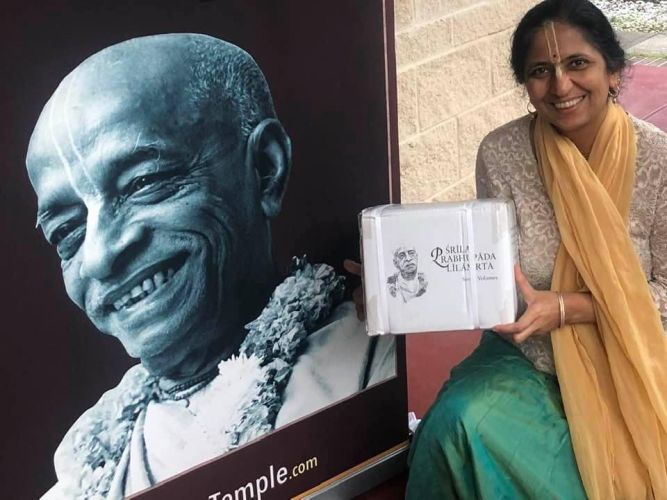 Nandini Kishori Devi Dasi ready for the Srila Prabhupada Lilamrita marathon
Alachua devotees have been distributing books since the community's inception. However, after a visit from Global Duty Officer for Book Distribution Vaisesika Das at Gita Jayanti in 2017, the name Team ISKCON Alachua was adopted and book distribution scores increased several fold.
"Instead of twenty people doing book distribution, 100 people started doing book distribution," Nandini Kishori says. "Many of whom, like our head pujari, Nitai Priya Devi Dasi, had never distributed books before."
Most of Team ISKCON Alachua consists of married householders, with Nandini Kishori, Sri Vrindavana, Divyanga Das and Adikarta Das giving most of their time to book distribution, while the rest are part time. Since 2018, the team has distributed close to 30,000 books every year.
To achieve this, back-to-back marathons with different themes are held throughout the year – a Chaitanya Charitamrita set marathon from January through March; a Srimad-Bhagavatam set marathon from April through September; and of course the Bhagavad-gita "Live to Give" marathon from September to the end of the year. Meanwhile devotees keep their cars stocked with sponsored books, so they can give them away for free when the occasion arises.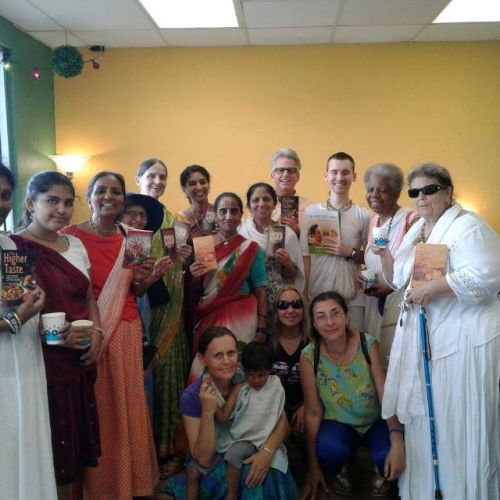 Books are distributed using a variety of different techniques and venues. There's the Friday Harinama, which has taken place in Gainesville for the past forty years, where some 15 devotees including Ragatmika Dasi, Parijata Dasi, Manmohini Dasi, and Nitai Priya Dasi distribute cases of books.
There's door-to-door distribution, which stopped during the pandemic, where Prahlad Das would take teenagers along with several adults to distribute books at various apartment complexes in Gainesville.
For many years, devotees would set up book tables and distribute books like The Higher Taste and Chant and Be Happy at Veg Fest in Gainesville and Ocala, Fourth of July in Alachua, art festivals, events at the local mall, and Rathayatras throughout Florida. Explaining that the books introduce a karma-free diet, devotees would also teach interested people meditation, and invite them to visit the ISKCON Alachua Eco Farm. Although these efforts closed down during the pandemic, book tables have been back at recent Rathayatras in Clearwater Beach and Daytona.
Meanwhile Prabhupada disciple Adikarta Das has brought many devotees to Krishna consciousness through his book distribution five days a week at the University of Florida Krishna Lunch, including Amrita Keli Dasi, who now leads the Krishna House in Jacksonville, Dina Bandhu, Partha Sarathi, Sridama and others.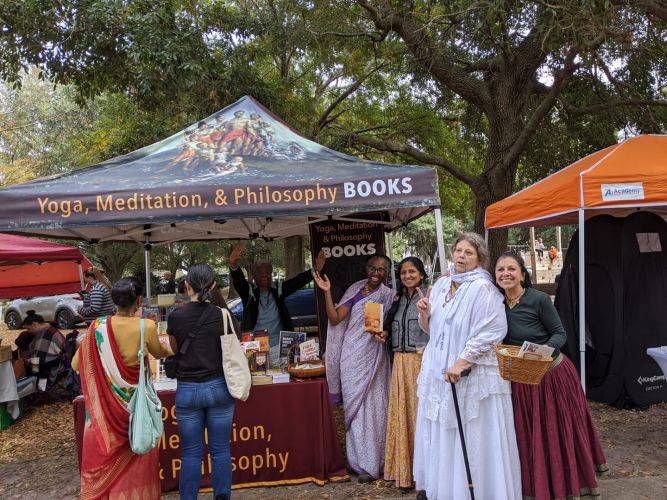 For the past several years, Akuti Dasi, Madhumati Dasi, Kirtaniya and Premanjali have distributed small books along with kirtan at the Santa Fe College Lunch program on Mondays, Wednesdays and Fridays.
Devotees such as Gopapatni Dasi, Padma Dasi and Nandini Kishori have placed hundreds of books in Little Free Libraries throughout Florida, run by nonprofit Little Free Library, which promotes neighborhood book exchanges through public bookcases.
Alachua devotees also placed 600 books in motels and hospital chapels throughout Florida. "In the first two months of the pandemic, we distributed 400 books with the Motel Gita and hospital chapel programs only, because those were the only ways we could distribute books then," Nandini Kishori says.
Meanwhile Team ISKCON Alachua occasionally sponsors books for ISKCON Prison Ministry, also based in Alachua, to send to inmates. Through Radhapriya Dasi, who teaches mindfulness at Marion County High Schools, books were placed in seven high school libraries. Finally there is a book table at the ISKCON Alachua Sunday Feast, where all newcomers get a free book.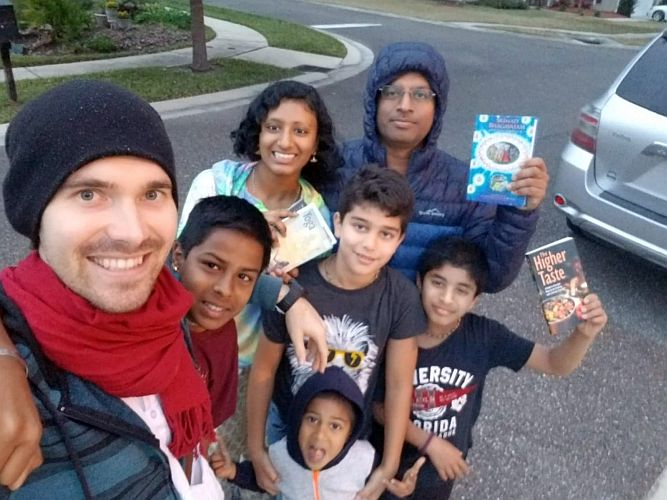 Through Team ISKCON Alachua, Prabhupada's books have touched people's lives in incredible ways.
During a December 2018 Monthly Sankirtan Festival, Gopapatni and Sri Vrindavana met Amy from Alaska at a local mall. Amy had come to Gainesville to take care of her father-in-law, and had never heard about Krishna consciousness before. The devotees presented her with a copy of Bhagavad-gita As It Is and explained to her about chanting. Today, she is following Ekadasi, chanting eight rounds a day, and reading the Srimad-Bhagavatam every day.
After receiving a Srimad-Bhagavatam set last year, James, 20, from St. Augustine kept in touch with Nandini Kishori Dasi, asking continuous questions. James had just left high school, where he had been bullied, and had been praying fervently for some change in his life. Now he has visited the Alachua temple, volunteered on the Eco-farm, begun chanting, bought many more books, and even distributed a case of Bhagavad-gitas himself.
"The Srimad-Bhagavatam has helped me identify the meaning of the jiva and paramatma," James said in a video testimonial. "It has also given me realization of the bodily conception. At the same time, it has brought me at peace and has gotten me closer to love and light. Before Krishna consciousness, I was an atheist. But Srimad-Bhagavatam has not only brought me understanding on God, but has helped me love Krishna so much, and allowed me to surrender to Krishna. I got so hooked on Srimad-Bhagavatam that I would literally read almost a whole Canto in one day! Srimad-Bhagavatam has really helped me magnificently, and I will always be blessed and grateful for the opportunity to get closer to Krishna."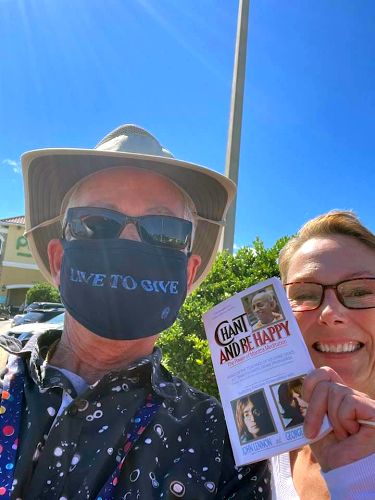 Two years ago Guru Prasad Devi Dasi came across a couple while distributing books in a parking lot and asked them how they were. Although they said, "Fine," she could tell they were not, and that there was some tension between them. "In order for your marriage to work, please put God in the center," she requested, giving them a copy of Civilization and Transcendence.
Recently, she was stopped by the same couple. "Do you remember us?" they said. "Our marriage is working, thanks to you."
These kinds of experiences are extremely enlivening for devotees. Gadagraja Das, who has been distributing books for the last 51 years, and whose car is always full of 100-plus books, says he is addicted to book distribution and that it's like breathing for him. "It's a must-do activity, because I know each and every person who gets a book is immensely and eternally benefitted," he says.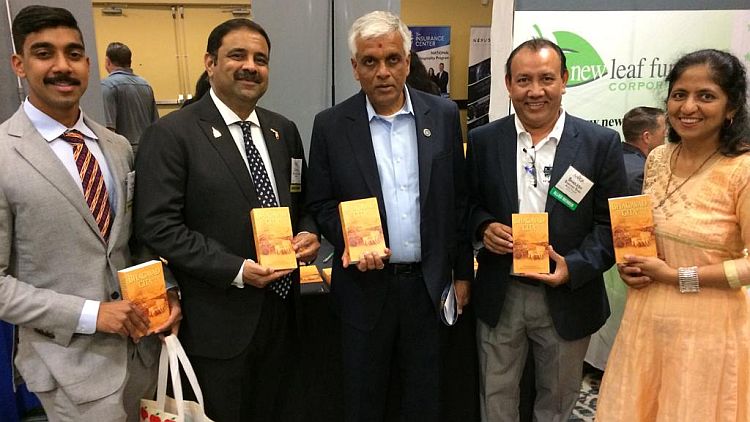 "In devotional service, one makes small increments in advancing on the path back to Godhead," Nitai Priya Dasi adds. "But giving a book to a conditioned soul is making a big step, because that's what pleases Srila Prabhupada and Gauranga Mahaprabhu the most. It's the duty of every member of ISKCON to share their good fortune with others."
Ragatmika Dasi says: "I'm inspired to go out to the public to distribute Prabhupada's books and the Holy Name, because this kind of service attracts Krishna and pleases Srila Prabhupada. Krishna wants His parts and parcels to return to Him, and Srila Prabhupada is Lord Chaitanya's direct agent to fulfill that desire."
For Nandini Kishori, nothing brings people together in a large community like Alachua better than book distribution. "It keeps us centered, it keeps us grounded, and it keeps us connected with Srila Prabhupada in a very potent way," she concludes.
[
alachua
] [
book-distribution
] [
new-raman-reti
]