on Nov. 5, 2018
ISKCON book distributors are constantly trying to find new ways to give out Srila Prabhupada's books, and new people to reach.
One of the biggest niche audiences is the Russian-speaking community in North America – some 7 to 8 million natives of Russia and former Soviet Union countries.
What is particularly exciting about this audience is that many have already been introduced to Vedic knowledge and are looking for more.
Some come through the phenomenally popular introductory Youtube lectures by Russian devotee Audarya Dhama Das, which give the Vedic perspective on topics like health and relationships. Others come through introductory clubs around the U.S. like "Goodness" and "Psychology 3000," collectively referred to as "Vedic Clubs."
One of these expats, Vrnda-sevika Dasi from St. Petersburg, began reading Prabhupada's books online after watching the Youtube videos. She then met devotees who were chanting on the street in Palo Alto, Silicon Valley. Today, she is at the forefront of an effort to build a Russian-speaking family throughout North America and to connect them with Prabhupada's books.
In the past, small batches of books were ordered from Ukraine, with packages restricted to 35 kgs, limited titles and long delivery times. But recently, an arrangement has been made with the North European BBT in Sweden to directly supply large shipments to distribute in big cities all over the U.S. and Canada.
Vrnda-sevika and her team at ISKCON Silicon Valley will establish connections with temples in cities where there are large Russian-speaking populations such as New York, Chicago, Los Angeles, San Diego, Washington D.C., Miami, Vancouver, Toronto, and Montreal. They will then ship Russian books to these temples on a regular basis.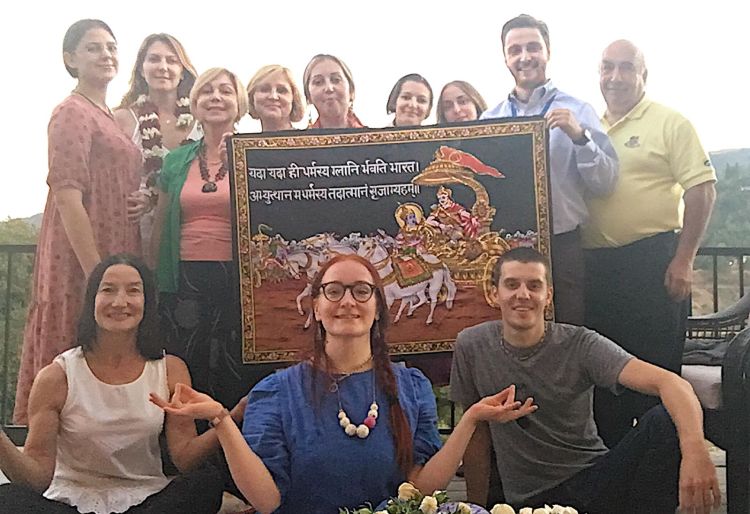 Group photo of Russian-speaking devotees at a Los Altos Hills Namahatta
Prabhupada's books will be distributed to Russian-speakers in these places in a variety of ways, starting with introductory Vedic Clubs. People from Russia, Ukraine, Belarus, Kazakhstan, and Uzbekistan participate in these clubs, where devotees teach psychology, Ayurveda and more using examples from Bhagavad-gita As It Is and Srimad-Bhagavatam, which they describe as "ancient Vedic knowledge." As a result, participants become familiar with and favorable to Srila Prabhupada's books, and eventually ask to read them themselves.
"It's a gradual process, and not everyone makes that step," says Vrnda-sevika. "But it's done in such an accessible way that even atheists take part, associate with devotees, and take prasadam. And after some time, some of them start reading Prabhupada's books, visiting the temple, and coming to namahatta programs."
Vrnda-sevika and her team run a growing Russian-speaking namahatta group at ISKCON Silicon Valley herself, with around thirty people now participating. Members come from the Vedic Clubs, or from Audarya Dhama's Youtube lectures, and are already familiar with Krishna consciousness. At weekly home programs they do kirtan, study Prabhupada's books, and take prasadam together.
Once a quarter, they hold immersive retreats with inspiring talks by Russian-speaking senior devotees such as Bhakti Rasayana Sagar Swami, Bhakti Swarupa Chaitanya Swami, Patri Das, and Patita Pavana Das. They also take trips, have picnics, and celebrate birthdays together.
"Of course, they have some Russian acquaintances, or Russian-speaking colleagues at work," Vrnda-sevika says. "But they're really missing that soul-to-soul connection. And with us they find that, and they find a family atmosphere. They understand that the basis of all this community is Prabhupada's books, so they value them a lot."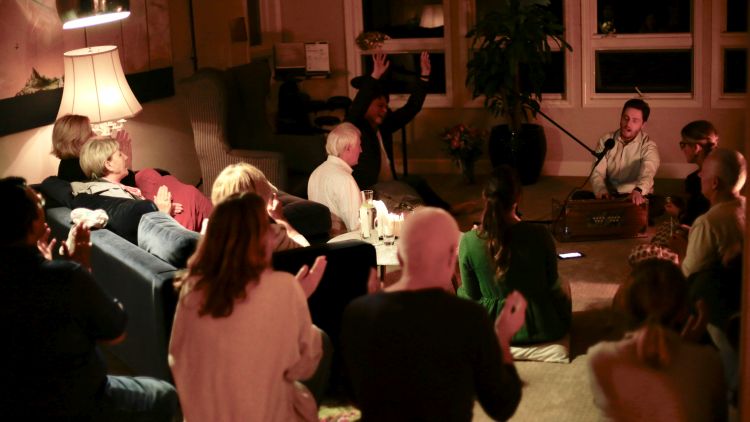 Kirtan at weekly nama-hatta program for Russian-speakers in Los Altos Hills
As well as at Vedic Clubs and Namahattas, ISV devotees have a Russian book table during monthly street Harinamas in Palo Alto, and distribute books along with contact information.
"People are very happy to see the Russian books," says Vrnda-sevika. "Sometimes they say, 'Oh, we were planning to order these from Russia.' But when they see them here, and hear from us that there's a place they can come to to study them in Russian, they are delighted."
Having a constant stock of Prabhupada's books in Russian also serves the growing population of Russian-speaking devotees in North America – both for themselves, and to distribute to their family, friends and coworkers.
In the future, the BBT is looking to use Amazon's publishing services to publish Russian books in electronic and audio formats. They also hope to use Amazon's storage system to store Prabhupada's books in Russian all over the world, for quick delivery to Russian-speakers in many different countries.
"These books are helping so many people connect with each other, develop good qualities, improve their lives, elevate their consciousness, and eventually come closer to Krishna," concludes Vrnda-sevika. "It's a miracle in a full package."
[
book-distribution
] [
russian
] [
silicon-valley
] [
vaisesika
]