for ISKCON News on Aug. 30, 2019
The first Janmastami festival organized by the new ISKCON management at Brooklyn's Radha Govinda Mandir focused on improving the pilgrim experience to create lasting positive impressions for devotees and visitors alike.
The inspirational event also attracted a visit by Brooklyn Borough President Eric Adams, who conferred a citation upon temple president Hansarupa Das for his service to the community.
To catch the interest of passersby, increase outreach and facilitate the large crowds, organizers introduced the first annual Janmastami block party. Tents, lights and seating livened up the entire sidewalk for the full length of the temple property. The party included book and prasadam booths, facepainting, and a stage where the NYC Yuga Dharma Ashrama devotees performed kirtan nonstop from 4pm to 10pm.
"We also had a welcome booth where we collected names and gave out information about the temple," says ISKCON Brooklyn vice-chairman Chaitanyananda Das.
Throughout the day, an impressive 2,500 to 3,000 pilgrims came from their jobs on Wall Street or downtown Manhattan to stop by and take darshan of the Deities. During previous Janmastamis, the altar would be closed for hours in the afternoon, disappointing many first-time pilgrims; this time, however, it remained open during the regular darshan times, so that people could pay their respects on their way to their next destination.
Depending on when they arrived, pilgrims got to see Sri Sri Radha Govinda in one of three different newly offered outfits, made by members of the ISKCON NYC community. First was the morning outfit, made by longtime seastress Antaranga Dasi. Next came the afternoon flower dress, made with dahlias, mums, carnations and leaves, and designed and assembled by Akunthita Dasi, Acyuta Gopi Dasi, Janaki Priya Dasi, and others. Finally, there was the midnight dress, handmade by Varanasi Dasi.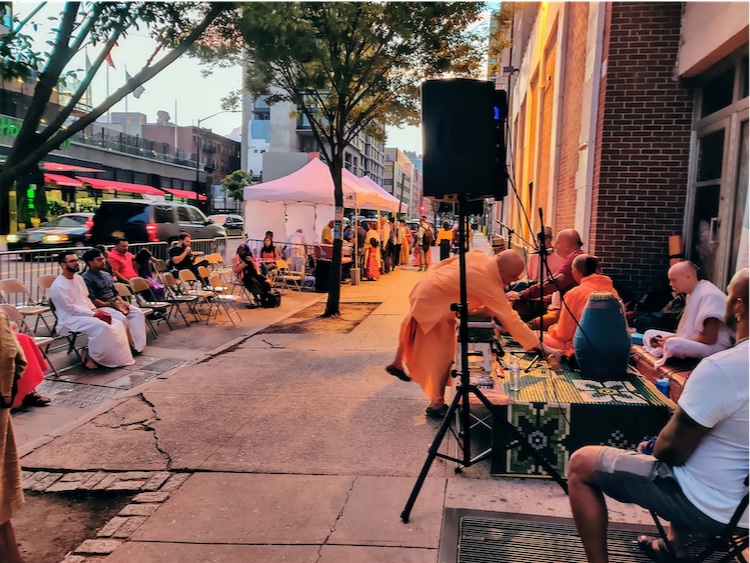 The Janmastami Block Party stretched the entire length of the temple property
Many visitors stopping by on their way home would come, see the Deities, hear some kirtan, associate with the Vaishnavas, and take a book or pamphlet. As they left, the receptionist also presented each person with Ekadashi kichari and fruit salad prasadam.
"The ideas was that everyone would get the full ISKCON experience in just one or two hours," says Chaitanyananda Das.
For those who wanted to dive deeper, there were three lectures given throughout the evening by senior devotees Bhakti Vijanana Goswami, Jayadvaita Swami, and Narada Rsi Das to large crowds.
There were also Bharatnatyam dances by Amrita Doshi and Yamini Kalluri, a dramatic dance about Krishna's pastimes by Sunday School children, and a drama, the Liberation of Putana, by the Vaikuntha Players.
Meanwhile, this Janmastami was the first time in ISKCON New York's history that government officials came to the temple to participate in a festival.
Mr. K Devadasan Nair, the Deputy Consul General from the Indian Consulate, and Mr. Dilip Chauhan, Brooklyn BP Advisor for South Asian Affairs, both attended and gave short speeches expressing their appreciation for the event.
"Nair said that he was glad to see all the young children dressed up in traditional clothes, looking like gopis and gopas, and celebrating Lord Krishna's appearance," says Chaitanyananda. "He also remarked how every was so happy. Chauhan made similar comments, telling us that Janmastami is a happy time, and that the happiness he felt at the Hare Krishna Temple was a highlight of his day."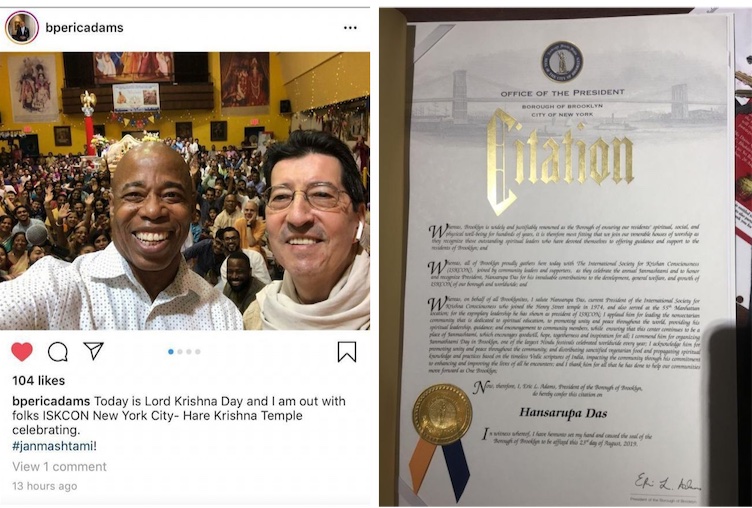 (left Brooklyn President Eric Adams's Instagram post about Janmastami (right) Adams' citation which was presented to Hansarupa Das
As they concluded, Chaitanyananda, who was serving as emcee, joked, "If Mr. Chauhan could bring Eric Adams, the Borough President of Brooklyn, next year that would be awesome!"
As it turned out, Chauhan did one better. He immediately called Eric Adams, who happened to be in the area; and just half an hour later, Adams walked into the temple room.
"He was welcomed heartily by the congregation, and gave a very poignant speech on the importance of pursuing spirituality in one's life," Chaitanyananda recalls. "He added that he had found the answer to his own pursuit that day by coming to the Krishna temple and celebrating Janmastami with us."
Adams, who is a vegan and is interested in Eastern meditation, also took a selfie with the crowd in the temple. Posting it to his official Instagram page, he wrote, "Today is Lord Krishna Day and I am out with folks at ISKCON New York City - Hare Krishna Temple celebrating. #janmashtami!"
Finally, Adams awarded ISKCON Brooklyn temple president Hansarupa Das with a framed formal citation carrying the seal of Brooklyn. The citation acknowledged Hansarupa's service in the early days of New York when he joined at Henry Street in 1974, as well as his service as temple president today.
"I commend him for organizing Janmashtani Day in Brooklyn, one of the largest Hindu festivals celebrated worldwide every year," it read. "I acknowledge him for promoting unity and peace throughout the community, and distributing sanctified vegetarian food and propagating spiritual knowledge and practices based on the timeless Vedic scriptures of India."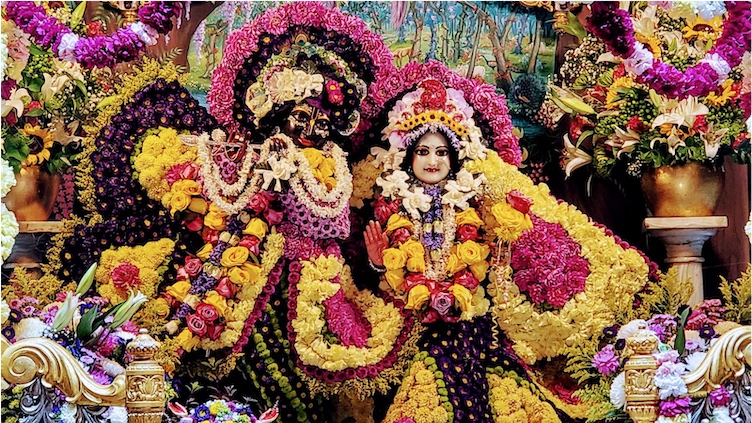 Sri Sri Radha Govinda in their beautiful flower outfit, made by local devotees
The Janmastami festival ended with a midnight arati and an Ekadasi feast served to over 1,200 people. Afterwards, in a mood of collaboration, many volunteers stayed on to clean up the temple and sidewalk.
The next day devotees from The Bhakti Center, Yuga Dharma Ashram, and other local sangas all gathered at ISKCON Brooklyn to jointly celebrate Srila Prabhupada's 123rd Appearance Day.
"It was nice to have all the devotees together under one roof," says Chaitanyananda. "With 400 devotees, including more than twenty Prabhupada disciples, it was the biggest turnout at the Brooklyn temple for Vyasa Puja in recent years."
In the morning, many devotees shared their memories of Srila Prabhupada, including Hansarupa Das, Jayadvaita Swami, Bhakti Vijnana Goswami, Locanananda Das, Bhaktivinode Das, Bhusara Das and Bhumipati Das.
Other disciples of Srila Prabhupada who attended included Adarsi Das, Anandamoy Das, Bakula Devi Dasi, Bindu Madhava Das, Candrasekhara Swami, Caturvyuha Das, Cinmayi Devi Dasi, Nayanabhiram Das, Sivaradhya Das, Subuddhi Raya Das, and Surrottama Das.
After puspanjali (offering of flowers) and kirtan for Srila Prabhupada, everyone tucked into a gourmet prasadam feast featuring rice, shahi paneer, sukta, saag badi, chana dal, cucumber raita, mung dal kachoris, angoor rabri, jalebis, fruit salad, and mango lassi.
All the devotees were then invited to 26 2nd Avenue, the very first ISKCON temple, to continue the celebration from 6 to 9pm with more kirtan, homages, and prasadam.
"I think we achieved our goal of creating lasting positive impressions," Chaitanyananda beams.
[
brooklyn
] [
iskcon-new-york
] [
janmasthami
] [
new-york
] [
new-york-city
]