for Bulgarian Retreat to Care for Devotees' Spiritual and Physical Health on Aug. 18, 2016
A unique type of event for ISKCON devotees, the Bhakti Yoga Health Retreat from September 11th to 18th this year in Bulgaria will care for participants' physical health as well as their spiritual wellbeing.
The retreat will be held at the Vita Rama Health Center, a clinic run by two devotee brothers – Lokaguru Das and Sudama Das – along with their father, dietician Georgi Slavov.
The clinic, nestled in the beautiful hill country of resort village Emona and overlooking the Black Sea and Irakli beach, treats around 500 members of the general public every summer.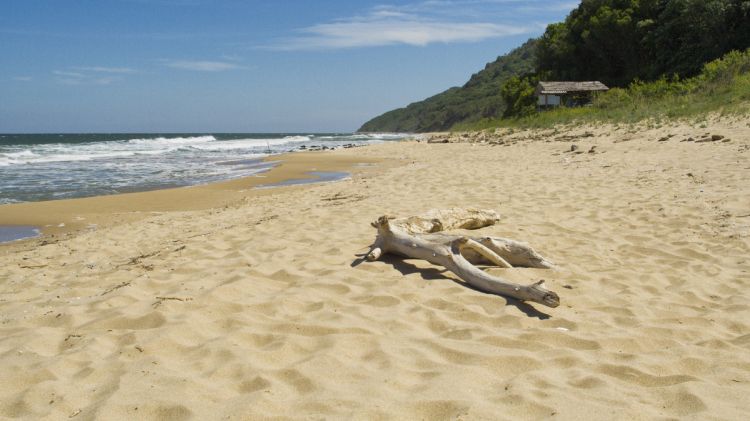 Vita Rama is in a beautiful natural spot, right next to Irakli beach
Its nutrition-focused program heals heartburn, diabetes, obesity and cardiovascular diseases among other afflictions, and adds Krishna consciousness too.
Over the past six years, the Center has become progressively more popular among ISKCON devotees as well, who come for both health retreats and Krishna conscious summer camps with guests like Prahladananda Swami and Bhakti Prabhava Swami.
This is the first time, however that Vita Rama has offered a dedicated Bhakti Yoga Health Retreat for devotees.
Participants are expected to come from all over Bulgaria, neighboring countries like Turkey, Romania, Macedonia, Greece and Serbia, and the UK and other parts of Europe.
Every day the retreat will hold a morning arati program from 6:00am to 7:30am, including a Srimad Bhagavatam class given by one of two special guests: Krishna Ksetra Swami, or Bhanu Swami, who will speak on the Harinam Chintamani.
Next, professional devotee yoga teachers will lead astanga yoga classes, with separate classes for men and women and for beginners and more seasoned yoga practioners.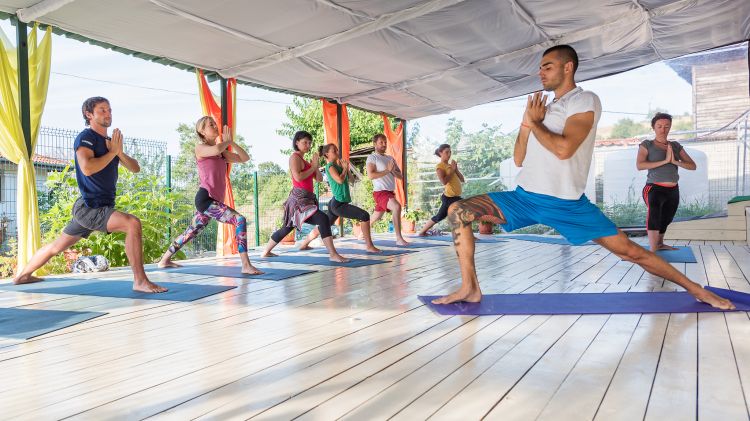 Todor Todorov will teach yoga classes
After a nutritious breakfast of fruits, juices and smoothies, there will be a series of health-related lectures and workshops by Vita Rama's health experts.
"My brother Sudama and father Georgi, our nutritionists, will speak about health nutrition," says Lokaguru Das. "Our physical therapist Todor, an aspiring disciple of Sacinandana Swami, will teach devotees how to have more physical activity during the day – most devotees don't do enough. And Madhva Prabhu will speak about stress management – because even though we practice mantra meditation, we still sometimes suffer from stress."
Meanwhile Vita Rama's dedicated chefs will lead a culinary workshop teaching devotees how to cook healthy, and how to combine and prepare foods in a healthy way.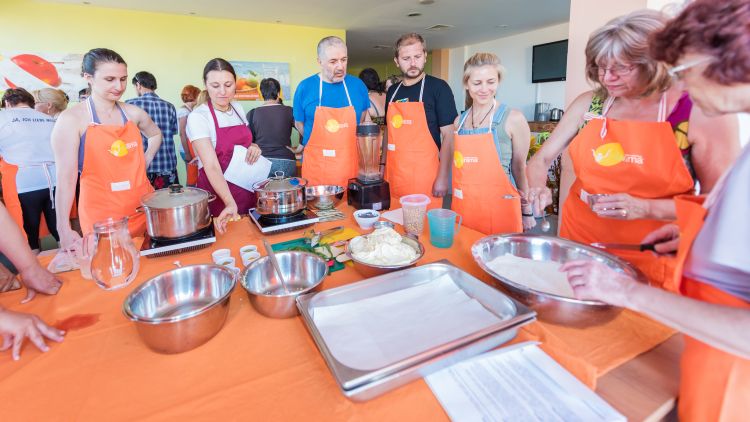 Devotees will be taught how to cook healthy in culinary workshops at Vita Rama, like these members of the public
"Our nutrition system focuses on plant-based foods like fruits, vegetables, grains, beans, seeds, nuts, avocados, and olives," says Lokaguru. "These foods provide the body with all the needed vitamins, minerals and nutrients. And how you combine and cook them is very important – for instance, we don't use oil or butter."
The Vita Rama chefs will also teach devotees who do have milk products in their diet which milk products are safe to combine, and how many times per week to ingest milk products to keep their health at optimum levels. They'll give advice on where to get milk products that aren't produced by the slaughter industry, too.
"We have a whole system, which has been proved effective over many decades here in Bulgaria," says Madhva Das. "The idea is, you cleanse the body, and at the same time feed it with the right nutritious foods."
Each day of the retreat will also include healthy lunch and dinner prasadam, and japa walks in the beautiful nature of Emona, with herds of wild horses and stunning views of the Black Sea.
In the evenings, there will be lectures about the Holy Name, and absorbing kirtans to help concentrate the mind with Krishna Ksetra Swami, Bhanu Swami, transcendental trumpet-player Ekalavya Das, and senior Bulgarian devotee Mahendra Das.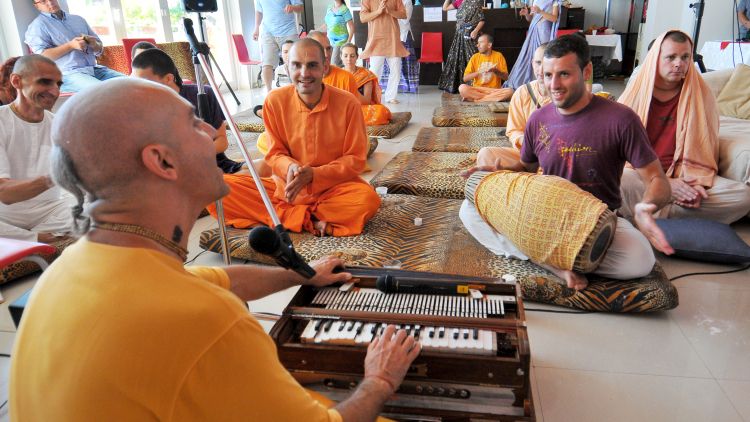 There will be inspiring kirtans in the evenings
"Mahendra Prabhu's unique kirtans utilize ragas that create different moods, like joy or longing," says Madhva. "He leads a project called Kirtan Raga that holds monthly kirtans in yoga studios around Bulgaria and has released two CDs."
Madhva and Lokaguru hope that devotees will leave the retreat recharged by the beautiful nature of Emona and the Krishna conscious experiences and association.
"They'll also learn lots about health and nutrition, and, we hope, become more aware of how to maintain their bodies better so that they can use them to serve Lord Krishna well into the future," Lokaguru says.
Over the next few years, they both aim to develop the Bhakti Yoga Health Retreat into a bigger and bigger event that draws devotees from all over.
For more information and to book now, please visit http://vitarama.eu/en/bhakti-yoga-health-retreat-vita-rama/2/item/
[
bulgaria
] [
health
] [
retreat
] [
vita-rama
]