for ISKCON News on Dec. 28, 2018
Nitaipriya Dasi has to balance many responsibilities in life: she's a mother of two, serves on the board of the ISKCON Philadelphia temple, and works as vice president of a reputed bank.
However she's found yet another sweet service to offer – making astonishingly beautiful and delicious cakes for Sri Sri Radha-Saradbihari and Their devotees.
Years ago when her sons Varun and Tushar didn't like the vegan birthday cakes she would purchase from Wholefoods, Nitaipriya decided to make their cakes herself. But with their school friends coming over, she didn't want to do anything – pun intended – half-baked.
So she began going to hobby classes at Michaels, then took courses online to learn professional cake decoration, training for a whole year.
Nitaipriya had grown up in Jaipur and during college met her husband Ajit Krishna Das, who introduced her to ISKCON in 1987. The two moved to the U.S. in 1999 and became members of the ISKCON Philadelphia community.
In 2011, after doing her training, Nitaipriya realized she had a speciality skill that could be of value to the temple. So she began helping out at festivals, and soon became the go-to cake baker.
"As all my cakes are offered to the Deities, every element is made from scratch with high quality ingredients," she says. "I don't get anything readymade from outside and keep ingredients basic so there are no more chemicals than needed."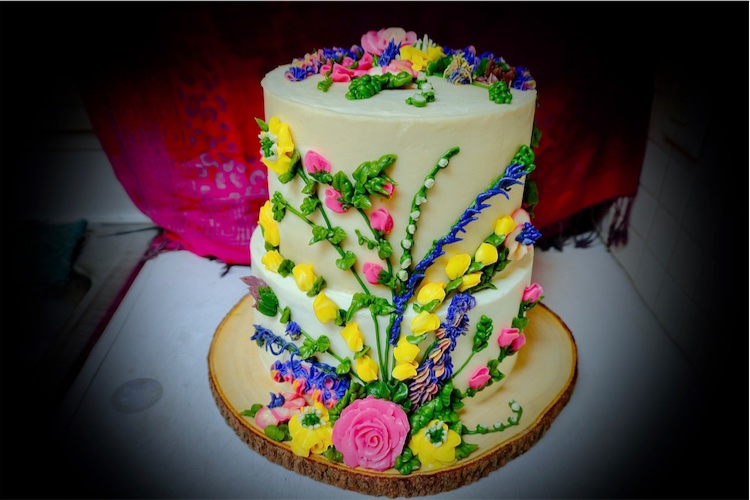 Janmastami blueberry cake
Nitaipriya's fillings are made with fresh fruit – raspberry, blueberry, strawberry, plum, pineapple, and lemon curd.
"On festivals like Janmastami, the cake is usually made during the day and served late at night or even the next day," she explains. "Berry filling keeps the moisture intact all that time."
Nitaipriya rises to the challenges that stereotypical cake ingredients present to those following Vaishnava principles. She uses yoghurt and baking soda, lemon juice with soda, flax seeds, or banana instead of egg, depending on the flavor and style of cake. She can even make royal icing without eggs, using chickpea water to surprisingly delicious results. To make flowers and figurines she uses candy clay instead of chocolate, as well as gum paste and fondant.
One of Nitaipriya's most impressive feats is making grain-free Ekadasi cakes that are still incredibly sumptuous offerings.
"It's tricky because you can't even use icing sugar on Ekadasi," she says. "For a recent Ekadasi I made a tiered cake with Rajgira flour, which comes from the seeds of the Amaranth plant and follows Ekadasi. The filling was berries and banana, and the 'frosting' was made from caramel mixed with Rajgira flour so that it applies like real icing."
She laughs. "Looking at it, people couldn't believe it was an Ekadasi cake and didn't want to eat it!"
Nitapriya's work also includes innovations that people outside the devotee community would admire. "Usually multi-tiered cakes are heavy and sturdy, so that they can build a structure," she says. "But because of my training I can make multi-tiered cakes that are soft, spongy and moist. I'm still in the learning process, and always learning something new."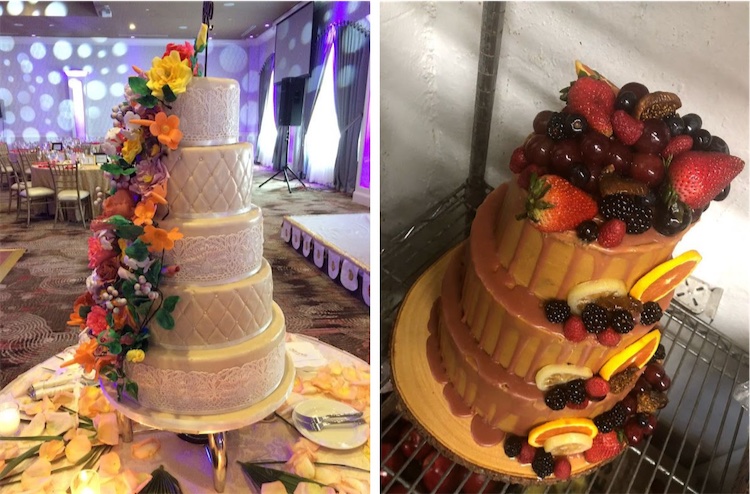 (left) Five-tier wedding cake with incredilby detailed hand-made flowers (right) Ekadasi cake made with Rajigira flour, filled with berries and frosted with caramel
Her creations are beautiful to look at as well as delicious. She has made one Gaura Purnima cake with Gaura Nitai dancing atop it, and another with hand-piped buttercream flowers, two tiers of vanilla sponge, and four layers of mixed berry filling in each layer.
On Janmastami, she has made strawberry cake covered with flowers, grass, lotus flowers and topped with the form of Lord Krishna. And on Radhastami, a carob cake filled with lemon curd and made to look like brilliant yellow flowers.
For a devotee doctor's 70thbirthday cake, she created a vanilla sponge cake filled with pineapple curd, iced with buttercream and decorated with two distinct tiers. The first, dedicated to his spiritual life and his guru Srila Prabhupada, featured labels inscribed with the seven purposes of ISKCON, peacock feathers to represent Krishna, and a beadbag and japa beads, all made with fondant. The second, celebrating his professional career, was made to look like a doctor's coat and stethoscope.
One incredible four-tiered cake for the first birthday of a senior devotee's grandson was covered in blue fondant, decorated with peacock feathers and topped with an undeniably cute Krishna holding a pot of butter. A wedding cake with no less than five tiers and covered in amazingly detailed hand-made flowers inspired a professional wedding photographer to blog that it was the best of its kind she had ever seen.
Nitaipriya's cakes are one of the centerpoints of ISKCON Philadelphia's festivals, with devotees always fascinated to see what elaborate offering she has cooked up for the Lord. But for her, they're a meditation.
"Baking these cakes can be very laborious work, especially on days like Janmastami, when we're fasting and don't even drink water," she says. "But I always meditate upon Srimati Radharani, and no matter what challenges I'm facing, She helps me."
On one occasion, Nitaipriya was so exhausted that she couldn't even pipe flowers onto a Janmastami cake because her hands were shaking. Approaching her home altar, she prayed fervently to Radharani, "I feel so bad that I cannot finish this cake for You, please help me."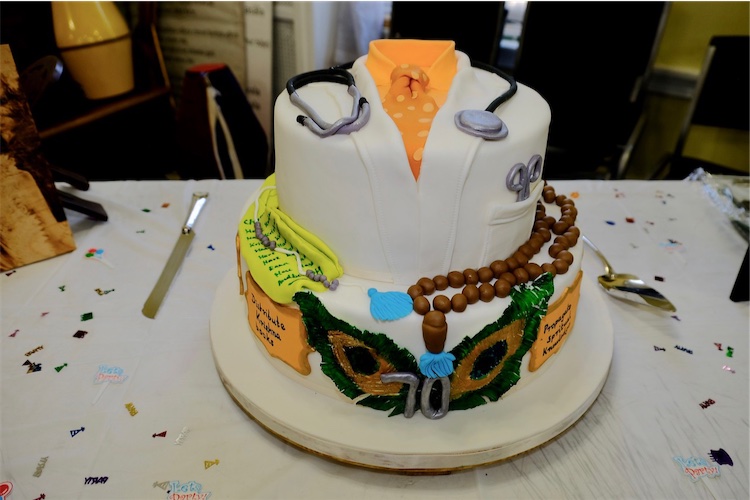 Vanilla and pineapple curd cake made for devotee doctor's 70th birthday
Somehow, she then found the energy she needed, got up, and finished icing the cake. When she arrived, the altar was closed for abhisekha. Nitaipriya placed her cake with all the other preparations to be offered.
Then the curtains opened.
The Deities' outfits exactly matched the colors and designs Nitaipriya had piped onto her cake.
"People were asking me how I did it, if I had seen the outfit beforehand," she recalls. "But I hadn't! I didn't know what to say. I just kept repeating, 'I don't know, I don't know.' It's always like that. It often appears that it's not me doing it. The inspiration comes from somewhere else."
Baking cakes, Nitaipriya tells us, is a service close to her heart. "And when you do any service, your aim first and foremost is to please Lord Krishna and Srimati Radharani, and then Their devotees. And then that inspires you as well. So that is what keeps me motivated."
[
cake
] [
cooking
] [
nitaipriya
] [
prasadam
]