for ISKCON News on Dec. 3, 2017
Vancouver, BC, Canada - One of Canada's fasting rising young opera stars, Dustin Hiles, first met the devotees seven years ago in Winnipeg, MB, while campaigning as a candidate for the provincial Liberal Party of Canada. After his staff put together a list of temples and mandirs for him to visit, he eventually made it to 108 Chestnut Street where the devotees invited him, and his team, to hear about Krishna and take prasadam. This meeting had a profound effect on Dustin who, after a few weeks of sadhu sanga, susspended his campaign and joined the devotees on a cross-country road trip to the Vancouver Ratha Yatra. Almost a decade on Dustin is now an aspiring disciple of Gopal Krisna Goswami.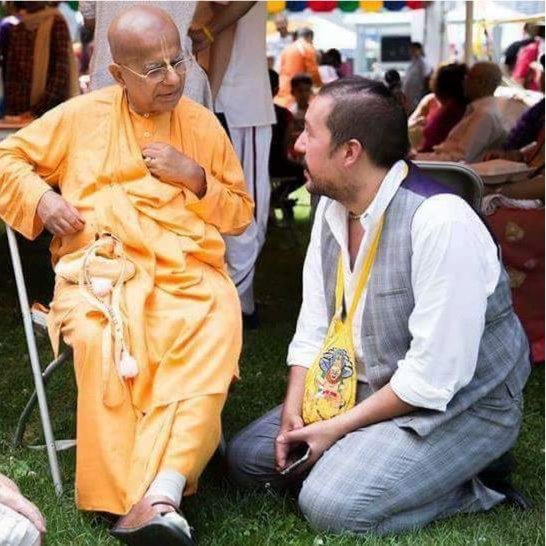 Dustin with Gopal Krishna Goswami
Dustin has lived with the devotee's in Montreal, Barcelona, and Villa Vrndavan, Florence, while at the same time pursuing his international career in opera with command performances before Queen Elizabeth II, Emperor Akihto of Japan, and the Prince of Wales, singing often with theaters such as the Canadian Opera Company, Seattle Opera, and Vancouver Opera.
Musically Dustin has been mentored by singers such as the legendary Montserrat Caballe, who collaborated with Frieddie Mercury in the late 80's, and Metropolitan Opera star Richard Margison.
Dustin will spend four months as a pilgrim to Sri Mayapur Dham where he plans to attend the daily morning program and render service to his beloved Gurumaharaj while taking philosophy classes and enhancing his own Sadhana Bhakti in the association of the devotees.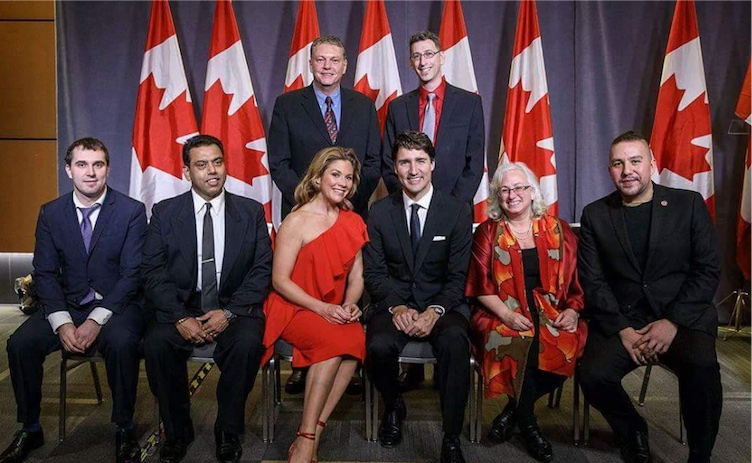 Dustin (far right) with Canada's Prime Minister and company
His remarkable tenor voice brought him to the attention of Canada's elite, including the Justin Trudeau, the current Prime Minister of Canada, who in 2013 declared Dustin to be his "favorite Liberal opera singer", and over the past twelve years Dustin has held both the confidence, and friendship, of the Prime Minister, who regularly invites him to sing at events across the country. He has also had the opportunity to give Srila Prabhupada's books to the Prime Minister, his wife, Members of Parliament, and celebrities such as Carly Jepsen, a personal friend from his hometown.
This will be Dustin's second pilgrimage to Sri Mayapur Dham and he hopes to be able to take darshan of Lord Jagannath's temple in Puri with a focus on deepening his relationship with the devotees and the Holy Name.
[
canada
] [
mayapur
] [
opera
] [
trudeau
]