for ISKCON News on Nov. 18, 2019
The second annual Diwali celebration at the Bhakti Center in New York City not only drew around 350 festivalgoers including 200 new guests, but was also covered by the CBS News New York television station.
Since the Bhakti Center is the only temple with Radha Krishna Deities in Manhattan, it was an obvious choice for Diwali. A CBS News camera crew filmed first on Thursday October 24th, before the event, and then again on Diwali day itself, Monday October 27th.
The first two-minute segment aired on Friday the 25th on the 5 o'clock news, and covered the celebration of Diwali in general, discussing its meaning and how it is observed by 1 billion people around the world including Hindus, Sikhs, Jains and even some Buddhists and Muslims.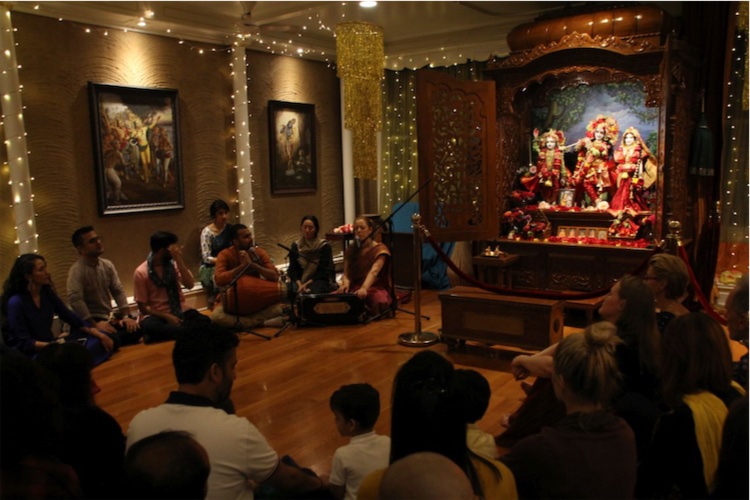 Jahnavi Jivana Dasi leads kirtan
Reporter Kiran Dhillon spoke while standing in front of Srila Prabhupada's murti, as well as pictures of Lord Krishna and Chaitanya Mahaprabhu, and interviewed the Bhakti Center's Director of Community Development Karuna Gauranga Das.
The second segment, also running about two minutes long, aired on Monday October 28th at 5pm, and showed arati of Sri Sri Radha Muralidhara, kirtan, devotees serving prasadam, and a devotional dance performance. Also included were interviews with Karuna Gauranga and second generation devotee Rukmini Priya Poddar.
"We really hope that every person who walks through this door just feels completely a sense of not only spiritual nourishment, but also a sense of home," Rukmini said.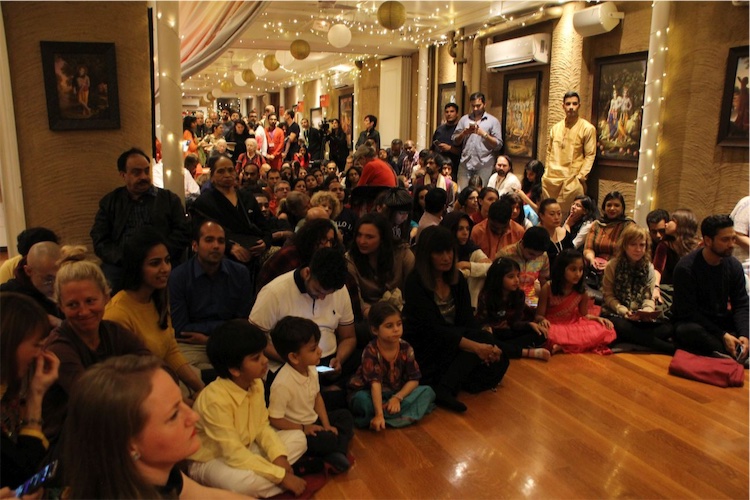 The temple room, strung everywhere with lights, was packed
According to Karuna Gauranga, the CBS crew were very favorable. "They were warm and friendly, eager to learn, and not taken aback by the rituals they saw," he says. "They liked the liveliness of the festivities, and were really inquisitive on a personal level too. They asked about the chanting, both reporters said they wanted to visit again, and the cameramen were delighted to take prasad."
When the segments aired, the Bhakti Center saw viewers at its EventBrite page jump from 600 (last year) to 3,700, and registration sold out.
Those who attended had a magical experience. Strung with lights to create an atmospheric mood, the temple hall was divided into two from 6pm to 8:00pm. At the back were food stalls serving Indian street food such as bhel puri, pani puri, phav bhaji, and dabeli, along with cake, mousse, mango lassi and lemonade. Visitors could also get mehndi body art for $5.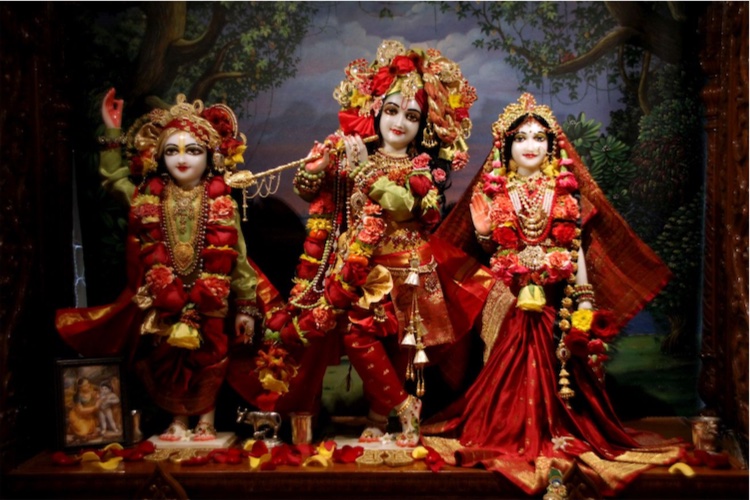 Sri Sri Radha Muralidhara with Gaurachandra
At the front, a constant flow of people offered flowers and donations to the beautiful deities of Sri Sri Radha-Muralidhara on Their altar, and participated in Gaura Arati and kirtan.
At eight o'clock, the stalls closed, and the temple hall opened up into one seating area as Ambika Sharma performed a traditional kuchipudi dance based on the Ramayan. Accompanying the performance, Jahnavi Jivana Dasi (Jahnavi Harrison) sang a song she had composed herself combining Holy Names with English lyrics describing Lord Rama's qualities.
The celebrations concluded with a heartfelt Damodarastakam led by Jahnavi, during which everyone came forward to offer lamps to the Lord, their sparkling lights hovering in the darkness.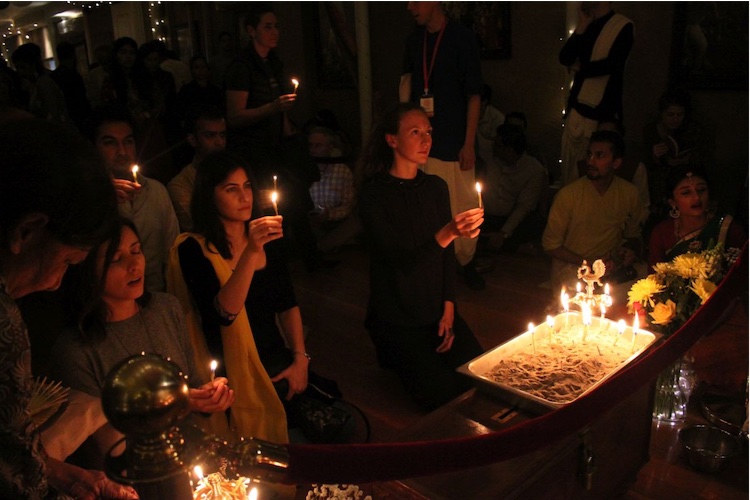 Guests offer lamps to the Lord
As each guest left, they were given gifts including prasadam dry fruit and nuts, and a beautiful Radha Krishna fridge magnet.
CBS News were not the only ones impressed with the festivities – both devotees and guests were delighted, and they encouraged Bhakti Center organizers to continue holding Diwali annually.
One of these guests was the owner of major company Milton Industries in India. When the Bhakti Center was recommended to him by his good friend Goura Gopal Das, he and his family attended, unbeknownst to anyone. Later, Goura Gopal told the other devotees about the family's response.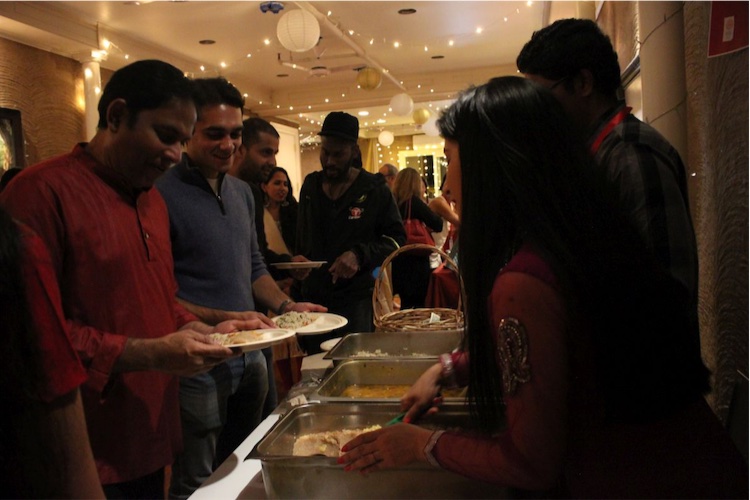 Serving prasad
"His daughters are from India, but settled here in New York," Karuna Gauranga says. "Usually younger generation Indians who come to America would never walk into a temple, particularly on a festival day, because they know it will just be old people. But these two young women told Goura Gopal that they were so impressed by the diversity and youth of the crowd at our Diwali."
The businessman himself, meanwhile, was deeply touched to receive the gift of prasadam and the Radha Krishna magnet as he left.
"It was a very moving gesture for him, that we were eager to give him something, rather than asking him for something," Karuna Gauranga says. "It really touched his heart."
The interaction was emblematic of what the Bhakti Center hoped to send all guests away with. "We carry a lot of darkness in ourselves, and in society today," Rukmini told CBSN reporters. "So we want to bring joy, and love, and light into it."
[
bhakti
] [
cbs
] [
center
] [
divali
] [
manhattan
] [
new-york
] [
television
]