for ISKCON News on Nov. 3, 2018
"Healing the Heart," a Christmas self-realization retreat at Gita Nagari in Pennsylvania, will run from December 22ndto 25th, and will attract Russian-speaking newcomers to Krishna consciousness from all over North America.
Around 30 to 50 Russian-speakers from Toronto, Montreal, Boston, Chicago and New York are set to attend. As well as Russia they originally hail from former Soviet Union countries like Ukraine, Belarus, Kazakhstan and Uzbekistan. Devotees are also set to attend alongside the new people.
"This is our fourth Christmas retreat," says Kishori Rani Dasi, who is organizing with her husband Kasisvar Das. "Since the last one, word has spread and we have had lots of requests to bring English-speaking friends and family too. So this year for the first time we will have translators for an English-speaking audience."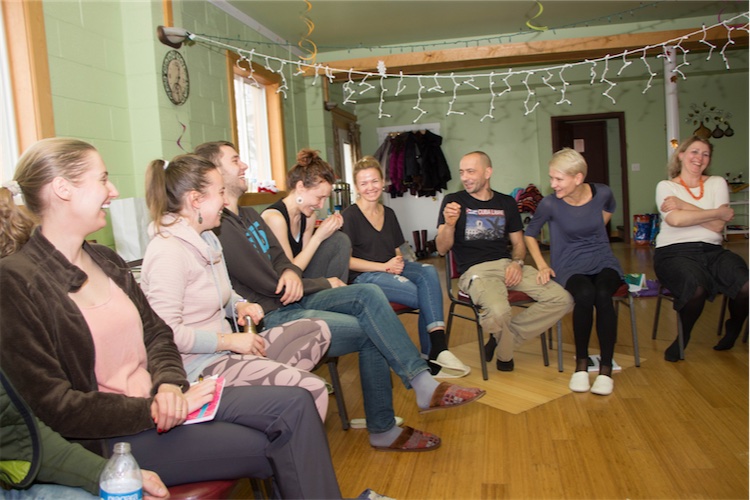 Group sharing during the Christmas Retreat at Gita Nagari
Leading the retreat will be Damodara Vijaya Das (Dimitri Pshonko), a senior ISKCON devotee, psychologist and psychotherapist. Due to his wildly popular Youtube videos in Russian, he is already well-known to many Russians around the world outside of ISKCON.
Damodara Vijaya will offer a workshop in holotropic breathwork, a unique and powerful method of healing and in-depth self-inquiry. By adding spirituality to the method, he will help participants release internal blocks or issues that have been impeding their spiritual progress.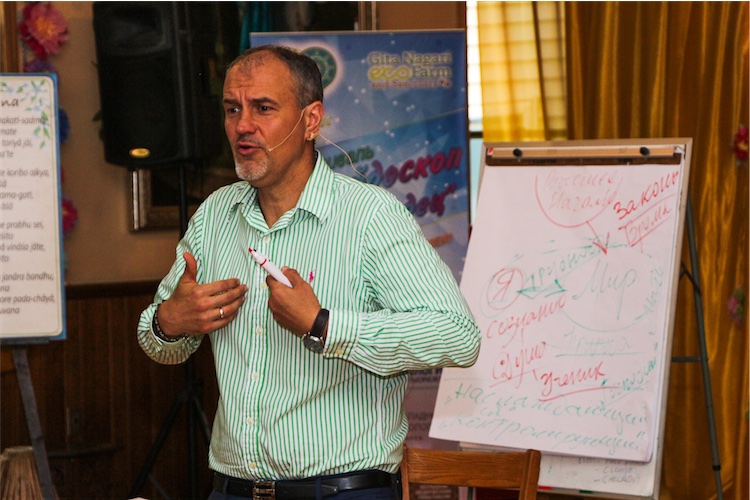 Retreat leader and famed Russian lecturer Damodara Vijaya Das gives a seminar
Damodara Vijaya will also offer short lectures on relationships, family, the law of karma, and how to use the obstacles and problems in our lives to learn important lessons.
Along with these, retreat participants will have time for discussions, sharing and connecting with each other. Those who are interested will also attend the morning program and Bhagavatam class at the Gita Nagari temple, evening kirtans, and Harinam dance classes.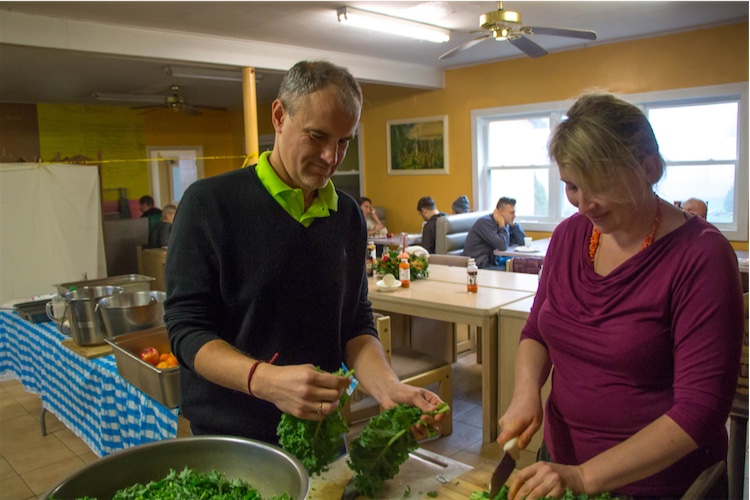 Service is a major focus of the retreats. Here, lecturer Damodar Vijay Das helps prepare dinner with a participant from Toronto
As well as Christmas retreats, Kishori Rani and Kasisvar have also held annual summer retreats for Russian-speakers for the past four years. This year they switched to a new format during the summer, introducing the first Pan-American Russian Family Festival at Gita Nagari, entitled "The Kaleidoscope of Our Hearts."
The festival drew 150 people, and aims to one day grow to 1,500. Along with lectures by famous Russian speakers Damodar Vijaya and Mallika-Mala, it included participant-run workshops, drama and music performances, and a full children's camp.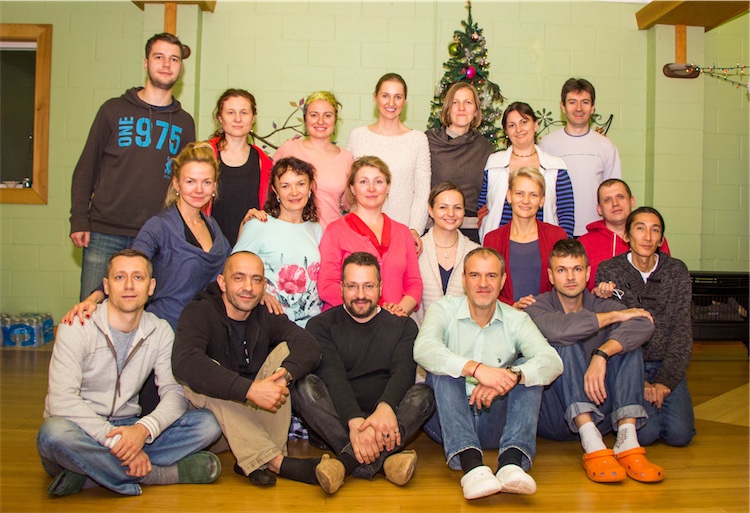 Russian-speakers from all over the US gather for a Christmas Retreat in Gita Nagari
"Our Christmas Retreats and Summer Festivals get people recharged and searching for likeminded people in their own cities," Kishori Rani says. "So they start to visit different clubs for Russian speakers that ISKCON devotees organize locally. For instance my husband and I are building a Russian sanga in New York, and already it has become much bigger. Our monthly namahatta attendance grew from fifteen people to around forty."
She smiles. "Our hope is that gradually some of these people might become devotees."
[
gita-nagari
] [
retreat
] [
russian
]