for ISKCON News on Aug. 31, 2018
"Let's go clean the toilets," said Aindra Das, head of Krishna Balarama Mandir's 24-Hour Kirtan Mandali in Vrindavana. "It will clean your heart. And when your heart is clean, you can actually chant Hare Krishna."
Eighteen-year-old Madhava Naidoo was taken aback. He was a hotshot mridanga player. He was in the 24 Hour Kirtan. Why should he do something so menial? "No way," he retorted. "I've never cleaned toilets before in my life."
Five minutes later, he saw Aindra walk by in his gamcha and gloves, carrying cleaning fluid and a scrubbing brush. The sight of this legendary kirtan leader and Prabhupada disciple willing to do such a humble task gave Madhava pause. He ran to catch up with him.
For the next four hours, they cleaned toilets together. "It was one of the most enlivening and beautiful experiences I've ever had," Madhava recalls. "I felt my heart being cleansed – it felt so light. After that we had a wonderful connection in kirtan."
Born and raised by devotee parents in Mauritius, Madhava had been playing mridanga since he was five years old and always took shelter of kirtan even through difficult teenage years. But it was his stint in Vrindavana under Aindra, from 1992 to 1998, that truly taught him the purpose and mood of kirtan.
"As well as the need for humility, Aindra Prabhu taught me that kirtan is not a performance," he says. "It's about chanting for Krishna's pleasure only."
Leading kirtan at Bhakti Sangam Festival in Ukraine, attended by 8,000 devotees
After six years in the 24-Hour Kirtan, during which he played mridanga on famous albums like Vrindavana Mellows – Madhava returned to Mauritius to get married. During their emotional goodbyes, Aindra gave him the instruction he would carry with him throughout his life: "Wherever you go, chant Hare Krishna, even if you have to sing to the four walls."
Back home, Madhava felt a little lost, working for some time with his dad as a land surveyor and then studying interior design. After he moved to England and his wife Radhika Dasi invited him to do bhajans at the temple, however, things began to change. Their Sunday afternoon slot went from nearly empty to packing out the temple room. Sivarama Swami and others began calling, inviting him to do kirtan throughout Europe. Madhava was back on track with his true calling.
But he still had to make a living. Moving to Switzerland in 2000, he spent ten very hardworking years as a carpenter.
"From 7am to 5pm, Monday to Friday, I would go to work," he says. "After work on Friday, I'd take a shower, and have a bite to eat. Then I'd jump on a plane to England or Hungary to do kirtan over the weekend. On Monday, it would start all over again."
In 2010, Aindra Das passed away. His last words to Madhava, just a day before he departed, were "Keep chanting, and don't just do it in the same places. Go to new places and start this kirtan culture everywhere."
Madhava was distraught. Not only had he lost his friend and spiritual mentor, but he could not see any possible way that he could carry out Aindra's instructions – he had just lost his job.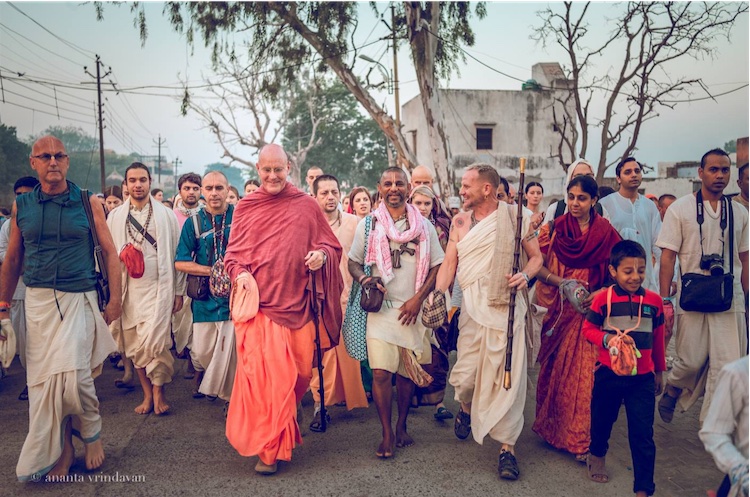 On Vrindavana Parikrama with Indradyumna Swami
The next day, the pious Gujarati family who had financially supported Aindra contacted him. They had heard that Madhava had been trained by the great kirtaniya. On the spot, they offered to pay his mortgage and a percentage of his bills if he agreed to travel and do kirtan full-time.
Ever since, Madhava has been on a whirlwind kirtan adventure with his invaluable core team of his wife Radhika and mridanga player Vrindavana Kirtan Das.
Their year is almost non-stop travel. Two of their biggest events are in Eastern Europe: the Bhakti Sangam festival in Ukraine draws over 8,000 devotees for five days of ecstatic kirtan. The Woodstock music festival in Poland, now called Pol'and'Rock, draws a million youth, and ISKCON's huge kirtant tent is constantly packed and overflowing.
"The kirtan starts at 4pm, and my nonstop shift runs from 11pm to 3 or 4 in the morning," says Madhava. "It's amazing. We have a maha-mantra backdrop onstage, and the way the young people look at it, it's like they're falling in love for the first time. Some people are holding their hearts, some are crying. They close their eyes, and when the rhythm picks up, they chant and dance. Some of them have been coming for many years, and don't attend any other music shows – they just come straight to the Hare Krishna tent to be in kirtan."
In the U.S., Madhava attends the Sadhu Sanga festival in North Carolina, which draws over two thousand devotees and yoga practioners. He also spends three weeks in New York every June, supporting the dedicated Harinama ashrama in their daily chanting on the streets.
This year, Madhava and his team visited two countries for the first time. In the Philippines, they did kirtan for a retreat that brought yoga practioners to the beautiful Vraja Eco-Village. In Hong Kong, they held a kirtan workshop at the ISKCON temple, as well as programs at yoga studios and universities. Along with Chinese people, many Westerners attended.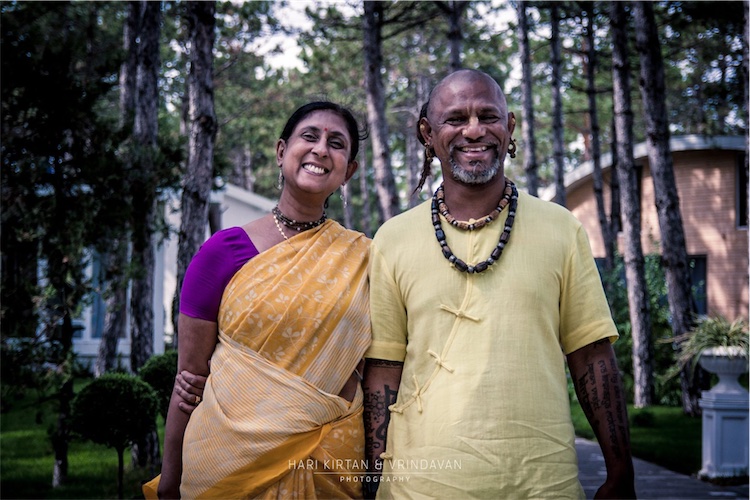 Madhava with his wife Radhika, his spiritual support and the core of his team
Some kept in touch. "One lady friended me on Facebook and now she's going to fly from Spain, where she's living, to Amsterdam for one day just to attend one of our kirtans," Madhava says.
Currently, Madhava is on a month-long tour of South America, doing kirtans at ISKCON temples, yoga studios and retreats around Ecuador, Peru, Chile and Panama from August 20thtill September 19th.
After that he'll do a whole month of kirtan in Vrindavana, India during Kartik (October 23rd– November 21st), at the MVT apartments in the day, at Krishna Balarama Mandir at night, and also during parikramas with Indradyumna Swami.
Next year is already filling up – the team are offering their Kirtan Forever Retreat from October 3rdto 7th2019 in Govardhana Eco-Village, Mumbai. Open to both devotees and new people, it will include talks on the philosophy of kirtan and bhakti yoga, kartal and mridanga workshops, kirtans and yoga classes.
As if that isn't enough, Madhava and his team have begun offering mini outreach programs at yoga studios, as well as one-day retreats. With music workshops and cooking demonstrations, the retreats present a deeper look at the philosophy and lifestyle behind kirtan. Madhava stays in touch with attendees through his website kirtanforever.com and its bi-monthly newsletter so that they remain connected to spiritual life.
His own life as a traveling kirtaniya, while exciting and rewarding, is extremely demanding. The team is at the mercy of jet lag, weather, and whatever kinds of food and accommodation is available – sometimes comfortable, and sometimes very austere. Madhava only spends two months of the year at home in Switzerland – and not in a row.
"I go home for a day or two, cut the hedge, pay the bills, and then pack up for another flight," he laughs.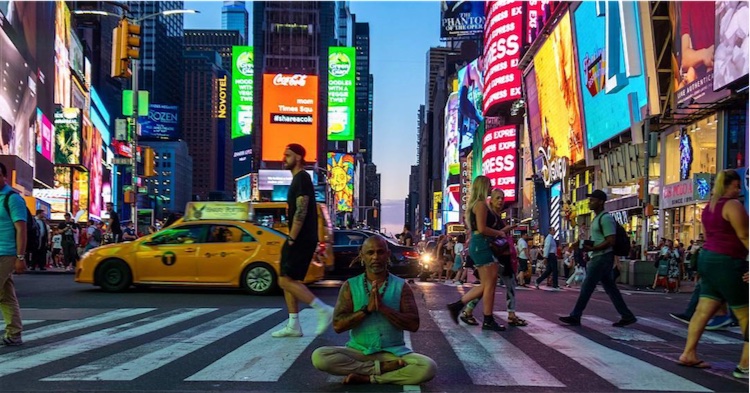 Keeping equipoised on focused on the Lord during the chaos of traveling can be a challenge
But Aindra's instructions, and the power of the Holy Name keeps him going. "It's Krishna Himself," Madhava says. "We're trying to serve him, and He takes care of us. And we see the results. People are taking up the process of chanting – not only kirtan, but japa too."
Madhava takes kirtan very seriously, seeing it as serving the Holy Name and connecting people to Krishna, rather than as a job. Wherever he goes, he only asks for plane tickets, a decent place to stay, and some prasadam – never payment (although he does accept a donation if it is offered).
He also is adamant that the current ISKCON culture of kirtan festivals and kirtaniyas should come from the right place.
"The more kirtan the better," he says. "But we kirtaniyas have to seriously question ourselves: Why are we organizing these festivals? Why are we actually doing kirtan? Is it to be recognized for name and fame? For women? For money? Or for the right reasons?"
"Because people look up to us for inspiration," he continues. "And if we are just cheating ourselves and others, Krishna won't even look. We can be chanting, but not really chanting."
With the right mood, however, kirtan is a transformational experience, purifying the heart and in turn allowing the kirtaniya to chant more purely.
"When we chant more purely, the form, qualities and pastimes of the Lord will appear in our hearts," says Madhava. "As Srila Prabhupada says, it's not an artificial imposition in the mind. But it comes naturally with practice, sincere determination, and faith. And people can feel it – that this person is not just showing off their musical talents or beautiful voice, but they are sincerely calling out to the Lord."
"And the more sincere the chanting," he concludes, "The more people are touched and connected to Krishna."
* * *
For more details, please visit https://www.kirtanforever.comand subscribe to the bi-monthly newsletter, or email madhava@kirtanforever.com
[
kirtan
] [
kirtaniya
] [
madhava
] [
music
]