Plans for a major new ISKCON temple in Columbus, Ohio have been scaled back slightly to push the project forward, and the process of construction drawings and hiring construction companies has begun.
The temple size has been cut back from 45,000 square feet to 30,000, while the price tag has fallen from $10 million to $7 million -- $4.5 million of which has already been raised or pledged.
Recently, engineers have been hired, and this month construction company Thomas & Marker, one of the most reputable in Ohio, was selected for the job.
Three phases of construction drawings are up next. A revised schematic design will be complete by June 2019, followed by design development and 3D renderings in October, and finally the construction design will be completed in February 2020 and submitted to the City.
"In April 2020, we will break ground and start construction," says ISKCON Columbus temple council member Premvilas Das. "By May 2021 we will begin getting the building ready for the Deities. And in July we hope to actually move the Deities into the temple. Finally the grand opening will be on Janmastami 2021."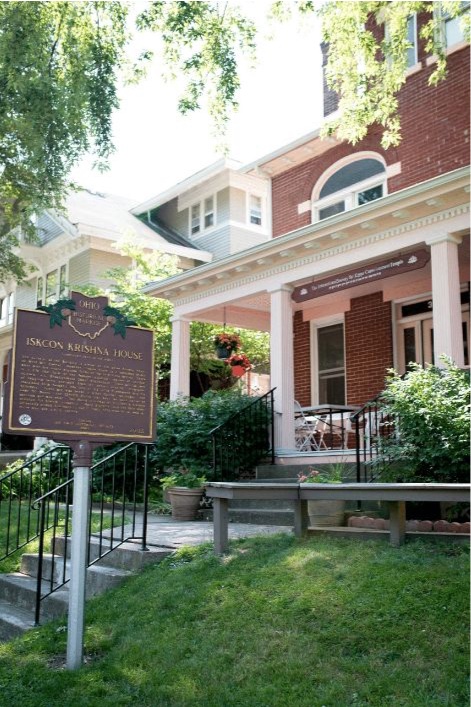 The current Krishna House across the street from the OSU campus

The temple will be located on a lush fifty-five acre plot in Hilliard, a suburb fifteen minutes from downtown Columbus. To make locals feel welcome and at home it will feature modern Western architecture with rustic bricks, clean lines, wooden floors and lots of natural light, while also incorporating Vastu principles and a 75-foot high dome.
The revised plan for the building includes a large Radha Krishna temple room with space for 400 people; a prasadam room and event hall with a stage for performances; a yoga studio; and a bhakti lounge for Western guests.
There will also be a farm to table café; multiple rooms for children to play in during programs; and a large playground outside, along with a beautiful garden.
The temple will be a green building partially powered by solar energy, with an entire acre of the property dedicated to a solar park.
Devotees will move there from the current temple, a 3,000 square foot house across the street from the Ohio State University campus, which has been in use since Srila Prabhupada's visit to Columbus in 1969. They're excited about the possibilities at the new property.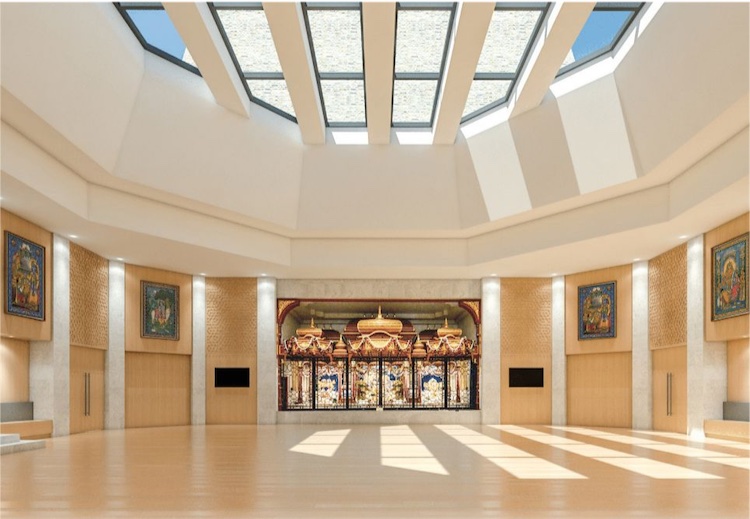 The temple room
One of their plans is an organic farm and cow protection program, applying Srila Prabhupada's principles of simple living and high thinking. Their first bull, an American shorthorn called Arjuna, is already part of the family and a barn has been built for him.
Meanwhile the yoga studio, bhakti lounge and farm to table café are designed to attract a primarily Western audience, and interest is already building amongst locals.
"They're calling us up, asking, 'Hey, when are you going to open your yoga studio?'" Premvilas says.
The temple will also become a hub of Bhakti yoga for the area's large community of Hindus who have settled in Ohio from Sri Lanka and Bangladesh; as well as Nepali refugees.
Devotees have connected with public schools in Hilliard and Dublin, who have promised to organize field trips to the temple for their students. Programs will also be designed for OSU students to come and experience farming and cow protection.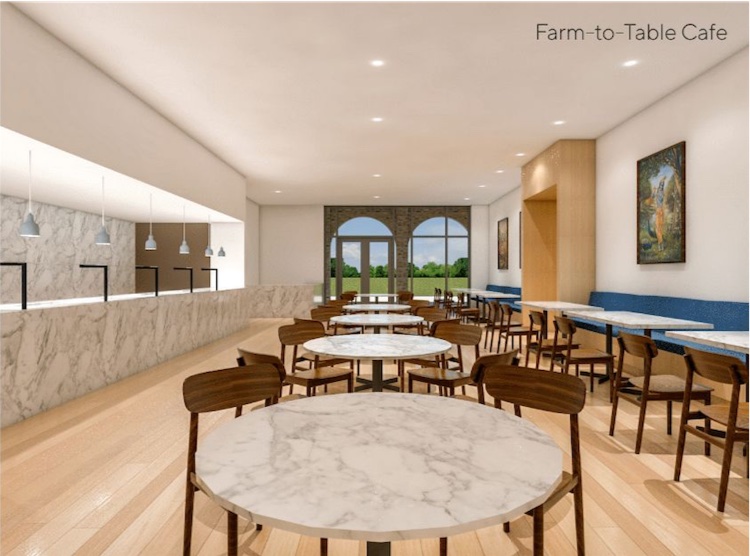 The temple will include a farm to table cafe
Speaking engagements at OSU already regularly take place with international devotee speakers such as Chaitanya Charan Das, Lal Govinda Das and Amarendra Das, and will continue.
Many six-hour and twelve-hour kirtan programs will be organized for next generation devotees, taking into account their deep love for kirtan. The already-running music school, teaching children mridanga, kartals and harmonium, will also continue.
"We have fifteen kids learning mridanga right now," Premvilas says. "In our kirtans, sometimes we have to say no to them, because the entire hall is occupied by little children playing mridanga."
The Sunday School program will also continue, with three classes teaching ages four to nine, ten to fourteen, and fifteen and over. The program regularly attacts new families to attend the temple.
Finally, a host of major outdoor festivals will be held at the temple and framed in a way that appeals to wide audiences, such as The Festival of Colors (Holi), Festival of Chariots (Rathayatra), Festival of Lights (Diwali), and an International Food Festival.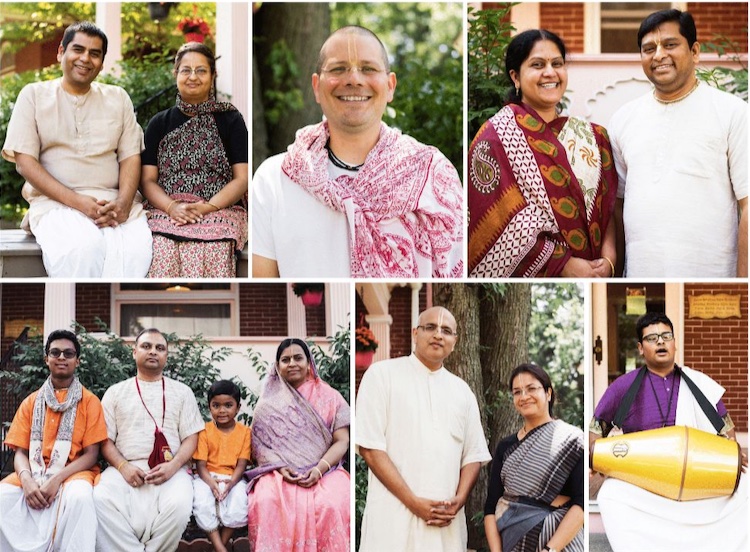 The ISKCON Columbus community
To build their new temple and realize all this, ISKCON Columbus devotees still need to raise $2.5 million.
"If 10,000 people throughout the ISKCON world give just one square foot, or $250, then our fundraising will be done," says Premvilas. "So we would like to ask devotees out there to consider contributing to this amazing project for Srila Prabhupada. Anything you can donate, even $50, $20, or $10 is meaningful to us."
* * *
For updates, photos and information visit www.iskcongreatercolumbus.co
[
colombus
] [
ohio
]