Patients are dying without oxygen amid Delhi surge with 1 death every 5 minutes (Source Global News). Join us to help ISKCON Dwarka, Delhi during this crucial time of need and make a difference.
India has an unwelcomed record of Covid-19 cases with over 350,000 cases being reported on Monday, a new global high. Deaths have exceeded 3,000 in one day (Source BBC News).
ISKCON Dwarka in Delhi, the epicenter of the pandemic, needs urgent funds…
They are in the process of setting up a Covid-19 Nursing Center which will provide free care, urgent oxygen (through oxygen concentrator), and basic drugs for those who are most vulnerable.
This facility is crucial to fight against the progression of Covid-19 in Delhi where cases are soaring. Oxygen concentrators will provide early treatment to those who are most vulnerable, reducing the escalation of symptoms and saving lives. This will ultimately reduce pressure on the local hospitals that are already extremely overwhelmed.
How you can help?
The Lotus Trust (the welfare arm of ISKCON Bhaktivedanta Manor) is raising funds for this urgent initiative. The running cost for this much-needed facility is approximately £1,900 per day and 1 oxygen concentrator costs approximately £500. The new facility will hold 180 beds and is only days away from completion. Your donation will allow this facility to keep running during this crisis and help save lives.
Please support us by providing this much-needed care directly to those who need it the most. You can support 1 patient, for 1 day, for as little as £11. Let us all come together to do our part by giving what we can.
To contribute, please click this link here: https://crm.bhaktivedantamanor.co.uk/civicrm/contribute/transact?reset=1&id=42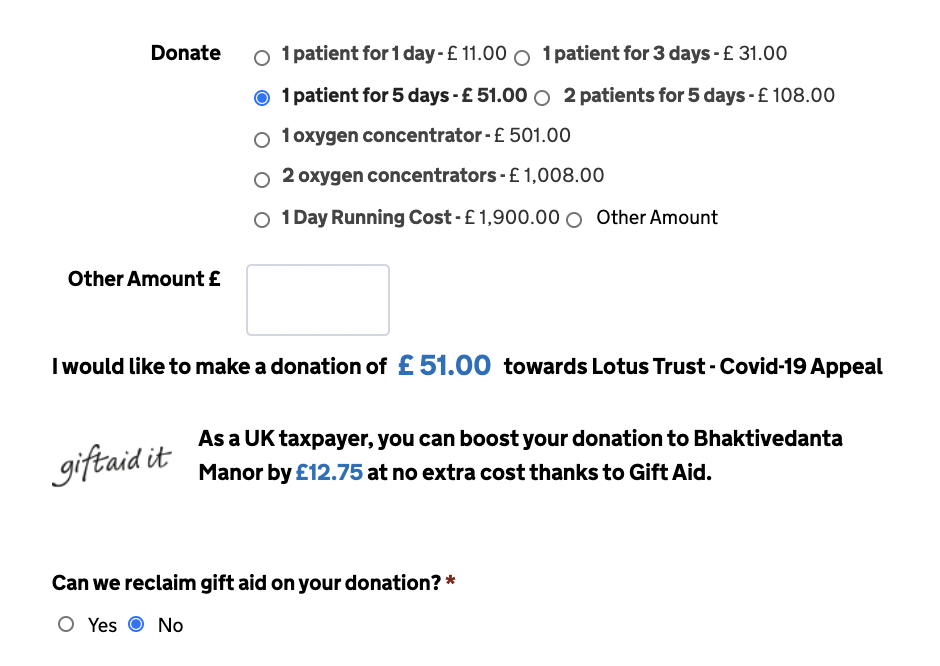 [
appeal
] [
covid-19
] [
lotus
] [
trust
]