for ISKCON News on July 8, 2019
Twenty-six current and future leaders recently took the ISKCON Leadership and Management Course in New Jersey, which focused on sixteen principles of servant leadership espoused by Srila Prabhupada.
The course was facilitated by ISKCON communications Director and GBC Anuttama Das, and ran from Thursday June 20th to Sunday the 23rd at ISKCON of Central New Jersey.
Participants included temple presidents, department heads, board members, youth running programs such as student clubs, and those aspiring to serve ISKCON as leaders in the future. The youngest participant was just fourteen years old.
The intensive course ran eight hours a day, for four days, and utilized both devotional and secular resources to empower ISKCON leaders with all the tools they need.
Lessons were taught on strategic planning, time management, public speaking, delegation, team-building, communications, facilitation, and much more.
"Strategic planning – how to set short term and long term goals for our communities – was a highlight for me," says Divyanam Das, a participant and co-organizer of the event who serves as the temple president in Richmond, Virginia. "Another was learning how to come up with proper service descriptions for each service, which really helps leaders manage effectively."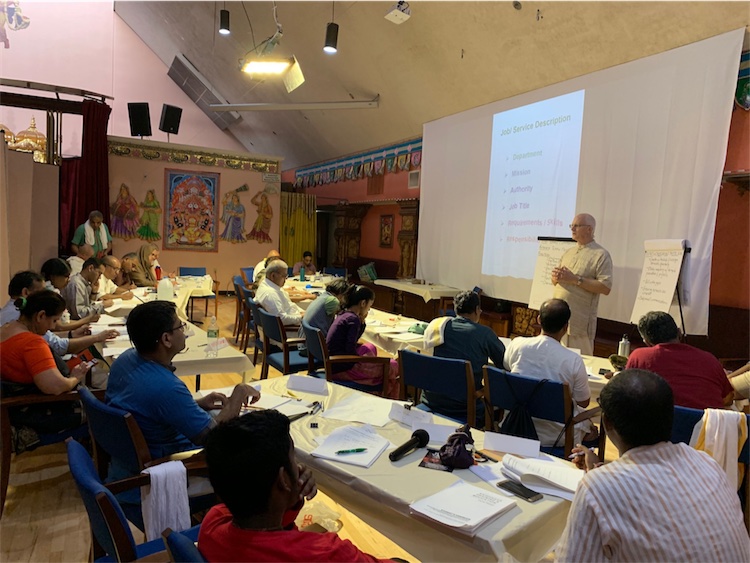 Anuttama Das teaches the ISKCON Leadership and Management Course at ISKCON of Central New Jersey
A major focus of the course was how to be a servant leader by imbibing sixteen principles extracted from Srila Prabhupada's teachings. These included "alignment with Srila Prabhupada,'" "keeping spiritual priorities," "creative vision," "focus on people," and Srila Prabhupada's famous principle "time, place, and circumstance."
"The course also stressed that everything we do – not only as leaders, but also as part of the ISKCON family – should always be aligned with Srila Prabhupada's seven purposes of ISKCON," says Divyanam. (Read the purposes here: https://gbc.iskcon.org/what-is-iskcon/)
The course was highly interactive, including role plays, group exercises, and Anuttama's trademark sense of humor.
"The brilliance of his teaching technique was that he made it so enjoyable and easy for participants to go through such an intensive course," Divyanam points out.
As well as injecting humor into proceedings, Anuttama broke out into surprise kirtans at random intervals, leading devotees as they ran around the temple, chanting and dancing with delight.
Every day, participants also bonded while they ate three sumptuous meals together, provided by the ISKCON of Central New Jersey Team, headed by president Madhupati Das. This gave them time to discuss their communities and personal experiences in management.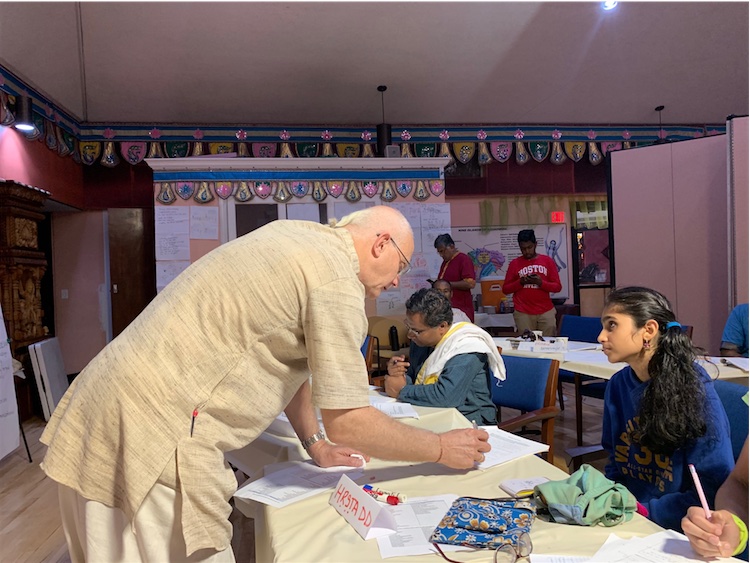 14-year-old Hrsta Dasi, who is establishing school bhakti yoga clubs, discusses her work with Anuttama Das
"Everyone left feeling really empowered," says Divyanam. "I spoke to a few leaders, and everyone was eager to go and implement the tools we had learned."
Hrsta Dasi, 14, who is currently establishing bhakti-yoga clubs at schools in her area with her father, was one of those leaders.
"This course was very helpful to me in many ways," she says. "For example, I learned that people have different inclinations, and based on their inclinations, we should engage them in different ways. I realized the power of taking out spells of thinking time – we came up with a lot of ideas when we sat together and thought. And I learned how important it is to delegate. Krishna pushed this course into my life right at the time when I needed it."
Clearly, ISKCON has extremely bright young leaders waiting in the wings, and the ISKCON Leadership and Management course has been very beneficial to them. But it's also greatly impacted those who have been leading their congregations for years.
"This course gave them a new perspective, especially the concept of servant leadership," Divyanam says. "We might have been leading with our own ideologies. But when we lead using the sixteen principles extracted from Srila Prabhupada's teachings, it makes a whole lot of difference. I would highly recommend this course."
* * *
To inquire about arranging an ISKCON Leadership and Management course with Anuttama Das in your area, please contact Divyanam Das at divyanam.lok@gmail.com.
[
leadership
] [
management
]