for ISKCON News on Aug. 31, 2018
Many devotees dream of one day having a career that doubles as devotional service. Jaya Govardhana and Haridas Thakur of growing U.S. healthy snack company "Pure Bliss Organics" have done just that.
The two met when Jaya Govardhana, then feeling burnt out in his job as a traveling salesman, visited Haridas Thakur's restaurant The Higher Taste in Tallahassee, Florida.
Striking up a friendship due to their shared love of prasadam, they purchased their friend Lilasuka Dasi's fledgeling granola business in 2005, renamed it, and relocated it to Atlanta, Georgia.
"Prasadam has always been a big part of my life and my Krishna consciousness," says Jaya Govardhana. "One of my main services in ISKCON over the years was cooking, and my spiritual master Jayapataka Swami would always encourage me in it."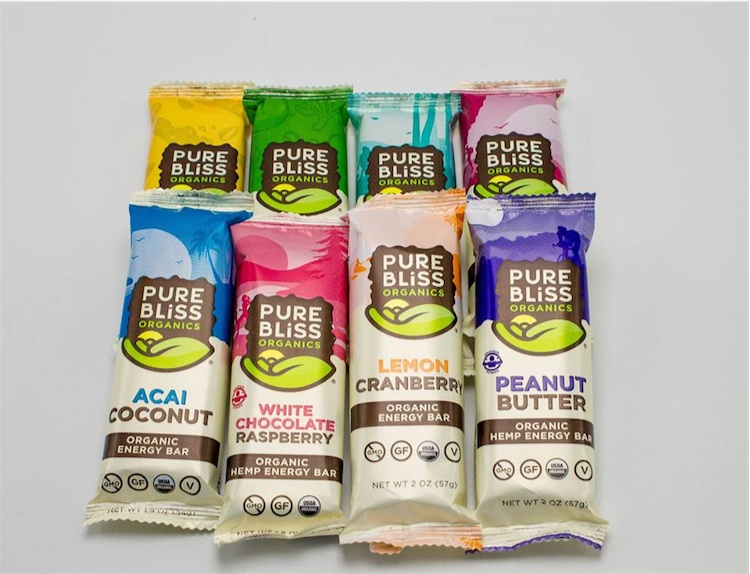 A mouthwatering array of prasadam energy bars
Haridas Thakur likewise was encouraged in prasadam distribution by his guru Hridayananda Das Goswami, and sees it as one of the most powerful ways to reach people and begin their spiritual life.
Now they get to do that – Pure Bliss Organics distributes roughly a million servings a year of their unique brand of Krishna prasadam. They also donate a trail mix for the thrice weekly Harinama in Atlanta, and serve devotees by providing discounts on their products to traveling sankirtan parties and the Sadhu Sanga Kirtan Retreat.
All gluten-free and certified organic, their granolas include three no-sugar types sweetened with date paste, two grain-free with half the carbs, and one high-protein. Granola flavors include banana, cashew butter, peanut butter vanilla, maple cranberry, and carrot cake.
Pure Bliss also offers seven different energy bars such as acai coconut, lemon cranberry, white chocolate raspberry, and chocolate sun butter, as well as their extremely popular energy bites with the same flavors. Finally their gourmet nut mixes include conconut honey almonds, sesame honey cashews, and maple cinnamon mixed nuts.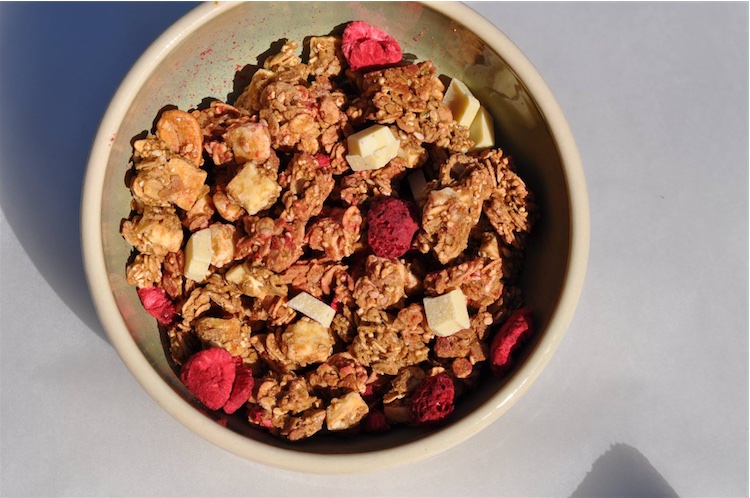 White Chocolate raspberry granola
All these are made onsite at their 5,200 square-foot kitchen/warehouse in Marietta, a suburb of Atlanta. There a longtime staff of devotees start work at six o'clock every morning, using automated mixers and huge rack ovens to bake about 1,000 lbs of food every day. A high standard of cleanliness is kept in the kitchen, and no food is tasted before it is offered.
Every batch, meanwhile, is offered to home Gaura Nitai Deities by Chitrabirya Das, a pujari at the ISKCON Atlanta temple.
After being packaged, the products are sent out for sale to nearly 500 stores throughout the U.S. Among them are regional branches of major chains like Wholefoods, Kroegers, and Sprouts, as well as large co-ops like Ozark Natural Foods in Arkansas, and stores like New Leaf in California.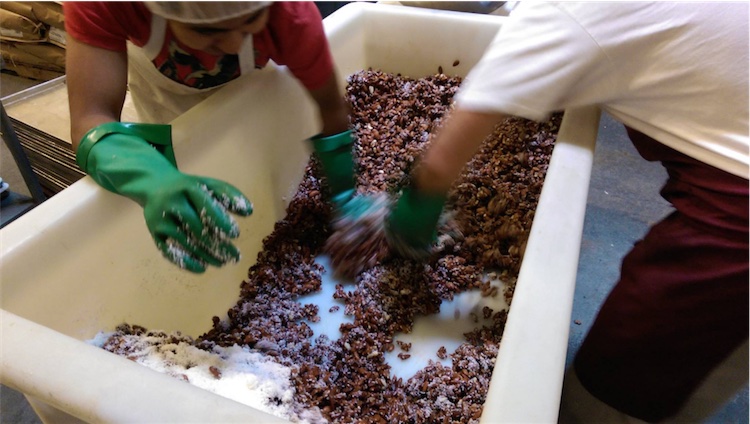 Creating the latest batch of mixed nuts
Locally in the Atlanta area Pure Bliss Organics are sold at around 100 coffee shops, smoothie shops, neighborhood grocery stores, and farmers' markets.
"At the farmers' markets, we can get to know our customers personally," says Jaya Govardhana. "So we know that a lot of people have raised their kids on prasadam. And there's a lot of loyalty. People really get hooked on prasadam and praise it like anything, remarking that there's nothing on the market that compares to how it tastes and how it makes them feel. That's very inspiring – especially as we know the purification of the heart that's caused by eating prasadam cooked and offered by devotees."
Pure Bliss prasadam is also sold in gift stores at half a dozen of the biggest hotels in downtown Atlanta. And because they like to support locally made organic food, chefs prepare dishes with it and give Pure Bliss name recognition in their menus.
Spreading further afield, Pure Bliss Organics have also begun creating products for other startup companies.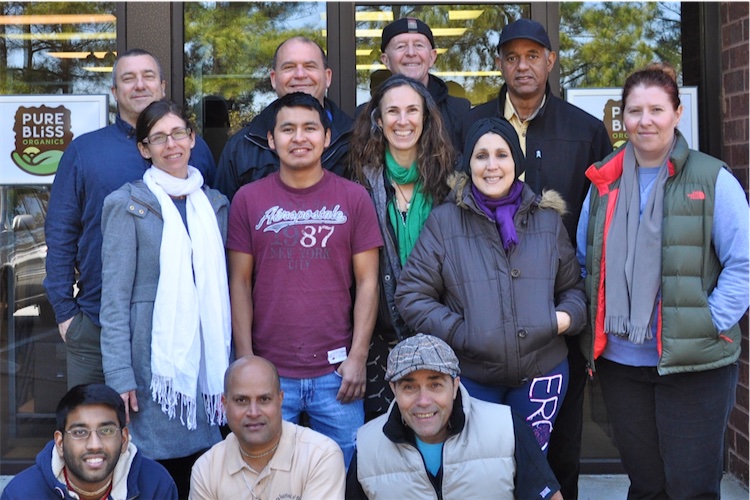 The Pure Bliss team outside their factory in Atlanta
Although it has grown steadily over the years, Pure Bliss is still considered a small company. But lately, Jaya Govardhana and Haridas Thakur have started a push to expand more rapidly, hiring national sales reps and going after bigger accounts and clients. They hope to grow from 500 stores to 2,000, to one day 20,000.
For other devotees who share their dream, they advise, "Pray to Krishna – He always reciprocates as long as he sees your determination and desire." And they add, "Don't be afraid to go beyond the devotee world to get what you need to make your business successful, whether it's professional organizations, or business training."
The results, they assure us, are deeply fulfilling.
"I feel connected with Krishna and my spiritual master through this work," says Haridas Thakur.
And Jaya Govardhana concludes, "When you put your head on the pillow at night, you know what you're doing is benefitting the world and helping many people in their spiritual life."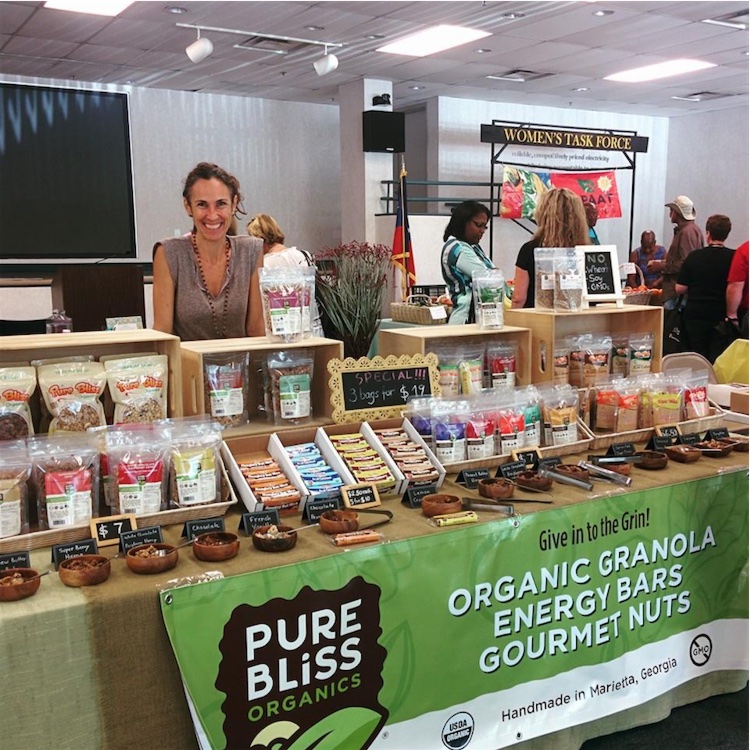 The Pure Bliss Organics stand at Cobb EMC Farmers' Market
[
bliss
] [
business
] [
career
]