for ISKCON News on April 14, 2016
Nestled in the beautiful hill country of Bulgarian resort village Emona, and overlooking the Black Sea and Irakli beach, is Vita Rama Health Center.
Every summer, the multi-storey building with its Mediterranean-style orange roof tiles becomes home to around 500 people, as they soak up the peaceful countryside and clean air, healing their bodies and spirits.
The Center is becoming more and more popular with its claims – backed up by customer testimonies – that it can cure heartburn, herniated discs, obesity, cardiovascular diseases, diabetes and even cancer.
It's all done on a nutrition-focused program, with brothers Lokaguru and Sudama adding Bhakti-yoga to the time-tested techniques of their father Georgi Slavov (who still works with them).
"Dad has been a health nutritionist for the past thirty years," says Lokaguru, Vita Rama's manager. "My brother has worked with him as his main healer for half of those. After we both joined ISKCON in 2010 and took over the family business, we made it more holistic by adding Bhakti. We also changed the name from the Latin 'Vita Mores,' or 'Way of Life' – to 'Vita Rama,' or 'Happy Life.' Our aim is to help people understand and achieve a happy life."
Each applicant starts by filling out a questionnaire on their specific health goals. They also meet with Vita Rama's specialists to build a unique seven, fourteen, or twenty-one day regimen.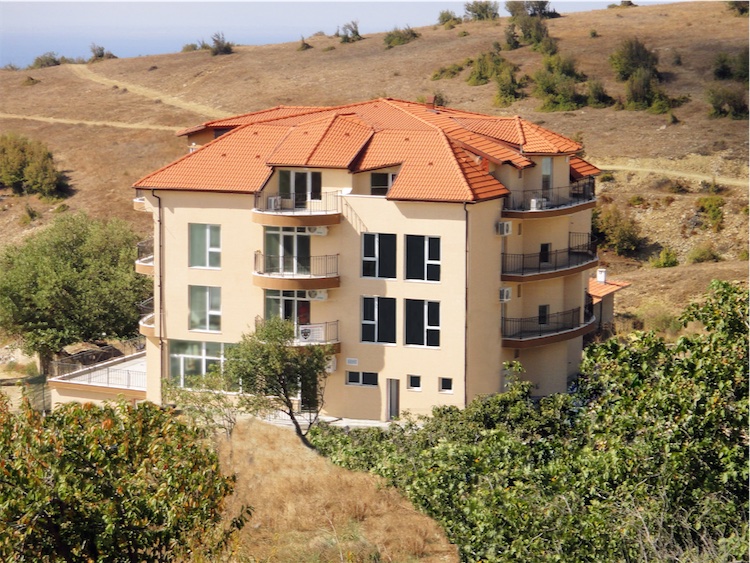 Vita Rama Health Center
Vita Rama's treatment consists of three key elements. The first is, of course, nutrition, through individualized diets.
Every breakfast, lunch and dinner, the dining hall – an airy space filled with sunlight -- offers up a bright spread of every color found in nature. While the food is extremely healthy, designed for patients to first cleanse, then rejuvenate their bodies, staff promise that it is delicious too.
"For instance, for breakfast we have many different kinds of smoothies, as well as vegetable and fruit juices," says nutritionist Sudama Das. "For lunch we have a variety of salads and sprouts, four types of breads and soups, kicharis, subjis, and pastes like hummus and pesto. We don't use oil or dairy products, instead we play with spices to give taste – our chefs have a lot of tricks!"
Vita Rama cooks even make corn-rice spaghetti, and pizza with whole grain flour and vegetables. For dessert, they make pancakes or cookies with whole grain flour, coconut sugar and dry fruits.
"The good news for people who come to us trying to lose weight is that with this diet you can eat as much delicious food as you want, and still lose the weight!" says Sudama.
To help clients continue to eat healthily after their stay, Vita Rama staff like Sudama and naturopathic doctor Dimitar Pashkulev (also a devotee for the past year) offer cooking demonstrations and lessons on the science behind proper nutrition.
They propagate a high carb, low fat, low protein diet consisting mostly of fruit, vegetables, grains, beans, and some seeds and nuts, with very little to no oil or butter. They also explain which foods should and should not be combined, what causes common diseases, and how to prevent or cure such diseases.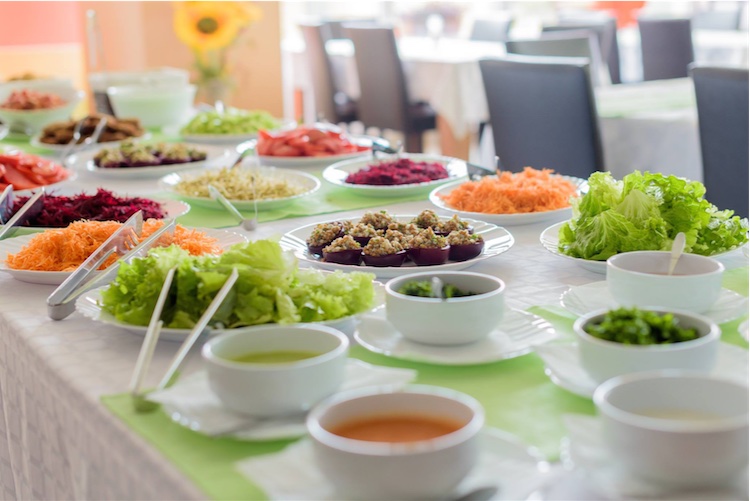 The colorful, healthy spread
"Fat sticking in the blood is the main cause of diabetes type 2 -- it blocks insulin from opening the door to let glucose into your cells," says Sudama, who claims that he can remove the need for diabetes medication in just 7 to 14 days. "High fat and high protein diets also cause cardiovascular diseases by letting plaque into the system. Within one year, we can clean the system so there is no plaque in the arteries."
Cancer, meanwhile – according to Sudama – can be caused by eating large amounts of animal proteins, which then let the carcinogen aflatoxin into the core of your cells and mutate the DNA there. "We heal this problem by cleansing and alkilizing the system with fruits and vegetables mostly, as well as grains and beans," he says.
So if animal protein causes cancer, why do so many devotees suffer from the dreaded disease? Sudama cites the book The China Study by biochemistry professor T. Colin Campbell, which makes the case that cancer can be caused by the protein casein found in milk – which we cannot digest well, and which turns our systems acidic.
According to Sudama, in devotees' case, combining large amounts of dairy products with grains and beans and lots of fried food made with cheap oils exacerbates the problem. He does allow that protected cow milk is a much better option because it doesn't contain the hormones and pesticides of commercial milk. And that ultimately, balance is the key.
"A little milk every day is actually fine," he says. "And even eating one Sunday Feast every week is okay – the problem is that historically devotees have eaten Sunday Feast-type meals all day, every day."
Besides nutrition, Vita Rama also heals through fresh air and physical exercise, under the guidance of Todor Todorov, an aspiring disciple of Sacinandana Swami.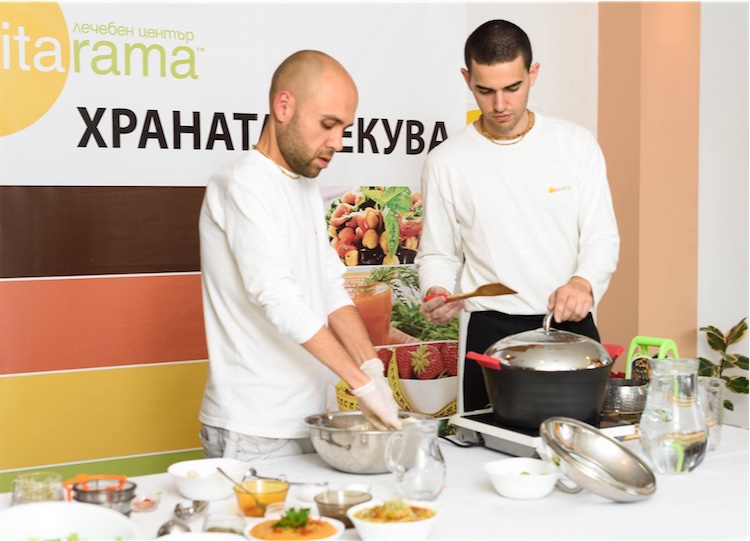 A cooking class
"The exercise helps the blood circulate, which supplies the body with the healthy ingredients faster, and also expels toxins through sweat and urine faster," Todor says.
Vita Rama clients start every morning with yoga classes, pranayama breathing exercises, and gymnastics outside in the fresh air. After breakfast, they walk to the protected Irakli Beach; and after dinner, they again take a two-hour walk in local nature spots, where the air is pure. All this also relieves the stress and anxiety caused by living unnatural and hectic lives in the city.
Completing the healing of body, mind, and spirit, Vita Rama provides emotional and spiritual support through quality association, interactive games, and Krishna conscious elements.
"We have a lecture on Bhakti-yoga in the afternoon, where we explain what the soul is, how the modes of material nature work, and how to connect to the consciousness and the superconciousness," says Lokaguru. "We also explain about the importance of sound vibration, what meditation is, and how we can use it to communicate with the divine nature as a person. Then we have kirtan, which really touches people's hearts and brings out all sorts of emotions in them. Finally, all the food we cook is offered to Lord Krishna, so it's all prasadam. And we explain that it's prepared with a lot of love and purified with mantras, so that they're eating not only food but spiritual food."
According to the dozens of testimonials on Vita Rama's website, all this treatment brings about dramatic results.
One couple suffering from obesity lost about 15 pounds in one week at Vita Rama, and an incredible 65 pounds continuing what they had learned at home. "When you follow our diet, your brain functions better, you need less sleep, and you're in great shape all day," says Lokaguru.
Kirtan with the devotees
After following a specially prescribed raw food diety for twenty days, one woman reportedly found that the tumor on her breast had disappeared. "She went to her doctor, and he said, 'This is not possible!' He couldn't believe it!" Lokaguru says, laughing. "We have a lot of doctors saying this is impossible."
Many clients also find their lives transformed on a spiritual level, becoming vegetarian or vegan, attending regular kirtan programs in Sofia, and asking questions about Bhakti-yoga via email.
Vita Rama's annual summer retreat period will run from June to September this year as usual. It will be followed by a special "Healthy Bhakti Yoga Retreat" with Krishna Ksetra Swami from September 10th to 15th.
Looking to the future, Lokaguru, Sudama and company plan to purchase land, build their own center according to Vastu principles, and develop a Krishna conscious community around Vita Rama.
"We want to not only heal people, but also give them a very nice experience of a sattvic life, with a nice natural environment, prasadam, good association, kirtans and meditation," says Lokaguru. "We hope people are not only cured physically, but also get inspired to change their lives spiritually."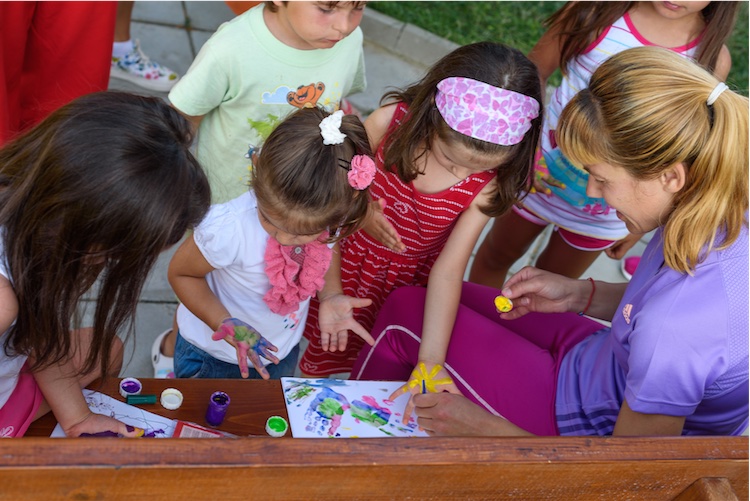 Activities are provided for the children too
* * *
This article did not have the space to discuss Vita Rama's methods in depth. In addition, the center tailors its advice to each individual person. Therefore, please do not use this article as a replacement for medical care. Rather, if you are interested in Vita Rama's methods, please contact the center directly here: http://vitarama.eu/en/contacts/27/pages/
For more information, please visit www.vitarama.eu
Please also note that Vita Rama's methods are one approach to health problems, and it is advisable to be well-informed before choosing a single path. Finally, this article is a report on the methods used by Vita Rama Health Center, and not an endorsement.
[
bulgaria
] [
health
] [
healthcare
] [
natural-healing
] [
vita-rama
]