for ISKCON News on Dec. 11, 2020
In today's world, scientific temper, or temperament occupies the center stage in deciphering the nature of reality.
Scientific temper refers to an individual and social process of thinking and acting, including questioning, observing physical reality, testing, hypothesizing, analyzing, and communicating. Scientific temper also describes an attitude, which involves the application of logic. This term was popularized by late Indian prime minister Jawaharlal Nehru, who urged his fellow countrymen to pursue scientific thinking in every sphere of life.
Researchers and scientists at the Institute for Science and Spirituality, a scientific study wing of ISKCON Delhi, and the Bhaktivedanta Institute for Higher Studies (BIHS) Florida, USA , are convinced that the ancient Vedantic theological tradition conforms to the highest kind of rational inquiry, and could greatly contribute to scientific progress. Therefore, they decided to collaborate in organizing an international e-summit relating to this important subject.
The event is entitled as "Jijnasa: Vedantic Theology For the Advancement of Scientific Temper", and will be held on 19th and 20th of December, 2020.
There is also an essay contest with attractive prizes on the same theme.
Chief Guest:
Dr. Ramesh Pokhriyal 'Nishank' (Education Minister, Government of India)
Guests of Honor:
Prof. Abhay Karandikar, Director IIT Kanpur
Prof. Ajit Kumar Chaturvedi, Director, IIT Roorkee
Prof. Prem Kumar Kalra, Director, Dayalbagh Educational Institute (Deemed University)
Speakers include:
Prof. Laxmidhar Behera (IIT Kanpur)
Prof. Gopal K Gupta (University of Evansville, USA)
Michael A. Cremo (researcher at the World Archaeological Congress and the European Association of Archaeologists)
Akhandadhi Dasa (Science & Philosophy Initiative, UK)
Dr. Mauricio Garrido (Bhaktivedanta Institute for Higher Studies)
Dr. Jyotiranjan Beuria (Harish-Chandra Research Institute)
Prof. Suresh Bhalla (IIT Delhi)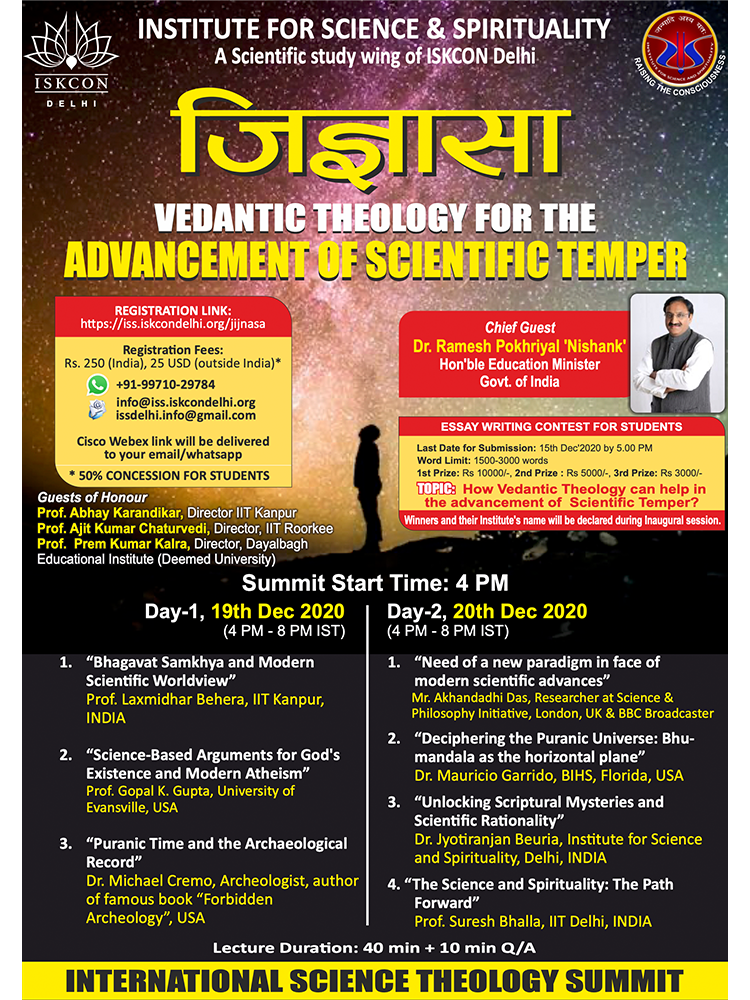 * * *
Event details and registration: https://iss.iskcondelhi.org/jijnasa
Fees: ₹ 250 (India), $25 (abroad. 50% discount for all students (further discount is available upon request).
Email: issdelhi.info@gmail.com, info@iss.iskcondelhi.org
www.facebook.com/iss.iskcondelhi
WhatsApp: +91 99710-29784
Promotional Videos:
bihs
] [
conference
] [
e-summit
] [
inquiry
] [
jijnasa
] [
science
] [
veda
]