for ISKCON News on April 13, 2017
Nineteen-year-old Kathak dancer Shyam Dattani, a devotee who attends Bhaktivedanta Manor, has won the South Asian category in the BBC Younger Dancer competition on BBC Four.
Born and bred in London but of Gujarati origin, Shyam started learning Kathak at the astonishingly young age of two when he followed his older sister into class.
"I've never stopped since," he says. "I literally grew up with the art form, and use it as a language to express myself."
With roots in North India, Kathak originated as a temple dance, and was used as a medium of bhakti. In Krishna's time, it was greatly influenced by the rasalila pastime. Later during Mughal rule, Persian influences added fast pirouettes and intricate footwork to its mudras and facial expressions.
Although Shyam has honed these skills over many years of learning and being on stage, BBC Young Dancer was the first time he performed for a wider audience less familiar with Kathak.
He entered the competition by sending in an audition tape, and was then selected out of eleven South Asian dancers for the second round.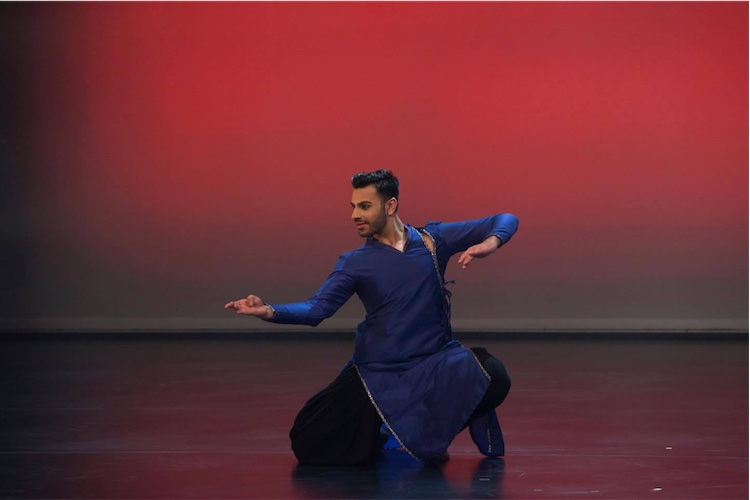 Shyam performs Udaan, a technical piece showcasing pirouettes and leaps on the BBC Young Dancer
He went into the Category Final with one other Kathak and three Bharatnatyam dancers.
During the episode, which aired on April 7th, the BBC showed shots of Bhaktivedanta Manor, the Deities, and a small kirtan in Srila Prabhupada's room.
"I just love going there, because it's such a serene setting," Shyam said in the clip. "And it's somewhere where I can take a break from the craziness that is normal day-to-day life."
Viewers then saw his winning performance – a colorful, energetic and fluid tour-de-force.
It included two solos: "Udaan," which means "to fly," a technical piece showcasing pirouettes, footwork and leaps; and "Ganesh Vandana" an expressional piece, drawing on the devotional facet of Kathak. Shyam also performed a duet with partner Ishira Shah.
Judge Kajal Sharma, an exponent of Kathak dance, commented, "Shyam's dance was more like a personification of his dedication. He was not dancing to please someone, he was dancing very naturally."
Next, Shyam will compete to win the overall title in the BBC Young Dancer Grand Final on April 22nd at Sadlers Well's Theatre in London, to be broadcast on BBC Two.
Shyam says he's humbled and grateful for the experience, and glad his hard work has paid off.
He also expresses his gratitude for the Manor's Pandava Sena youth group, which he has been a member of since the age of twelve, attending their programs and kirtans. He performs regularly at Manor festivals like Diwali and Janmashtami, as well as London Rathayatra, and considers the Manor his home and its community his family.
"They are my support network – they encouraged me to follow my passion, and overwhelmed me with love when I won," he says. "And they continually remind me to dance for Krishna, something I've been endeavouring to imbibe in my practice."
In the future, Shyam hopes to encourage other youth to pursue their passions by teaching dance. He also wants to showcase Kathak on a wider scale at the highest level possible, choreographing and producing his own work.
"In one seminar, Sacinandana Swami mentioned that you should find your Dharma, or calling in life – something you both enjoy and are good at," he says. "Immediately I thought of dance, because not only is it where I feel most in my element, but I also can use it in the service of Krishna so easily."
Watch Shyam's section from 39:40 to 47:30. Skip to 55:20 to hear the judge's comments and see the result: https://www.youtube.com/watch?v=hd_ME1JFSrM&t=2759s
[
bbc
] [
dance
] [
uk
]