for ISKCON News on June 1, 2017
Keshav Das, 30, an ISKCON of Washington D.C. devotee, won the gold medal at his tri-county Special Olympics meet on Sunday May 21st, competing in the 100-meter track and field. Keshav, who was born with Down Syndrome, had been training for the past year with his coach, and was cheered on by thirteen family members, including father and mother Sachchida and Sharmistha Gupta, and brothers Gopal and Vishal.
Next, Keshav may compete at the State level, with Special Olympics groups from all the counties in Maryland.
It's not the first medal he's won. At birth, his doctor was concerned about slow development in walking and talking, and his kindergarten teacher said he may not be able to read; but Keshav has been a good achiever academically and accomplished physical feats few of us could claim.
He has made the highest boy scout rank, has landed two gold medals in Special Olympics kayaking, and has a second-degree black belt. Earlier this year, his team won the State championship in Special Olympics basketball.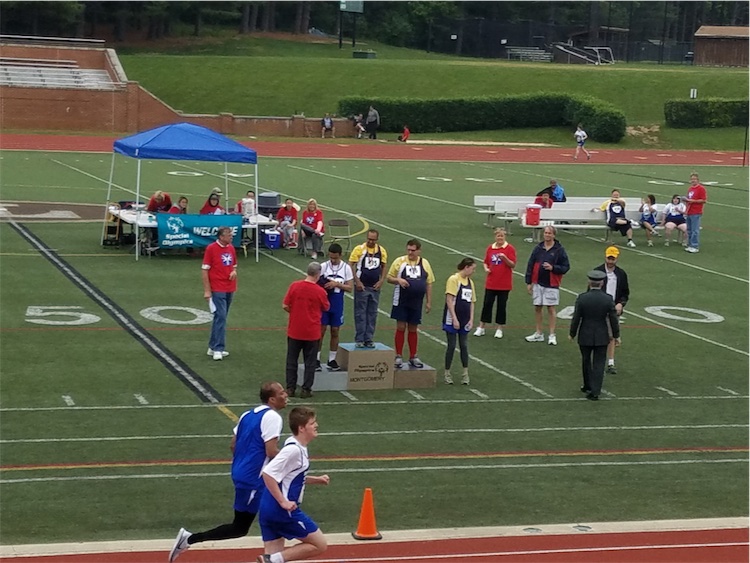 Keshav receives the gold medal for track and field at Special Olympics event in D.C.
Keshav doesn't want anything to be handed to him in life. He works as a bagger at a local grocery store and in the office at his father's company SNJ Engineering.
But what Keshav is most enthusiastic about is Krishna consciousness. When he was seven years old, his parents bought him Jagannath Deities. Since then, he's been hooked.
For the past eight years, he has dressed his own Deities of Radha Krishna, Gaura Nitai and Nrsimhadeva every day and performed kirtan for them, playing mridanga which he learned from kirtan singer Gaura Vani. He has also taught himself all the Vaishnava songs and bhajans.
Keshav says he dresses his Deities according to the season – for instance, during the fall he collects leaves of different colors to create a fall scene on his altar. And he watches temple webcams across the world to get ideas for the day's outfit.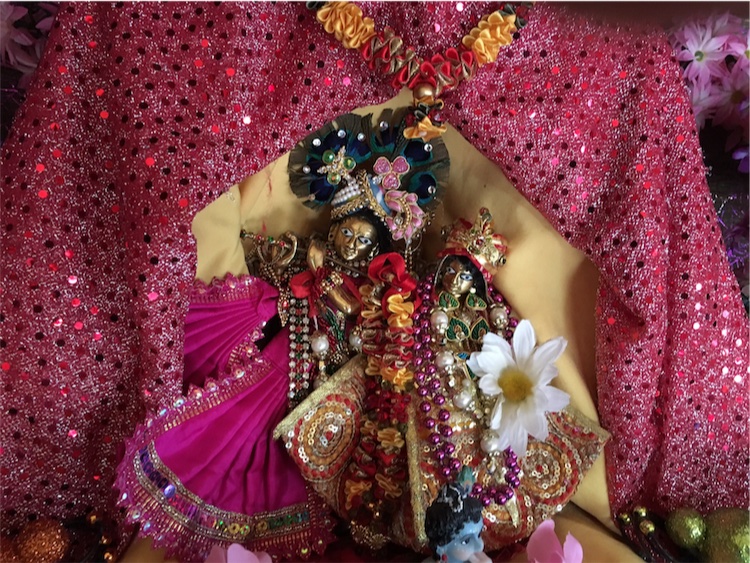 Keshav's beautifully dressed Deities
"On the weekends, he reads from Prabhupada's books and gives a short class, whether one of us is there to listen or not," says his father Sachchida Gupta.
Keshav also holds his own Rathayatra festival every summer, pulling Lord Jagannath on a chariot around a special path made on his parents' property. Priests from the ISKCON of D.C. temple come to do the puja, while friends, family and other temple devotees join in the parade and afterwards hold a bhajan program on the lawn and serve prasadam.
Meanwhile whenever Keshav accompanies his father on business trips, he looks up the local ISKCON temples wherever they are and insists they visit.
When asked what Krishna consciousness brings to his life, he tells ISKCON News simply: "I get blessings from my Lord Krishna every day."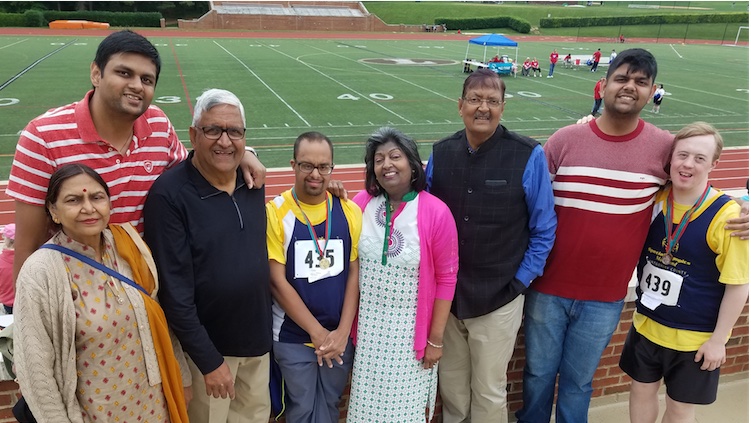 Keshav (center with glasses) with his family after winning the track and field gold medal
Keshav is also an advocate for disability, participating in the National Down Syndrome Society's Buddy Walk and meeting with local congressmen and senators.
While his father says D.C. devotees have been kind and helpful to Keshav, he feels that advocacy is needed in ISKCON too, to encourage the society to put more thought into supporting people with special needs.
"His devotion is no less than anyone else's," says Sachchida Gupta. "He is part of the congregation too, and I think he should have a little more accommodation. For instance, if he wants to be initiated, we need to sit down and come up with a plan for how to initiate a devotee like Keshav – you may have to make special accommodations."
Sachchida also suggests ISKCON or individual temples could create a disability ministry with special programs and events. "Keshava and I can help – I think the time has come to set something like that up," he says.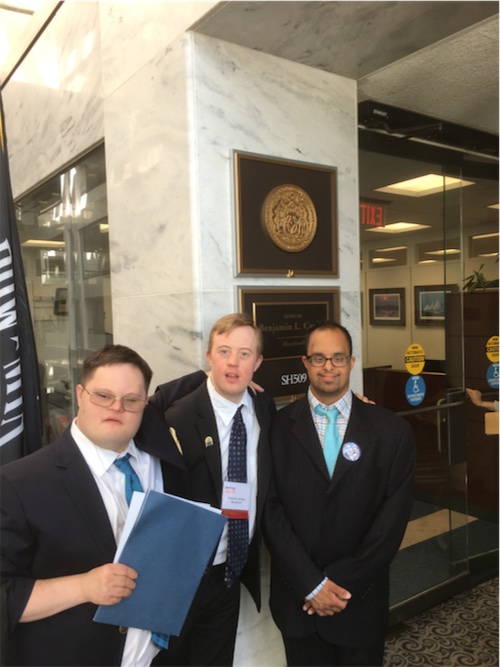 Keshav with other disability advocates for the National Down Syndrome Society
Keshav's devotion has clearly made an impact on people, not least of all his parents.
"Keshav changed our lives completely," says Sachchida. "When he was born, we were at first a little sad to learn of his disability. But as he grew up, it gave us a new perspective in life, to respect people who are different from us. And Keshav actually brought us closer to Krishna. Because with him around, we cannot miss any festival, bhajan program or visit by a senior devotee. He transformed our lives in a very positive way, and has done the same to many others who have come in contact with him."
[
down-syndrome
] [
olympics
] [
sport
] [
washington-dc
]