for ISKCON News on Aug. 4, 2016
Devotees at ISKCON of Leicester, England, publicly inaugurated their temple and presented new renovations to Srila Prabhupada as an offering for ISKCON's 50th anniversary on Saturday July 30th.
It was a special moment for Leicester devotees. Back in September 2010, their Thoresby Street temple was completely destroyed by a gas leak explosion in the kitchen.
They purchased a new temple, a 15,000 square foot historic former HSBC Bank in the very center of Leciester, in December 2011.
But they continued operating from rented accommodation until 2014, when they moved all festivals and Sunday programs to the stunning new building on Granby Street. Still, programs were austere as there was no heating.
Now, finally, the latest renovations have made the temple fully operational.
The inauguration on Saturday saw devotees, congregation and donors receiving their Srila Prabhupada murti, carrying him in to each renovated room, and explaining what had been done.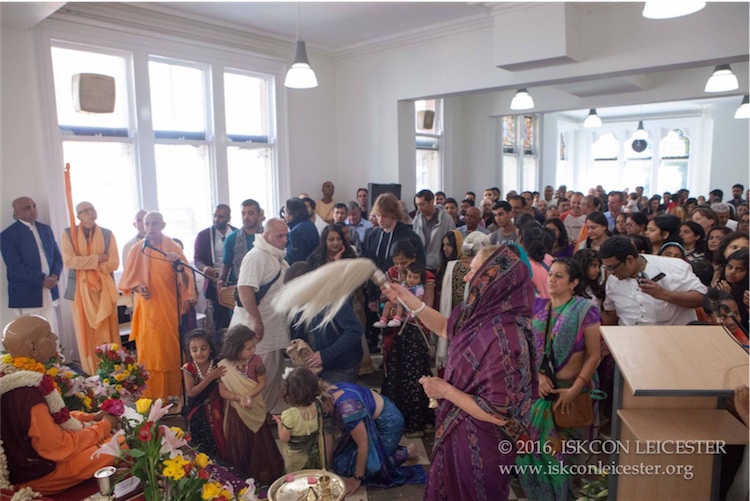 Devotees pack into the new ISKCON Leicester temple room to offer gurupuja to Srila Prabhupada
"We started with the brahmachari ashram on the second floor, where the brahmacharis spent their first night on Saturday and loved it," says temple president Pradyumna Das. "There are a lot of opportunities ahead – for instance, the local BBC radio faith show is already very keen to do a 'day in the life of the city monks.'"
Coming down to the first floor, the tour visited the newly renovated offices and and two dedicated classrooms for the temple's College of Vedic Studies, which has already taught introductory courses on the Bhagavad-gita to about 100 people in the past two years. With brahmacharis now resident and staffing it, there are also plans for yoga, meditation, and cooking classes on lunchtimes, evenings and weekends.
"On the first floor we also have our first onsite kitchen since our last temple," Pradyumna says. "We prepared our first feast in our own kitchen in six years on Saturday evening, and it was really nice for the cooks."
Finally, the devotees cut the ceremonial ribbon to the newly renovated temple room, and Srila Prabhupada entered with senior devotees and all the other guests lining the walls on either side of him.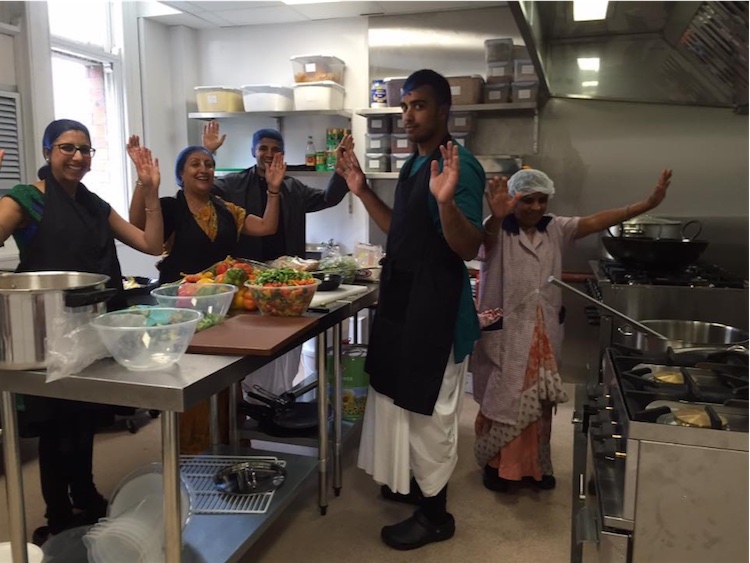 Joyful devotees in their new kitchen
"The temple room will be able to accommodate up to 250 people, and will be suitable for our day-to-day programs," says president Pradyumna Das. "It has a simple altar with a Deity prep area behind it."
Pradyumna explains that the first and second floor facilities have also been installed with underfloor heating throughout.
The inauguration event continued with devotees placing Srila Prabhupada on his Vyasasana and offering gurupuja and arati, before hearing from several senior devotees.
Local sannyasi Bhakti Prabhava Swami offered a prayer asking Lord Nrsimhadeva to protect the project and the endeavors of the congregation.
Bhaktivedanta Manor temple president Srutidharma Das congratulated all the congregation on their efforts, and encouraged everyone to work together with Srila Prabhupada in the center.
And Pradyumna Das thanked the Manor and other donors for their contributions towards the renovations, and spoke inspiring words about how this facility will offer opportunities for spiritual experiences and education in the heart of the city.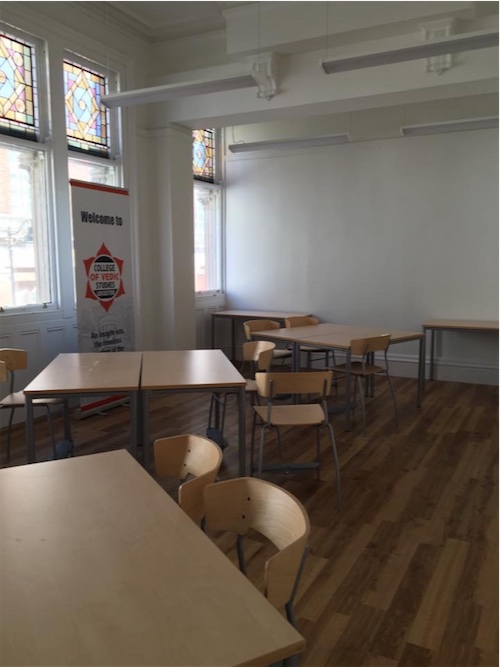 Classrooms for the temple's 'College of Vedic Studies'
Next up, Deities of Sri Sri Radha Madhava will be installed on August 21st, and with Them will come full morning and evening programs.
More funds are also needed for the next phase of renovations, which will include the ground floor. Previously the grand banking hall, it will be a festival hall for events like Janmastami when 500 plus people need to be accommodated. Future renovation plans also include a café, a shop, and more catering kitchens.
Before then, there's plenty to be excited about. Leicester Rathayatra is coming up on Sunday August 7th; the next round of introductory courses begin in September; and from September 1st to 4th, ISKCON Leicester will host the ISKCON European Youth Convention.
"We're becoming a venue for ISKCON because we're right in the center of the country," Pradyumna says.
In addition, the temple has been called "the most important Victorian building in the city of Leicester" by the local Victorian Society, and people come to simply admire its architecture during the City Council's Heritage Week.
"I believe that whatever they're interested in, everyone in Leicester, from all walks of life, can come to this building and find something of value and significance for them, in the journey of their lives," says Pradyumna.
[
leicester
] [
uk
]