for ISKCON News on Oct. 13, 2017
Kalasamvara Das, temple president of ISKCON Auckland, has always been one of those devotees who is having so much fun in Krishna consciousness that it's infectious.
But even by his standards, he's positively buzzing when we chat to him at the airport on his way back from the Festival of Fiji.
"You can't compare anyone with the Brijabasis, but the hospitality of Fijian villagers is beyond imaginable," he says.
The Festival of Fiji is a biannual Hare Krishna festival tour of the paradise-like islands, envisioned by the late ISKCON guru Tamal Krishna Goswami and put on by his disciples such as Braja Govinda Das.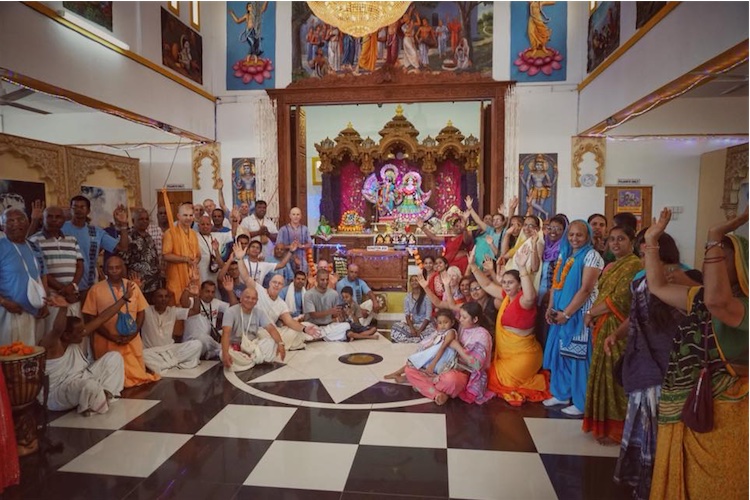 Devotees gather at the Sigatoka temple
This year's festival ran for nine days from September 30th to October 8th, and drew fifty to sixty international devotees from Australia, New Zealand and the U.S., who celebrated along with over 100 local devotees.
Preceding the festival, however, was another adventure. Five international devotees, including Kalasamvara Das, walked the 126 kms from Sigatoka on the Coral Coast of Fiji to Suva, its capital.
"We only took what we could carry, and walked from village to village, just depending on the sweet will of the Supreme Lord," he says. "It was a mindblowing experience."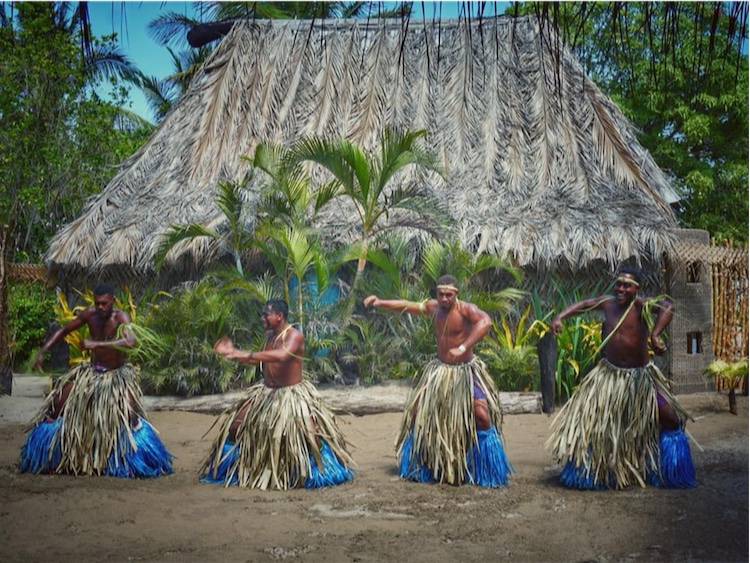 Devotees got to watch a tribal dance
While the devotees were prepared to sleep on the beach or under a tree, Kalasamvara says local people they met immediately asked where they were staying, wanting to know that they would be looked after. Inevitably the devotees would find themselves in the closest village, meeting the chief and being put up like royalty.
"They would go out of their way," Kalasamvara says. "There would be a competition as to who would have us stay with them -- sometimes the chiefs would let us stay in their own house! They would open up their whole home to us, cook us incredible vegetarian preps, and bring us bedding and everything we needed."
Life in Fijian villages, Kalasamvara says, is simple and a perfect example for any ISKCON devotee interested in Varnashrama Dharma.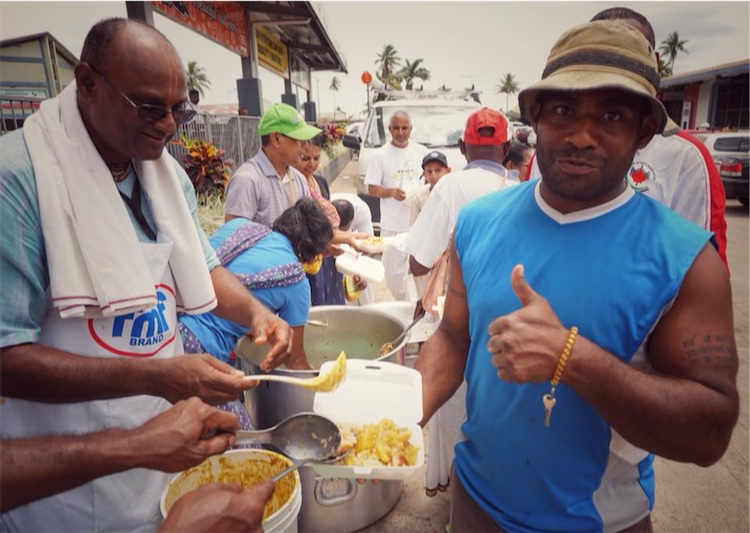 Distributing prasadam
"They're doing everything we dream of," he says. "Any devotee who is interested in simple living should go and spend six months in one of these villages. Just throw out your cell phone and computer and try it out!"
As devout Christians, Fijian villagers also have the "high thinking" part of Srila Prabhupada's vision for ISKCON down pat: they constantly take breaks to pray throughout the day as they work outside.
The villagers also prayed for the devotees, and thanked the Lord for their presence, saying, "This is God's blessing that you've come – we're so blessed to have you here."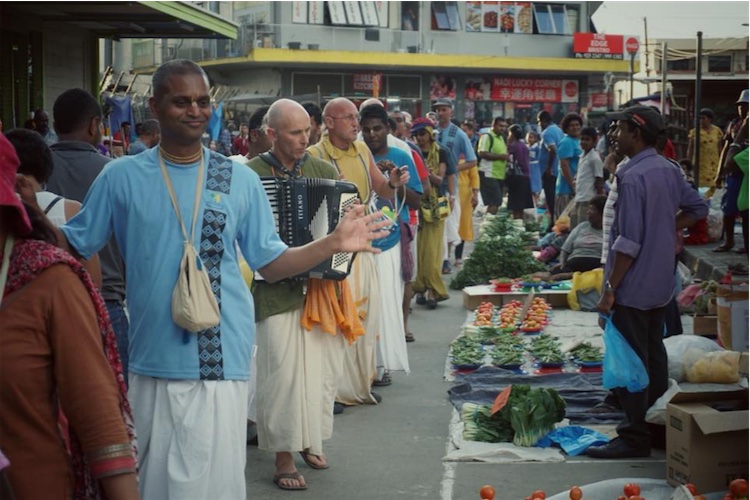 Harinama in a Nadi marketplace
The Christian villagers were very open-minded, and gladly welcomed the devotees to share their prayers too.
"Here we are in a place where Christ is so prominent, and we're all shaved up with tilak, playing mridanga and kartals and doing big kirtans in these people's houses," Kalasamvara says. "And they loved it!"
At the end of a stay, the villagers would see the devotees off at the gate, and give them directions to the next village. The devotees would then set off, doing kirtan as they walked, exchanging waves with passersby and distributing books, which locals were happy to take and look at.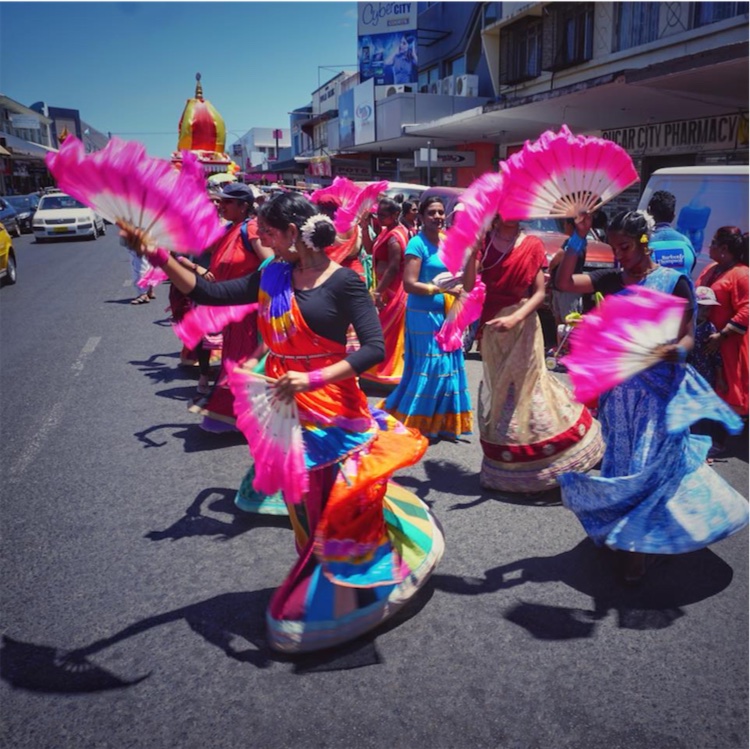 Rathayatra in Lautoka

Upon arriving at Suva, the five walkers met up with the rest of the fifty-strong international group of devotees and one hundred local devotees, and the official Festival of Fiji began. Hiring buses, devotees visited Suva itself, Sigatoka, Lautoka, Nadi and Robinson Crusoe Island.
At each location, as well as at villages along the way, they held huge Harinama Sankirtana processions, and distributed Prabhupada's books and prasadam – over 10,000 plates in total. They also visited schools.
"In a small town called Navua, we went to one of the larger schools in Fiji, with about 2,500 students," says Kalasamvara. "We distributed over 4,000 plates of prasadam at the school and in the town. They were flipping out over the halava! All the students came out class by class to get prasad, and hear kirtan. At one point, we spoke about the Holy Name to the whole assembly. The kids loved it, the teachers loved it, and of course the devotees did too!"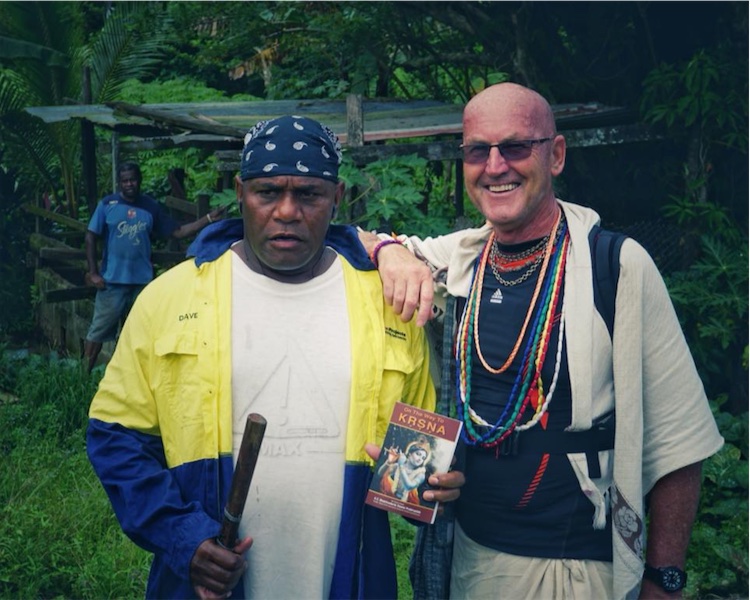 Kalasamvara Das with a village chief
During the Festival of Fiji, devotees also visited the country's three incredible temples – Lautoka, where there is a Krishna Kaliya Deity as directed by Srila Prabhupada; Sigatoka, where Radha Damodara Deities are worshipped in an elaborate four-storey high temple and Damodarastakam is sung every night throughout the year; and Suva, the main ISKCON temple in Fiji.
"All these beautiful temples in a country of just 900,000 people!" says Kalasamvara.
Every morning of the festival, devotees attended the full morning program. Every evening, they had mini kirtan melas, seminars on chanting Hare Krishna, and delicious prasadam. And during downtime, they got to relax and swim at Fiji's stunning beaches.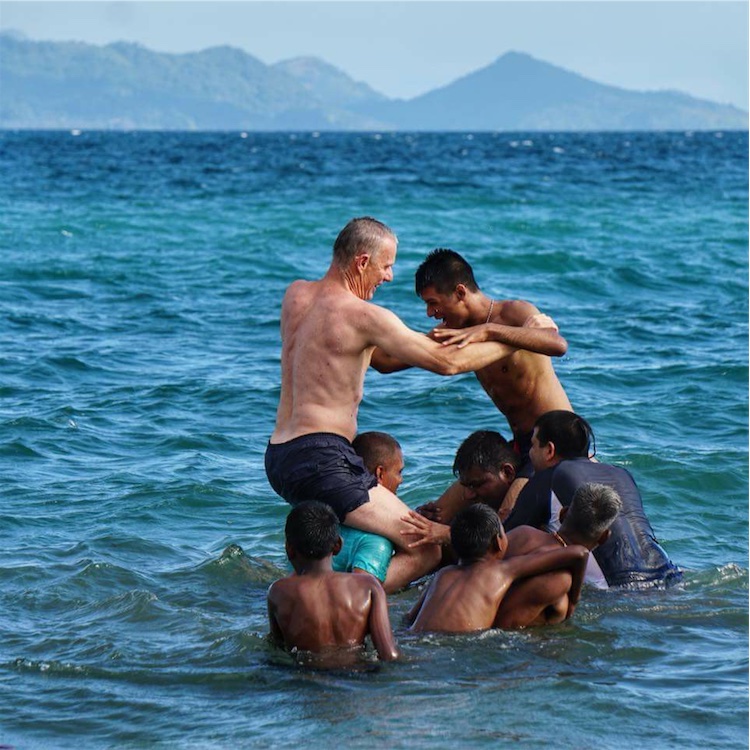 Having fun in the sea
The festival concluded with a grand, eye-poppingly colorful Rathayatra parade in Lautoka.
"Every aspect of the Festival of Fiji was a highlight," says Kalasamvara. "The prasadam, the harinamas, the kirtans, the lectures – everything was incredible. I mean, I live a pretty good Krishna conscious life, but this was amazing."
Best of all, he enthuses, were the Fijian people themselves. "From the moment you arrive, the hospitality and friendliness is unrivaled," he says. "There are no impediments, apart from your own mind, to what you can do as a devotee. You have the freedom to dress as a devotee, to preach as a devotee. The audience is reciprocal. They love chanting. They'll take the books. They love prasadam. It's such a conducive environment for spreading our Krishna consciousness movement."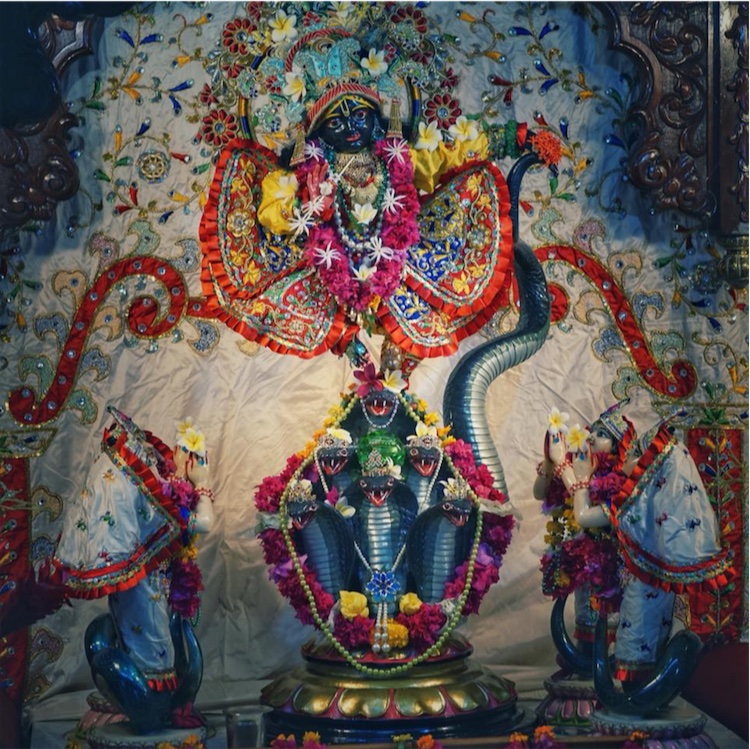 Krishna Kaliya Deities at ISKCON Lautoka, Fiji
In a 1977 letter, Srila Prabhupada agreed with a disciple that Fiji could become the first country in the world to have a Krishna conscious government.
"I can believe that," Kalasamvara beams.
[
fiji
]