for ISKCON News on Jan. 11, 2019
Between five and six hundred devotees from all over North America started the New Year as they meant to go on – chanting the Holy Name and associating with devotees – at Kirtan 50 in Dallas this holiday season.
The genesis of the festival took place a decade ago, when gurukuli Sri Rupa Das started an annual New Year's Eve 24-Hour Kirtan at ISKCON Dallas.
Then in 2016, when temple president Nityananda Das wanted to do something monumental for ISKCON's 50thanniversary, the chanting was doubled to fifty hours, becoming a five-day festival known as Kirtan 50.
This year the festivities began on December 28thand ended on January 1st. "On Friday evening the kirtan ran from 7pm till about 11, on Saturday from 10am to 10pm, and on Monday – New Year's Eve -- we did all 24 hours," says Haridas Chan, who organized the event with his mother Padma Dasi. "We finished with another three or four hours on New Year's Day."
Kirtan leaders included B.B. Govinda Swami, Badahari Das, Gaura Vani, Amala Harinama, Havi Das, and Krishna Kishora from the Mayapuris.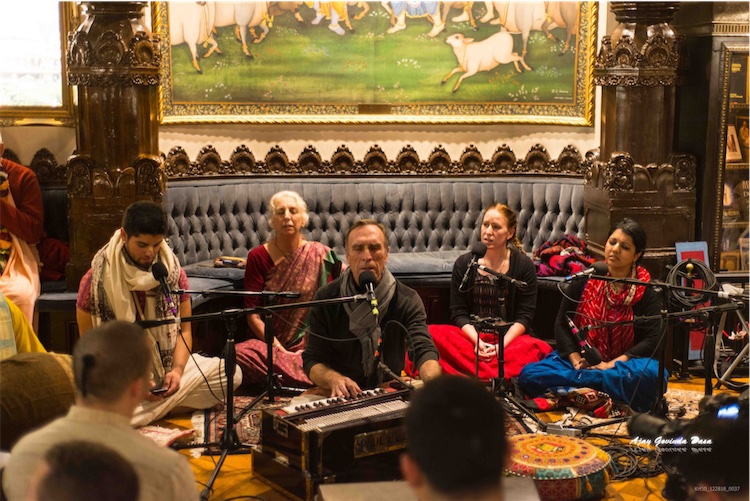 Badahari Das brings a meditative mood
Among the highlights was a heartfelt song/dance presentation by students from TKG Academy on Srila Prabhupada's Markine Bhagavata-Dharma prayers, which the ISKCON Founder-Acharya wrote while aboard the steamship Jaladuta on his way from India to the U.S.
After 7pm on New Year's Eve, the temple room became packed as local devotees flooded in to make sure they had an auspicious start to the New Year. By 11pm, the kirtan was building to a thunderous crescendo as B.B. Govinda Swami led everyone into 2019.
"We had over six hundred devotees just going nuts," Haridas recalls. "After midnight arati, the youth continued the chanting on until about 2 o'clock in the morning."
On New Year's Day came the biggest highlight of the festival. Pujaris showered Sri Sri Radha Kalachandji with red and gold petals from some 25,000 roses, then threw the offered petals into the sea of devotees, who engaged in a jubilant "flower fight" as they danced and chanted the Holy Name.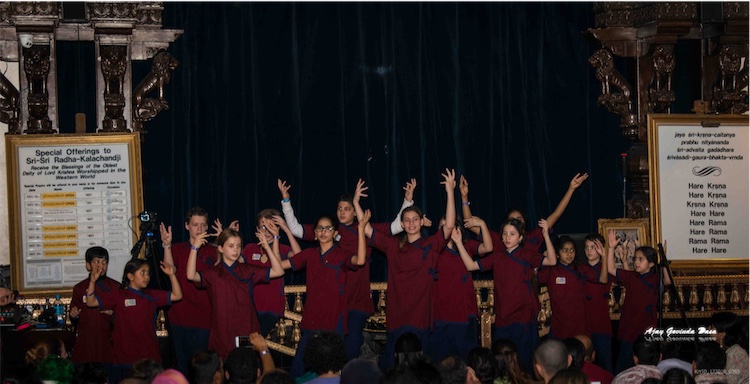 Students of TKG Academy perform Srila Prabhupada's prayers 'Markine Bhagavata-Dharma'
Throughout Kirtan 50, devotees kept their energy up with delicious international prasadam cuisine prepared by the staff of the famous Kalachandji's restaurant.
Haridas says the festival came together only with the help of many dedicated volunteers including a group from Gainesville's Krishna House, who helped with cut-up in the kitchen, the Vaishnava Youth Bus Tour, who helped serve out prasadam, and Giri Vallabha Klausner, Uddhava Marcotte and Narottama Rewah of Veuwr Inc who ran the livestream online.
"Then of course there's Nityananda Prabhu, our temple president, who has always been a steady behind-the-scenes force that encourages devotees to pursue whatever projects they feel are important to the community," Haridas says.
According to Haridas, planning all the logistics of the festival can be stressful, but "it's all worth it when you see the smiles on the devotees' faces."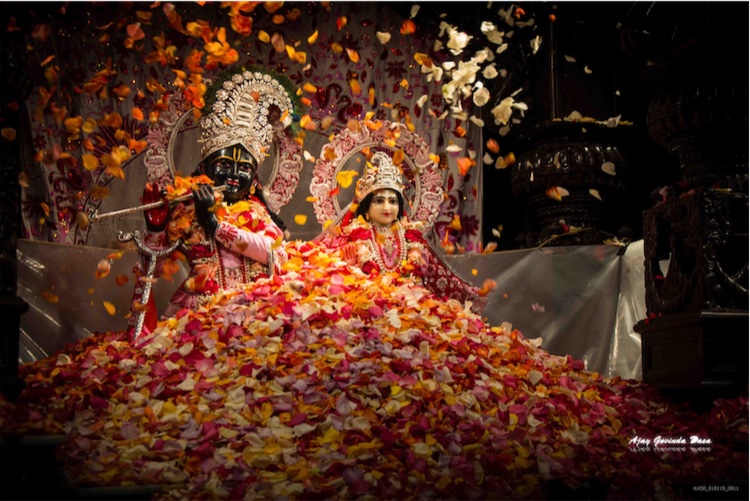 Sri Sri Radha Kalachandji are showered with rose petals
"Some were in tears," he says. "Some said it was the best Kirtan 50 so far. But overall, everyone just really appreciated having a festival that recharges them, and gives them a spiritual focus to the beginning of the year, all in the association of devotees. Ultimately, it's a simple festival – just chant, dance, take prasadam, repeat, and be happy!"
[
chanting
] [
dallas
] [
kirtan
] [
texas
]