for ISKCON News on Dec. 8, 2017
Charity organization Food For All, run by Parasurama Das and other ISKCON devotees, is set to move out of its previous home at Bhaktivedanta Manor and into two purpose-built kitchens in London. The move will see Food For All triple its prasadam distribution.
The first kitchen will be a multi-storey building just down the road from the four-star Kingsway Hall Hotel in the University Area of Holborn, where over forty thousand students study. The building will be a temporary location until Food For All moves into its own kitchen in the Kingsway Hall Hotel itself.
The new kitchen will be kitted out with the best industrial cooking implements, including two 370 liter stainless-steel pots.
Members of Food For All's fifteen devotee staff will cook rice, subji, salad, cake, and herbal tea daily.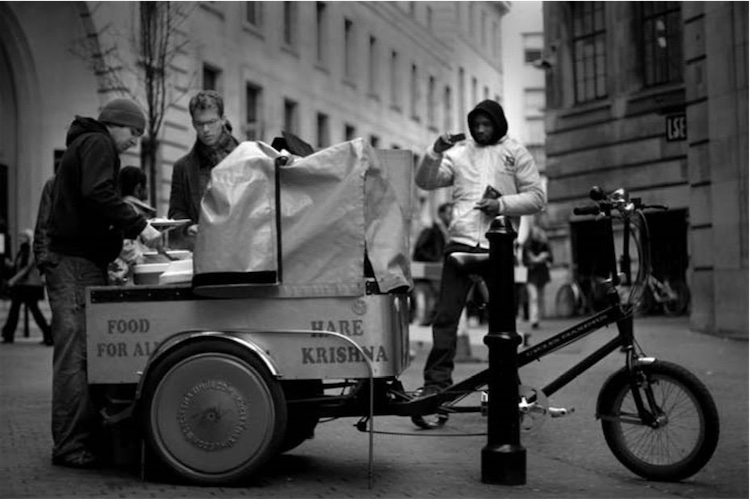 Devotees transport prasadam on a rickshaw inscribed with the words 'Hare Krishna'
Every morning, four rickshaws will carry 500 of these healthy, first-class prasadam meals each to the nearby London School of Economics; the School for African and Oriental Studies; University College London; and King's College, for a total of 2,000 meals.
"It's much quicker and more practical to cycle a rickshaw than to drive a car in central London," laughs Parasurama.
Meanwhile a second kitchen and a warehouse has already been leased in Wembley, where donated ingredients will be stored. Devotees will also cook over 1,000 more meals every day there, for Syrian refugee children, homeless people, and students of Middlesex University and the University of Westminster.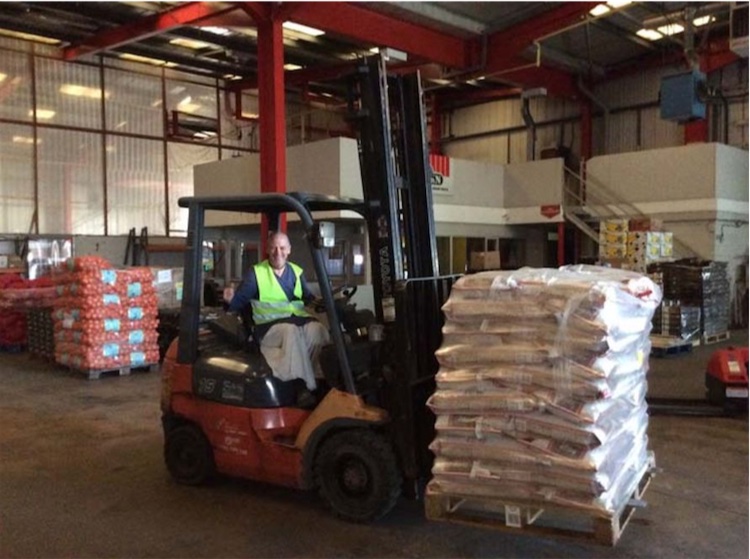 Parasurama, dressed in a dhoti, moves bags of rice with a forklift in Food For All's warehouse
Thus next year Food For All devotees will be distributing 3,000 prasadam meals daily, up from their previous 1,000 meals.
Food For All's effort is part of the current major campaign against food waste in England spearheaded by groups like Feedback Global. All the fruit and veg Parasurama uses would otherwise be thrown away by supermarkets for being aesthetically unappealing, despite being perfectly good.
But of course, Food For All isn't just about helping people's material condition. It also provides spiritual nourishment.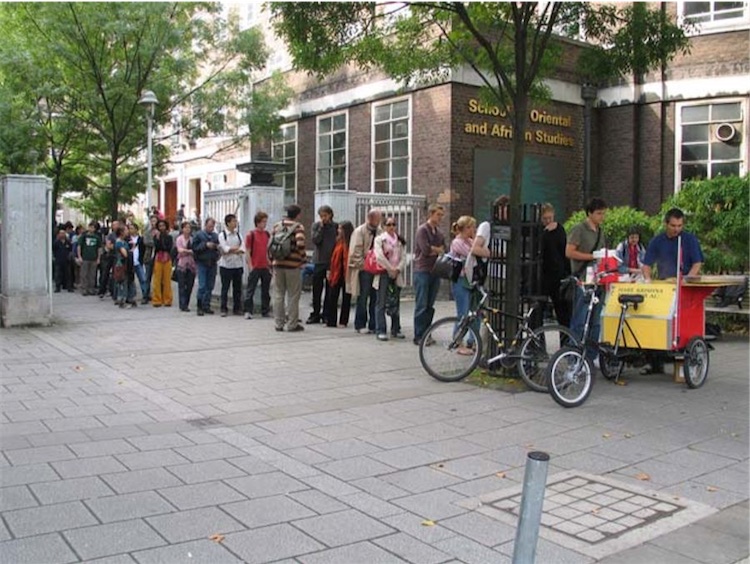 Students line up to receive prasadam at the School for Oriental and African Studies
"We'll have a book table and a Krishna conscious exhibition one day a week at each university, with a 'meet a monk' theme, so the students can ask question and answers," says Parasurama. "We'll have a Harinam one day a week that visits all four universities. We'll also have a Thursday evening program, starting at the School for African and Oriental studies, and expanding to other universities as contacts develop. It will be a standard Hare Krishna program including kirtan, a talk, Prasad, and a drama if possible."
Food For All devotees will also travel from university to university giving cooking classes, and engaging students in the prasadam distribution themselves by having them help chop veg, etc.
"In the future, we hope to work with Giridhari of Tribhuvanath Prabhu's Hare Krishna Festivals program to hold a monthly festival at each university too," Parasurama concludes.
[
food
] [
food-distribution
] [
food-for-all
] [
london
] [
uk
]