for ISKCON News on Oct. 27, 2016
ECO-Vrindaban (ECO-V) – which strives to fulfill Srila Prabhupada's mandates for simple living and cow-protection at New Vrindaban in West Virginia, USA – is on the lookout for a new construction and maintenance person for its ongoing operations.
The ideal candidate would be a journeyman level carpenter with construction or general contracting experience. Basic plumbing and electrical skills would be a major plus.
The candidate's duties would include painting, restoration and maintenance of farm buildings, as well as new construction projects such as greenhouses and various fencing projects. They would also help with other ECO-V activities when needed.
Thus ECO-V is looking for someone with an experience of and desire for simple country living, and a well-rounded familiarity with farm life – the sort of person who would be comfortable working with animals, lending a hand in the garden, or driving a tractor.
The ideal candidate would also be a self-starter with the ability to think on their feet, work unsupervised, and, at times, manage a small crew.
They would be working at ECO-V with a strong team of six full-time staff and five part-timers. These include General Manager Ranaka Das, who has worked in agriculture and cow protection at New Vrindaban for forty years; and Ox and Garden Manager Nitaicandra Das, who managed ISKCON San Diego's successful satellite farm for four years before moving to New Vrindaban last September.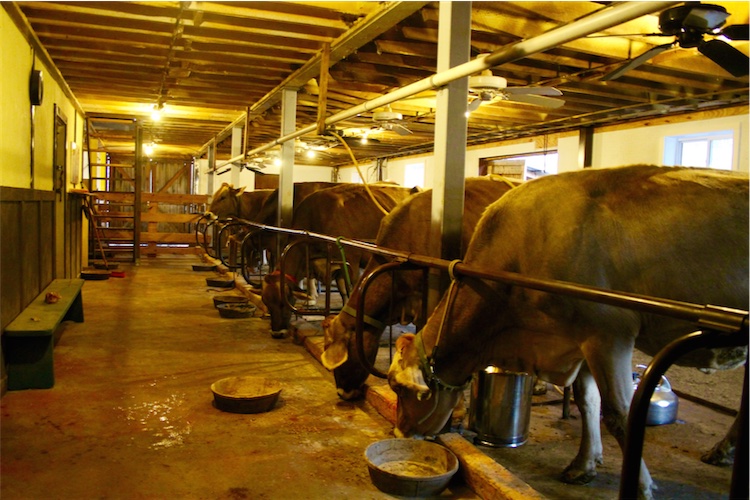 The construction and maintenance role will be a full-time, salaried position, and help will be provided to make sure that the candidate and his or her family are adequately situated in the New Vrindaban community, where there is housing, a children's school, and other facilities.
ECO-Vrindaban is an exciting project with a lot of potential that would appeal to those enthusiastic about Srila Prabhupada's teachings on simple living. Devotees there are trying to manifest Prabhupada's own vision for New Vrindaban, established under his direct instructions in 1968.
A non-profit entity launched in 1998, ECO-V works closely with ISKCON New Vrindaban in the areas of cow protection and gardening activities.
The organization looks after a total of around 800 acres interspersed throughout McCreary's Ridge in the Appalachian mountains. Most of its work focuses on managing four farmsteads – Nandagram, Bahulaban, the Community Garden and Milking Barn near Sri-Sri Radha Vrindabanchandra's temple, and the Valley Barn area.
The recently acquired 168-acre Nandagram farm, formerly owned by ISCOWP, is now home to part of ECO-V's vegetable production, twenty retired cows, and its ox program.
"There are excellent ox training facilities there, including roads, forests, and a large barn," says Nitaicandra. "We have six young oxen in our training program, who are currently pulling logs and going over their commands. They'll soon be dragging the field for two acres of winter wheat – the first time they've been out in the field, which is pretty exciting. Our oldest team will be four-and-a-half and be fully ready for heavy field work in 2018."
The seven cows at the Temple Milking Barn, meanwhile, are lovingly cared for by Ananda Vidya Das and his wife Lalita Gopi Dasi, and give an average of 25 gallons of milk a day. Yoghurt, butter, and curd are made from the milk, providing for most of the Deities' and temple devotees' needs during offpeak times.
During the growing season, vegetables are being produced at the seven-acre Community Garden for the Deities' offerings and for two meals a week for the temple devotees. In his first year, Nitaicandra and his garden crew have grown an acre of potatoes, four varieties of tomatoes, okra, summer and winter squash, basil, kale, Swiss chard, mustard greens, bok choy, and bitter melon.
"We're making a blueprint to grow from right now, but I'm really happy with what we've been able to do in my first year," says Nitaicandra.
Flowers for the Deities are also grown under Vidya Dasi's guidance, with more than 37,000 marigolds harvested this year, along with cannas, lilies, and peonies.
"One of the major challenges for temples is flowers, and we've really improved local production this year," Nitaicandra says. "We hope to increase next year."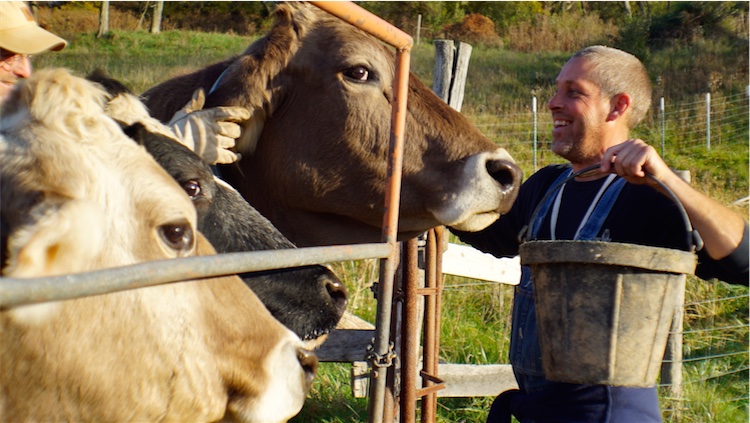 Finally at the Valley Barn, where ECO-V's offices are located, are approximately sixty acres of the 160 from which hay is harvested every year for the cows. There's also a plan to grow a sweet corn seed crop there next year, to save and use for growing future cornfields.
In the near future, there are plans to begin converting the old milking parlor at the Valley Barn into a food processing facility, with canning, drying and freezing operations.
Other future ECO-V projects which the new maintenance person would take part in include a pit greenhouse – a special type of partially underground greenhouse that is naturally warmed and can be used in winter at high altitudes. There are also plans to use permaculture techniques in creating a 'food forest,' a type of low maintenance sustainable food production system.
"Why come to serve with ECO-V and live in New Vrindaban?" asks Nitaicandra. "Well, we have excellent staff, a lot of opportunity and potential with the land that we have and lots of exciting goings-on. We're growing organic food and flowers for our Deities and devotees; we're expanding our orchards and food forests; we're protecting cows and training oxen. There's a nice community of devotees -- about 300 living within a thirty-mile radius. And many devotees and guests visit from around the world every year for our many wonderful festivals like the 24-Hour Kirtan and Festival of Inspiration."
He smiles. "We have a lot to offer, and we're looking forward to a nice reciprocation with someone who has a lot to contribute towards maintaining our program, too."
* * *
For those interested in the construction and maintenance position, please send a cover letter, resume and any other inquires to Ranaka Das: dfintel@msn.com.
[
agriculture
] [
farm
] [
new-vrindavana
]