Excitement is ramping up for "MAN-tra," ISKCON's first ever Men's Retreat, to be held in New Vrindaban, West Virginia from October 5th to 7th.
Headlined by guru Bhaktimarga Swami, kirtaniya Gaura Vani, and comedian Yadunath Das, the event is subtitled "Being a KC Guy in the 21st Century," and is gathering hype as the place to be this fall.
The idea formed while ISKCON Communications Director Anuttama Das was accompanying Bhaktimarga Swami on his most recent walk across the United States.
"We were talking about how it would be wonderful to have more opportunities for men in Krishna consciousness to have sanga together," Anuttama says.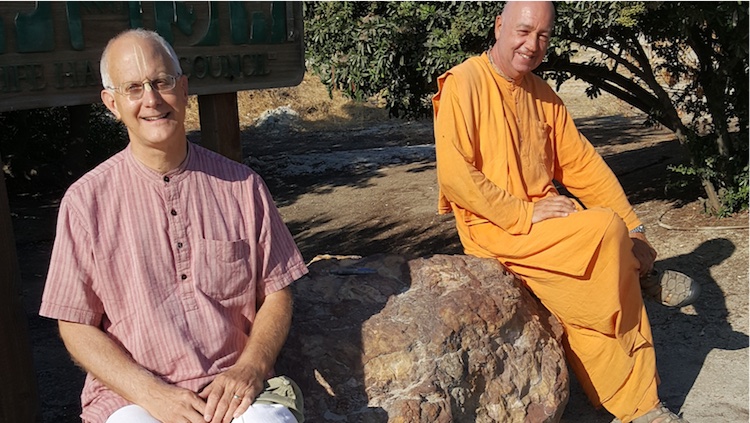 Bhaktimarga Swami (right) and Anuttama Das had the idea for the retreat while walking across the US
The resulting retreat aims to draw up to 200 men aged 18 and up from all over the U.S. to discuss how to allow their talents to shine through; balance spirit and matter; thrive in their relationships; and have a more positive impact.
They'll also participate in fun outdoors activities together during one of the most picturesque times of the year in the Appalachian mountains.
MAN-tra is co-sponored by the ISKCON Youth Ministry, ISKCON Communications, and the Grihasta Vision Team. It is organized by Anuttama Das, Partha and Uttama of the GVT, motivational speaker Bhuta Bhavana from the UK, and Manorama Das – who will bus up a large number of young people from Alachua, Florida.
Each day will begin with the full morning program, including a class about topics related to manhood in Krishna consciousness, as well as yoga.
Some of the daily activities will take advantage of the rural setting, such as hiking, farm service projects, and campfires at night.
There will also be delicious prasadam; ecstatic kirtans with Gaura Vani and friends; spectacular dramas by Bhaktimarga Swami and his troupe from Toronto, and rip-roaring stand-up and sketches by professional New York comedian Yadunath Das.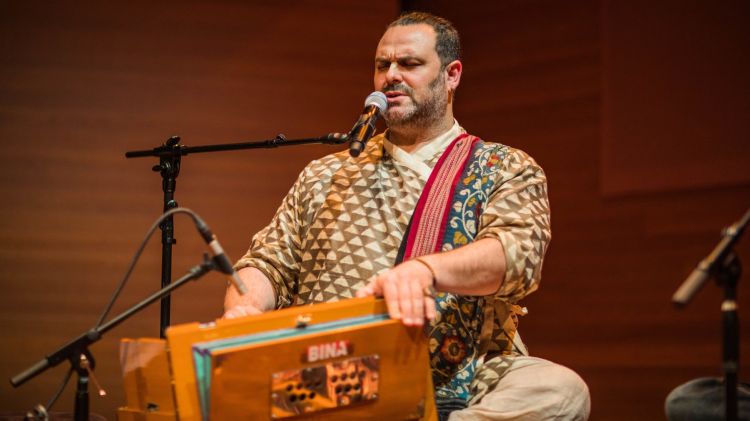 Kirtan with Gaura Vani will be part of the Krishna conscious fun at the retreat
Meanwhile a mixture of discussions and breakout groups will tackle different practical topics. In "Being Yourself in Krishna's Service," a devotee panel of a variety of different ages and occupations, such as artists, construction workers and medical professionals will talk about overcoming challenges and finding fullfilmment and balance in our service and daily life.
Speakers are likely to include musician Gaura Vani, longtime farmer Ranaka Das, and former Wall Street investment banker Rasanath Das.
In "Why Women Think and Act the Way They Do," a panel featuring women of different ages will answer the question that has been stumping men for millennia.
Other workshops will include "Being a Good Man" and "Understanding our Talents and Finding our Niche," led by Bhuta Bhavana and Manorama.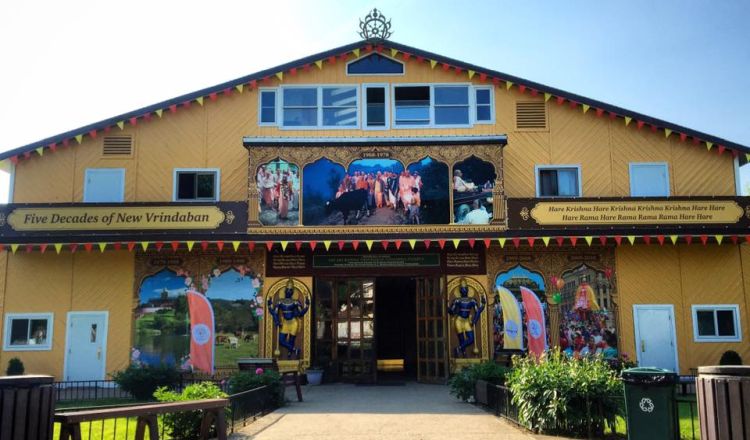 Discussions will be held in the conference rooms near the New Vrindaban temple
In addition Burke Rochford, a sociology professor who has studied the Hare Krishna movement for around forty years, will talk about how the concept of being a man in Krishna consciousness has evolved from the beginning of ISKCON until now.
The MAN-tra retreat will also provide a great opportunity for relationship-building, networking and learning from seniors, peers and juniors.
"Life is not always easy – and trying to be a devotee brings its own particular challenges and opportunities," says Anuttama. "So it's good to spend time with other devotees who are in similar lifestyles and genders, and who face similar challenges. Then we can help each other overcome those challenges, explore our unique abilities and talents, and mentor and support each other to be the best we can be."
"We hope this retreat will help create a vision and an experience to better understand men's roles in Krishna consciousness and in the world," he concludes.
If successful, MAN-tra may become an annual or bi-annual national event in the U.S., or spin off into local sangas around the country and the world.
Don't delay! Register before August 15th to get the Early Bird Discount: https://mantraretreat.org/
[
men
] [
"new vrindaban
] [
retreat
]