for ISKCON News on May 18, 2018
An incredible fifteen thousand people attended the grand opening of a newly renovated temple in Farmington Hills, a Detroit suburb, from April 18thto 22ndthis spring.
A pearl-white Indian-style dome with a golden chakra rose from the $1.4 million converted restaurant, glinting in a blue, sunny sky as devotees from all over the U.S., along with general public from the local area participated in the five-day festival.
Guests included Farmington Hills Mayor Ken Massey, Congresswoman Christine Greig, local GBC Malati Devi Dasi, and ISKCON guru Radhanath Swami.
Also in attendance were Chandrasekhar Swami, author Srinandanandana Das (Stephen Knapp), and kirtaniyas Sri Prahlad Das from Australia and Jahnavi Harrison from London.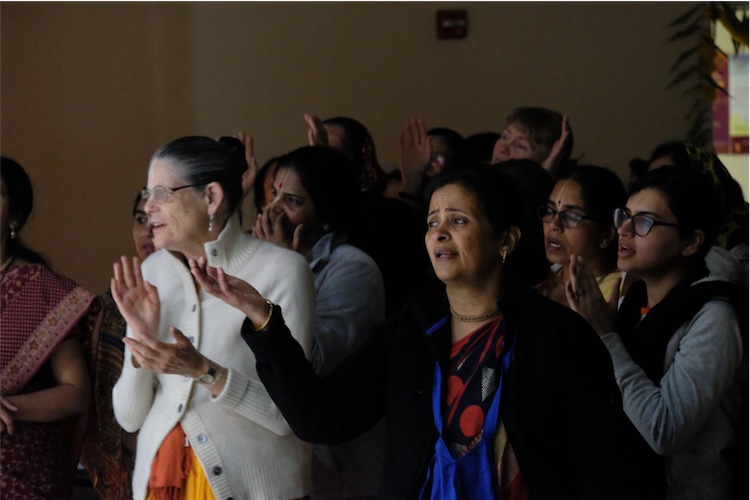 Malati Devi and other devotees greet the Deities during Their first darshan
As new Deities of Sri Sri Radha Gopijanavallabha were being installed, elaborate ceremonies and fire sacrifices were conducted every day during the celebrations. These included Vastu Homa, Netra Unmilanam (opening of the Deities' eyes), and Prana Pratistha, or calling the Lord to personally reside and interact with the devotees through the medium of the Deity.
On Friday, there was an abhisekha, or bathing ceremony, and installation of a full-size Srila Prabhupada murti. Meanwhile on Saturday, thousands gathered to see the abhisekha and first darshan of Radha Gopijanavallabha on Their new altar.
Speaking at the event, temple board chairman Yugal Kishore Das explained how ISKCON Farmginton Hills is contributing to the local community and serving the people of Metro Detroit.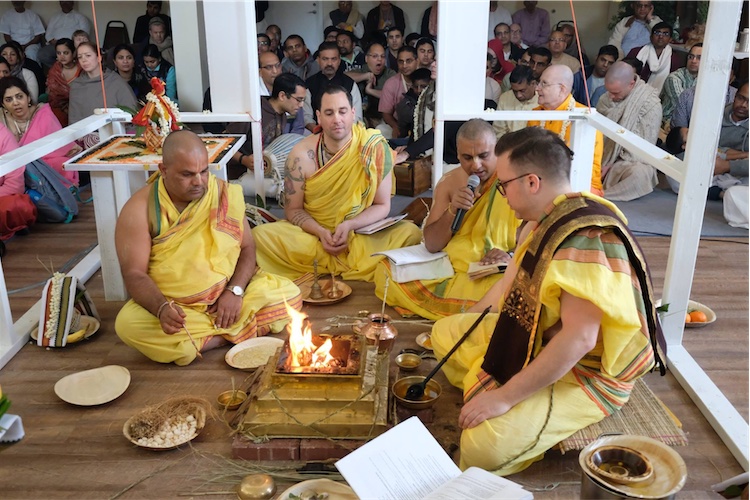 Brahmana priests perform fire sacrifices for auspiciousness
In their speeches, Mayor Ken Massey and Congresswoman Christine Greig were appreciative and promised to help and be there for the temple's congregation. They also took a tour of the property.
The festival concluded with talks by a large group of Srila Prabhupada disciples, including Malati Devi, local devotee Bhumadeva Das, Kamagiri Dasi from Columbus, and New Vrindaban residents Nityodita Das and Jayasri Dasi. A delicious prasadam feast followed.
ISKCON in Farmington Hills first began in 2006, when Malati Devi asked Yugal Kishore Das, who had been living in New Vrindaban, to begin outreach there.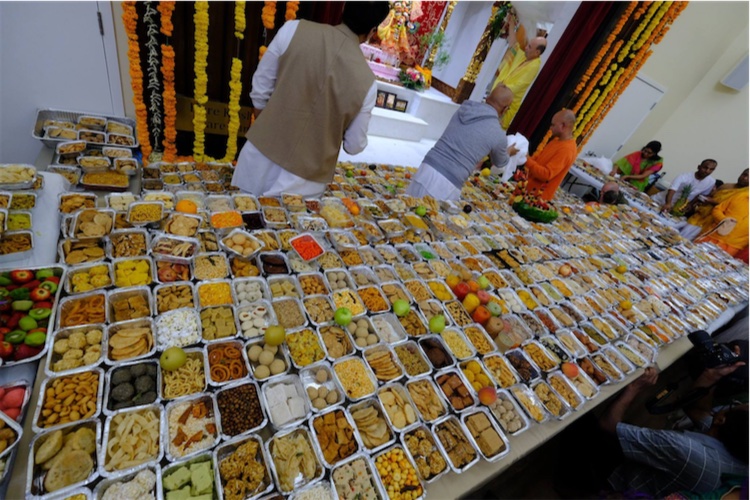 Hundreds of dishes are offered to Their Lordships
With the help of other devotees, a largely Indian congregation began to grow, renting churches for Sunday School programs. Eventually, they acquired the current building, which had been a restaurant and before that a bank, for a relatively cheap price.
When a thousand local people attended for Janmastami in 2015, they realized they had to expand. A group of devotees -- Nanda Niketan Das, Lalita Sundari Devi, Radhika Sakhi Devi, Harichakra Das, and Shyamananda Krsna Das –began fundraising and preaching for a massive renovation effort. Raj Madhav Das and Sanatan Govind Das headed up construction. Over two-and-a-half years, the $1.4 million project took shape.
The final expansion and renovation includes an extended altar room, pujari rooms, and Deity clothing rooms; a completely renovated kitchen; a beautiful temple room and large hall upstairs for seminars and bigger events; and a 100-car parking lot.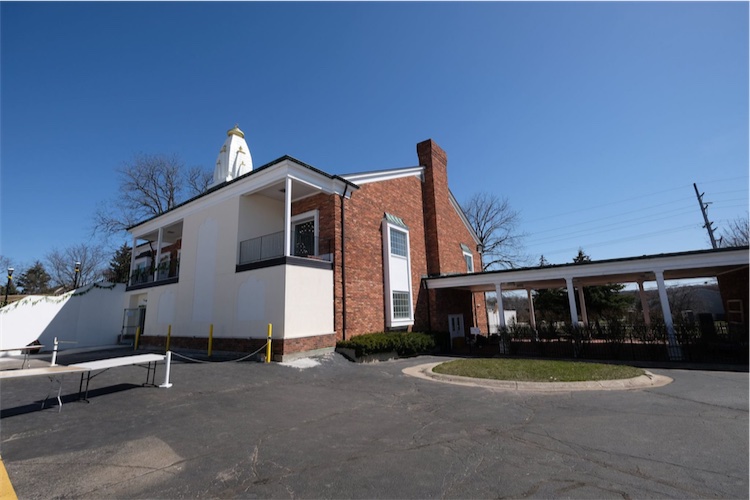 The renovated temple
Today, the community organizes Bhakti Vriksha programs in nearby cities Grand Rapids and Lansing (the capital of Michigan), where there are plans for satellite centers in the near future.
"We also want to start teaching combined yoga and mantra meditation classes to attract local crowds," Yugal Kishore says. "So far, our congregation is 98% Indian. But we did not start this temple for Indians – we want to attract the locals. And slowly that is happening – Americans are beginning to take up the process too."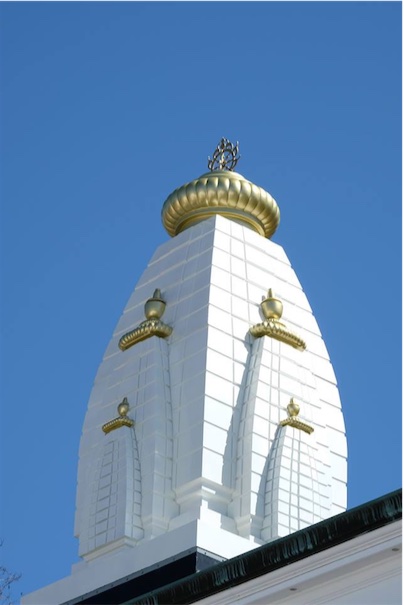 The beautiful dome and chakra
Whatever the demographics, Yugal Kishore feels that success will come with the realization that a temple doesn't mean a structure, no matter how beautiful or expensive – it means people.
"To the extent that we understand this idea – of caring for devotees with Krishna in the center – to that extent we'll become successful," he says.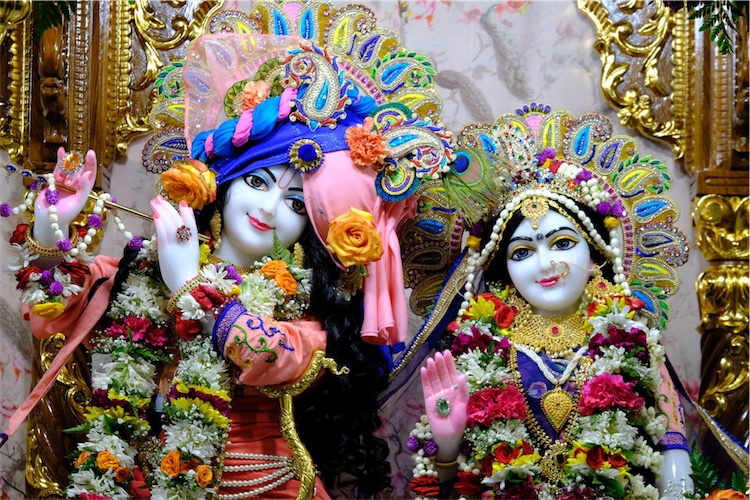 The gorgeous Deities of Sri Sri Radha Gopijanavallabha
[
detroit
] [
farmington
] [
hills
] [
michigan
]