for ISKCON News on Feb. 9, 2018
Photos by Kalasamvar Das and Nitai Charan Das.
On February 7th, GBCs, sannyasis, ISKCON leaders and devotees from all over the world gathered to witness the historic installation of the final two chakras on the domes of Sri Sri Radha Madhava and Lord Nrsimhadeva atop the Temple of the Vedic Planetarium.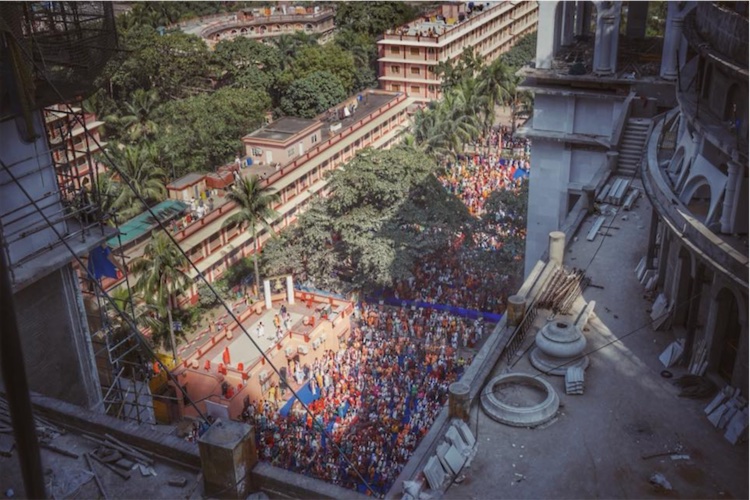 Devotees from all over the world gather at the foot of the grand Temple of the Vedic Planetarium
The event began with an elephant parade that carried the murti of Srila Prabhupada, along with Lord Nityananda's sacred shoes, to the site of the towering 113 meter (370 foot) hight TOVP, which is still under construction.
Leaders such as TOVP chairman and main financier Ambarisa Das (Alfred B. Ford), his wife Svaha Dasi, GBC Chairman Bhakti Charu Swami, and Radhanath Swami then gave speeches praising the momentous occasion.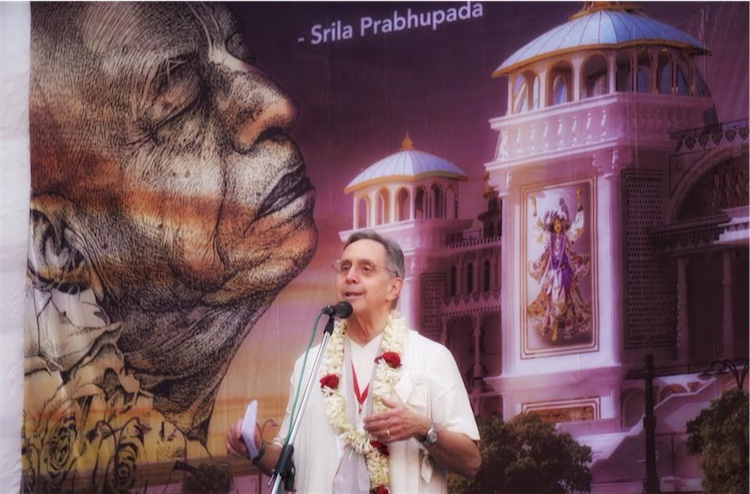 Chairman Ambarisa Das speaks about the dream that Srila Prabhupada directed him to realize
After a fire yajna by priests Jananivasa Das, Pankajanghri Das and the gurukula children to create all auspiciousness, the flag was raised and the chakras ceremonially bathed.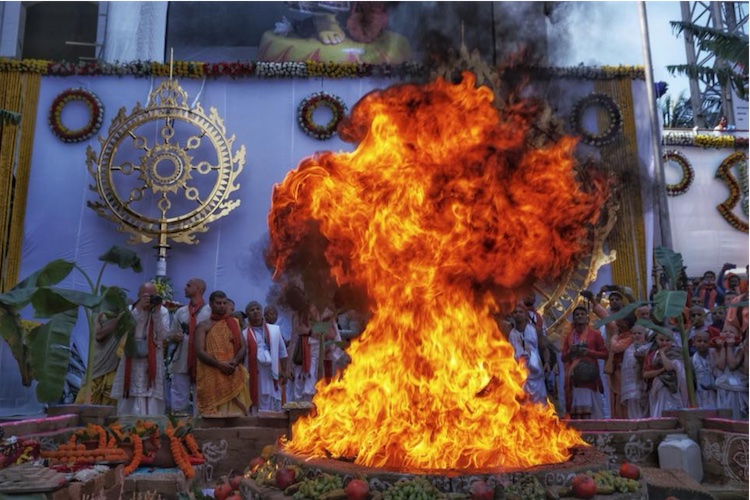 A fire sacrifice is performed to create auspiciousness
The two chakras were then slowly hauled by a crane up to their seats on the main dome and Lord Nrsimhadeva's dome high atop the Temple of the Vedic Planetarium. It was a dramatic scene, with the sacrificial fire blazing, the kirtan roaring, and the colossal golden chakras flashing in the sun.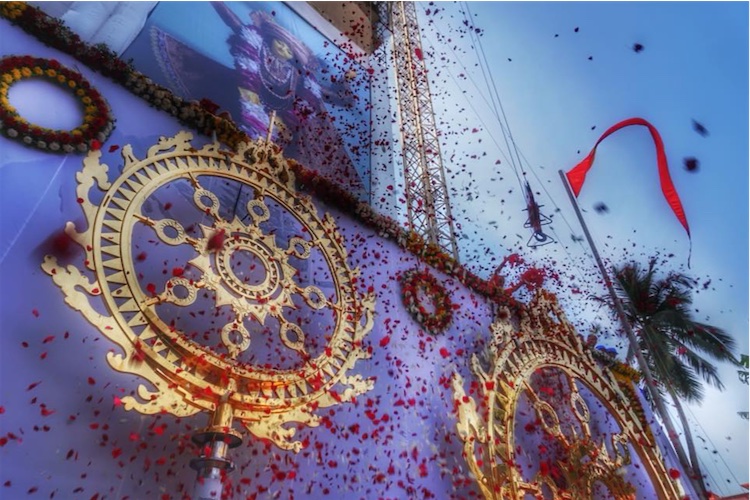 The chakras are showered with flowers
"Although they're made of stainless steel, the chakras look like real gold," says managing director of construction Sadbhuja Das. "The big chakra took 120 parts to assemble it, weld it, grind it, and then coat it four times with solid liquid gold."
The big chakra on the main dome is over six meters in diameter, and weighs 1.6 tonnes. The TOVP team claim that it is the largest in the world, surpassing that of the Jagannath temple in Puri.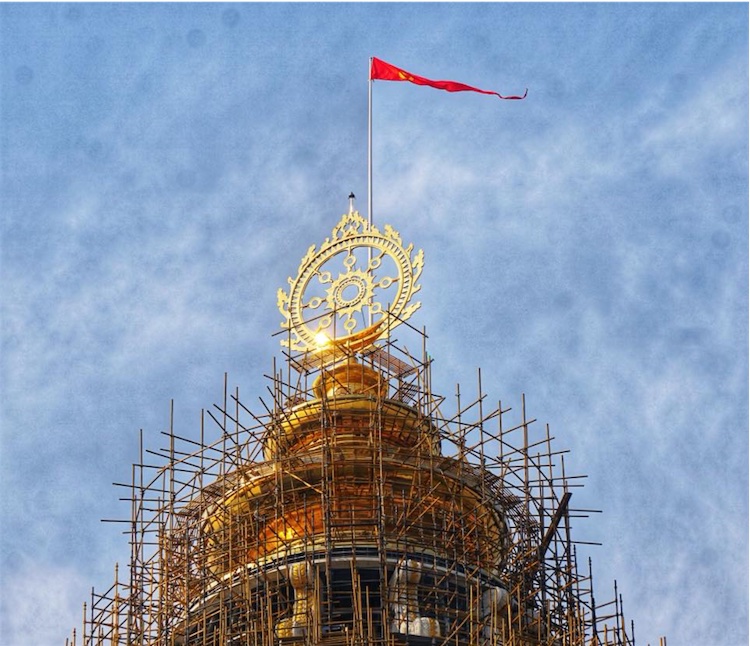 The chakra sits atop the temple's dome
Once the chakras were in place, the devotees all joyfully honored a prasadam feast.
"It was such a wonderful, transcendental event," says Sadhubja. "It was also a pivotal moment, representing the achievement of another milestone of success in the completion of the TOVP. And it heralds the next phase of construction, as we approach the temple's completion and the Grand Opening ceremony in 2022."
[
chakra
] [
mayapur
] [
tovp
]