On Saturday, March 13, 2021, the first virtual Child Protection Office (CPO) North America conference was held on Zoom. This was a long-cherished dream of the North American CPO regional director, Lila Suka Dasi, who has wanted to provide ongoing support for the teams that have been created to prevent child abuse in the International Society for Krishna Consciousness (ISKCON).
The Child Protection Office was established by the Governing Body Commission (GBC) of ISKCON in 1997. The GBC's guidelines created in 2005 were laid out to create a system to give local support to temples to enact policies of safe practices that include screening, training, and education towards preventative protection measures for children and families that have developed over time into the current Child Protection department. The department is represented globally across ISKCON. The primarily works on preventative measures but the CPO also investigates reports of abuse and convene review panels composed of devotees trained in child protection who are charged, in the face of alleged abuse, to determine what actions should be taken to restrict an alleged abuser within ISKCON.
The goals of this conference were to provide the opportunity for CPT members across the USA and Canada to get to know one another and see themselves as part of a larger child protection community by creating this space to establish a network of resources, to increase the connection between CPT members and the CPO, and to build skills and competency to empower CPT members in their service.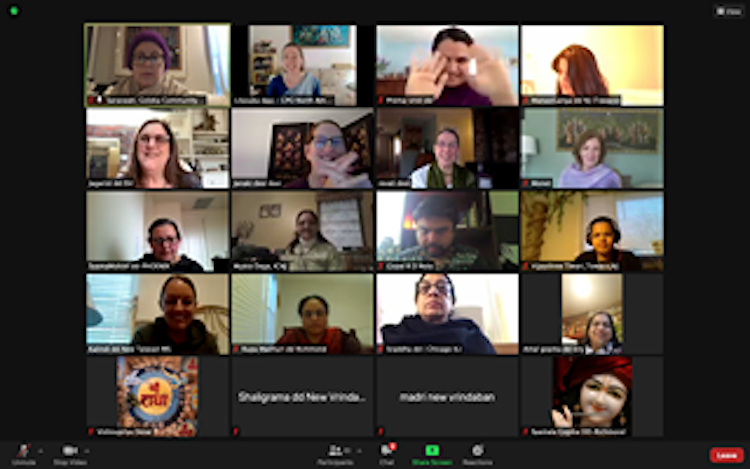 "Until today I thought I was alone with my local temple problems, thinking my local issues are different from others, but now coming together gives me hope, strength, and confidence that we are all in it together," Gopal Radha Dasa, a CPO team member from New Orleans, said.
Conference organizers, Lila Suka Dasi, Prema-vrsti Dasi, and Janaki Dasi of the North American CPO, created an interactive, experiential conference to meet these goals. 150 CPO team members around North America were invited and around 45 people participated in the conference. Kamal-Krsna Dasa and Gandharvika Dasi, international CPO Directors, began the event with an introductory talk thanking all of the participants for their service and dedication to provide a much-needed service in ISKCON. This was followed by Revati Dasi, who spoke on what to expect after making a report to local authorities. Then the group was broken into smaller groups for differing activities. In one break-out session groups were given scenarios, without identifying information, from actual cases the CPO has dealt with. Their task was to use the CPO guidelines to determine what type of abuse occurred, what steps needed to be taken, such as who should be notified. Talking about specific scenarios helped the CPT members better understand the role of the department, their colleagues, and its mission in real-life scenarios.
In the final session of the day, the group was given a tutorial and refresher course on the existing resources that the CPO teams have to share and build upon. This included the creation of a shared Google Drive for all CPO teams to access marketing materials and templates as well as information about the importance and value of the department as told by Srila Prabhupada.
The conference was very well received and so the North American team is planning the next one is for September 18, 2021.
To learn more about the CPO in whatever location you live in, its team, or how you can help please visit: https://www.iskconchildprotection.org/
*Disclaimer: The CPO is not the "first stop" in abuse response. ISKCON's internal responses are always secondary to legal processes. Devotees are required by both ISKCON law and secular laws to report all allegations of abuse to local authorities including police and/or social welfare agencies. If you or someone you know needs help, please reach out to local authorities and then report it to your local CPO contact.
[
child-protection
] [
conference
] [
north-america
]