on Nov. 1, 2021
Devotees in El Paso, Texas held their first Rathayatra parade on October 2nd, to an enthusiastic response. The city, which stands on the Rio Grande across the Mexico–United States border from Ciudad Juárez, has an 81% Hispanic population. It is home to a small Hare Krishna congregation, with weekly programs held at the El Paso Preaching Center by president Krishna Charan Das.
Rathayatra co-organizers Kesava Priya Das – who owns hotels in El Paso and all over Texas – and Chaitanya Chandra Das – who has been holding programs in El Paso for eleven years – brought in devotees from all over the US for the festival, paying for and arranging their travel, accommodation and prasadam.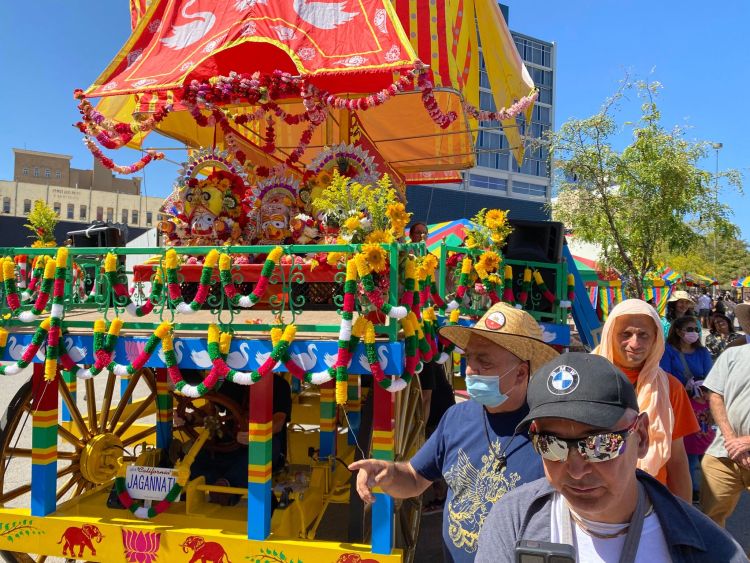 Devotees arrived from Dallas, Houston, Denver, Arizona, Florida and California, including a number of Prabhupada disciples. Among them were Citsukananda Das, who established the first ISKCON temple in Mexico City in 1971, and arranged Prabhupada's visit there in 1972. Raghava Chaitanya Das, who first translated Srila Prabhupada's books into Spanish in the early 1970s, also attended.
Three weeks prior to the Rathayatra, Kesava Priya Das had hired an advertising firm to promote the festival with flyers, posters, radio interviews, newspaper ads, TV news spots and electronic billboards, so the streets were lined with people eager to watch the parade.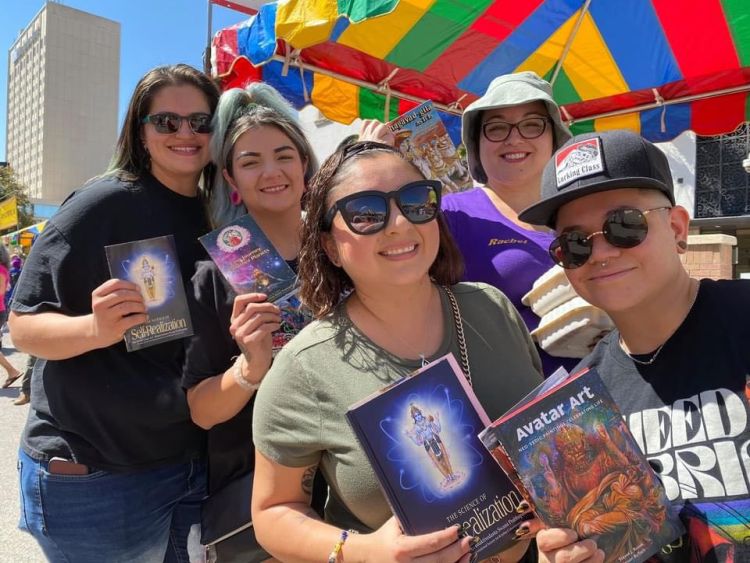 At midday Lord Jagannath, Baladeva and Subhadra circled the San Jacinto Plaza on Their beautifully decorated chariot, with kirtan by the Harinama Ruci Group with Mahavishnu Swami and others.
At 2pm, the parade ended at the City Hall parking lot in Downtown El Paso, where Festival of India's colorful tents could be seen. Three thousand servings were distributed of the sumptuous prasadam feast, which included saffron cashew cilantro rice, chili with Textured Vegetable Protein, chilaquiles (a Mexican dish made with corn tortillas, salsa and cheese), strawberry halava, laddhu, and a tamarind and mixed fruit drink.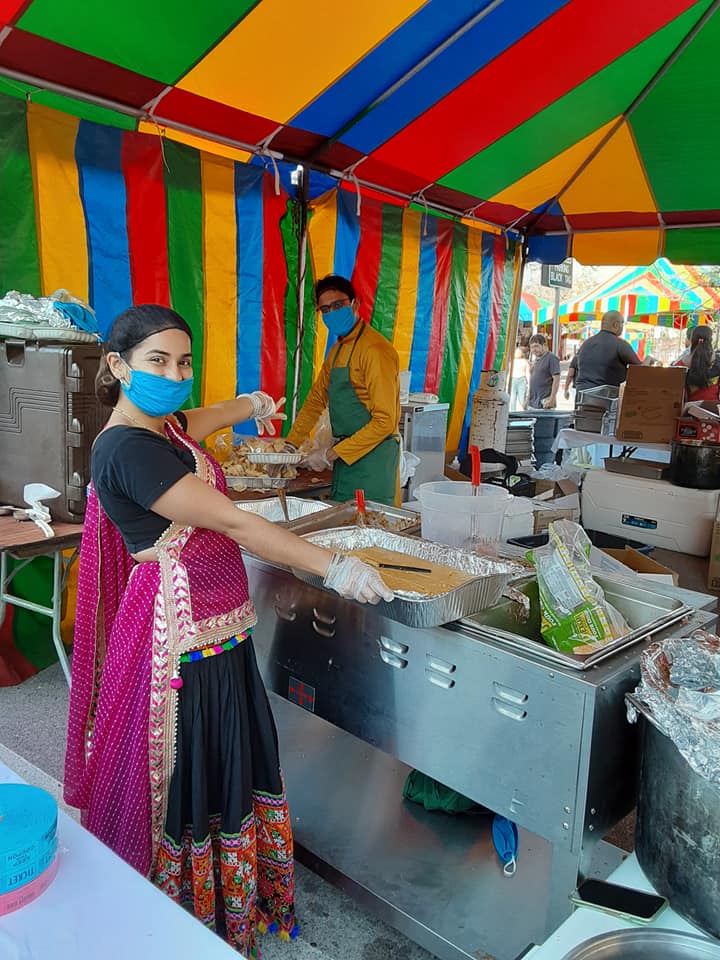 Under the brightly colored tents there were exhibits on Who Is Srila Prabhupada?, the science of reincarnation, Food For Life, vegetarianism, Bhagavad-gita, and many more, as well as an art exhibit, gift shop, facepainting booth for the children, yoga tent with demonstrations, question and answer tent, kirtan tent, and book tables. About 2,500 books were distributed.
Meanwhile the stage show featured a dance for Lord Jagannath by the children; a rousing kirtan performance including Jagannathastakam by the Mayapuris; and a modern synth rock rendition of the Brahma Samhita by Mahatma Das, with Dhirodatta and Krishna Chaitanya.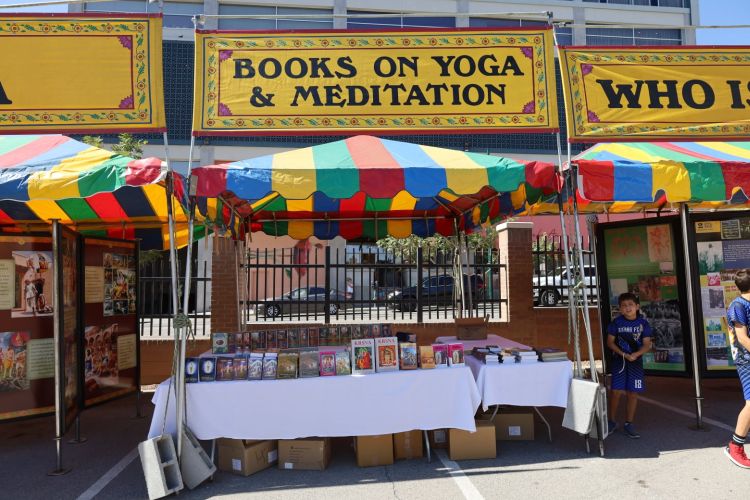 In addition, Citsukananda Das, an accomplished guitarist, delivered some folk-style maha-mantra, and spoke about Srila Prabhupada's 125th appearance anniversary and his 1972 visit to Mexico. There was also a Bhagavad-gita drama, performed by favorable staff members of Kesava Priya's office, who rehearsed for hours to present the teachings of Lord Krishna to Arjuna.
The festival concluded with a grand finale kirtan by the Mayapuris, who engaged the auidience in chanting the Holy Names and dancing.
"The devotees all felt happy and rejuvenated, and the people of El Paso were super sweet, and very, very receptive," says Chaitanya Chandra Das. "In the weeks since the Rathayatra, several new people have begun attending our little Sunday program. The amount of books we distributed at the Rathayatra was very significant, and I think it will have a nice long-range impact. What's more, our friends from the local yoga community who attended and some of their friends were really enthused. I think the spiritual potency of having Rathayatra in downtown El Paso inspired a lot of people."
[
book-distribution
] [
elpaso
] [
el-paso
] [
rathayatra
] [
texas
]