for ISKCON News on June 17, 2019
Latin America's first Child Protection Director has been working hard to set up his office, and has much more effort ahead to help keep Vaishnava children safe across the region.
Baladeva Das was appointed CPO Director in October 2018 by ISKCON's Latin Regional Governing Body (RGB). Since joining ISKCON in 1991 in Argentina, he has done preaching, communications and educational services, lead the Nava Gundica Dhama temple, and helped edit and translate the Spanish edition of Caitanya-Caritamrita.
He currently serves as the Communications Director in Argentina, works with the ISKCON Ministry of Education under Hanumat Presaka Swami, and mediates conflict resolution for South American temples.
His relevant experience for the CPO includes a Bachelor's Degree in Mediation and Conflict Resolution, and internships helping families affected by abuse. He took his first course on child protection in 2002.
Baladeva also has a family of his own – he has been married to Vraja Bhati Dasi for thirty-three years, and they have two grown-up children, son Panditji, 33, and daughter Mangalagita, 25, as well as a granddaughter named Indiana Lakshmi.
He explains that there has never been a central Child Protection Office for Latin America, and that he was inspired to make a difference.
"While traveling with my communications, mediation and education services across Latin America, I met with many devotees who privately asked me for help in cases of abuse, which would arise both inside and outside of ISKCON," he says. "I felt the urgent need to do something to stop this scourge that affects our children so much, both in their present and their future. And that future is inextricably connected to ISKCON's future."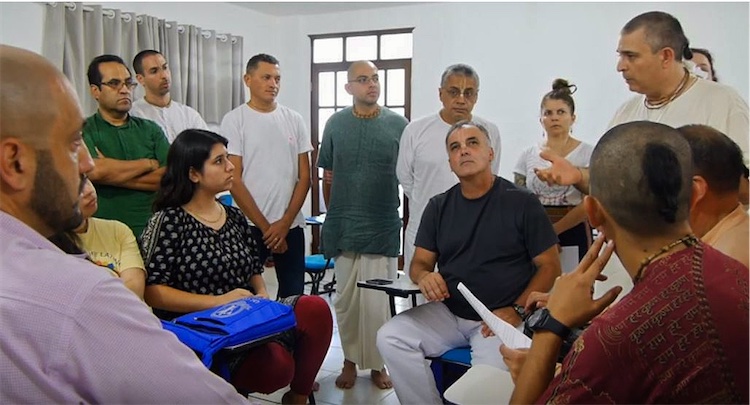 Baladeva Das teaching a course.
Baladeva has set up his Child Protection Office in his home at the Nava Gundica Dham farm in Mendoza, Argentina.
One of his main objectives is to look for professional devotees who can take on the responsibility of local CPO in countries throughout Latin America.
"Fortunately, I have met with great professionals such as psychologists, lawyers, and graduates in social work, who are happy to take on this service," he says.
So far representatives have been appointed and offices are being formed in Peru, Argentina, Chile, Brazil, Bolivia and Puerto Rico.
In addition, manuals, policy guides and protocols from the International Child Protection Office have been translated into Spanish and sent to all the offices. An online exam has been created for CPO candidates. Videos on preventative education and awareness have been produced or translated into Spanish.
A Facebook page, "ISKCON Latin America Child Protection Office" has been created at https://www.facebook.com/CPOLatino/ for the dissemination of educational materials, surveys and videos. A direct telephone line has been set up for complaints at +54 261 3034876. And a website is under development at https://cpolatam.wordpress.com/.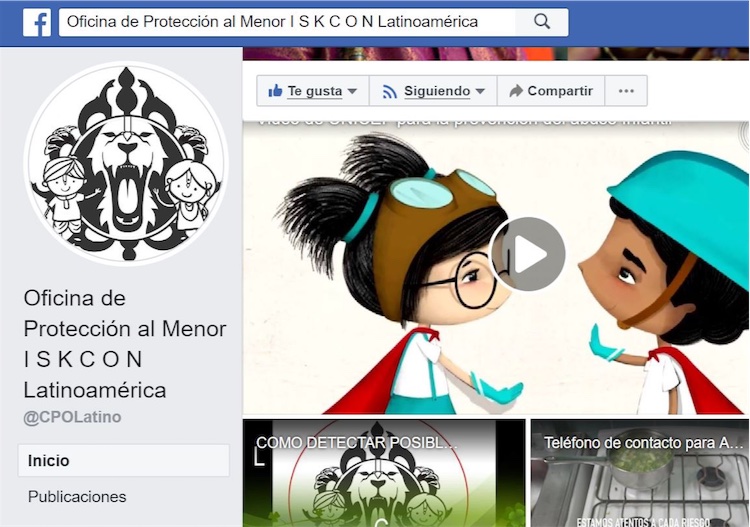 The facebook page of the Latin American Child Protection Office.
Meanwhile unresolved child protection cases are currently being addressed.
Future plans include promoting and providing regular training and education to all devotees in every ISKCON community in Latin America, on preventing and acting against child abuse. Regular trainings will also be given for those in charge of local child protection offices. And an online database of offenders will be created.
Temple presidents will also be required to have the psychological expertise to evaluate those seeking temple residency, and those applying for services where they are responsible for caring for or dealing with children.
"Our mission is to protect the Vaishnava children, who are the future and integral to our beloved ISKCON," says Baladeva. "We want to bring them an environment of security and happiness, that consolidates their spiritual life now and into their adulthood."
Baladeva also always keeps a famous quote from Srila Prabhupada at the forefront: "These children are given to us by Krishna, they are Vaisnavas and we must be very careful to protect them. These are not ordinary children, they are Vaikuntha children, and we are very fortunate we can give them chance to advance further in Krishna Consciousness. That is very great responsibility, do not neglect it or be confused." – letter to Arundhati, July 1972
[
aires
] [
argentina
] [
buenos
] [
child-protection
] [
children
] [
mendoza
]